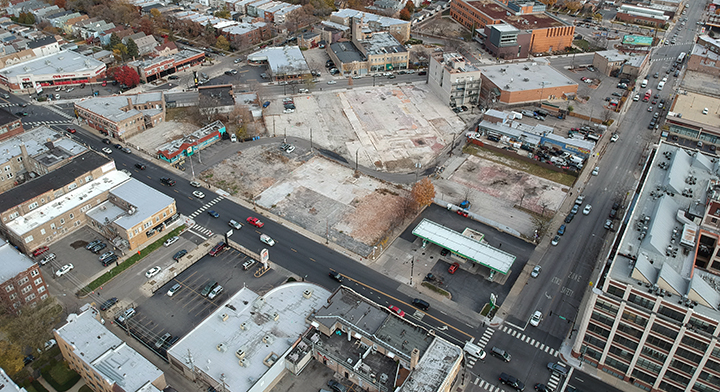 The redevelopment of Avondale's "Belmont Triangle" underwent a community visioning process that kicked off on Thursday, April 28, 2022, at a virtual neighborhood meeting co-hosted by the Chicago Department of Planning and Development (DPD) and Ald. Ariel Reboyras (30th).
The community engagement process sought input on opportunities to redevelop approximately four acres of vacant land within the block bounded by Belmont Avenue, Milwaukee Avenue and Pulaski Road to create a community-led vision for the site. The process continued through the summer and included multiple surveys and other public engagement opportunities to identify viable options for future uses and new construction.
In collaboration with Ald. Reboyras, DPD initially identified the site for community visioning due to its diminishing role providing retail- and service-oriented amenities for the neighborhood. The process was part of a strategic effort under Mayor Lori E. Lightfoot to maximize neighborhood opportunity sites throughout Chicago on behalf of nearby stakeholders and the entire city.
A July 2022 Request for Proposals (RFP) produced multiple developer inquiries, but no formal proposals were submitted. The public engagement that occurred will continue to inform potential development scenarios, however DPD is no longer part of any marketing or sale efforts involving the site.
BELMONT TRIANGLE RFP INFO
The Belmont Triangle RFP sought mixed-use development proposals for 3.8 acres of vacant, privately owned land within the block bounded by Milwaukee Avenue, Belmont Avenue and Pulaski Road in Avondale. Download the RFP | Download the appendix | Download Q&A addendum

KEY DATES:
RFP Release: July 21, 2022
Pre-Submission Meeting: Aug. 11, 2022 | Watch the recording | Read the presentation | See list of attendees
RFP Due Date: 4 p.m. Oct. 21, 2022
PREVIOUS COMMUNITY EVENTS
June 29: Community Visioning Update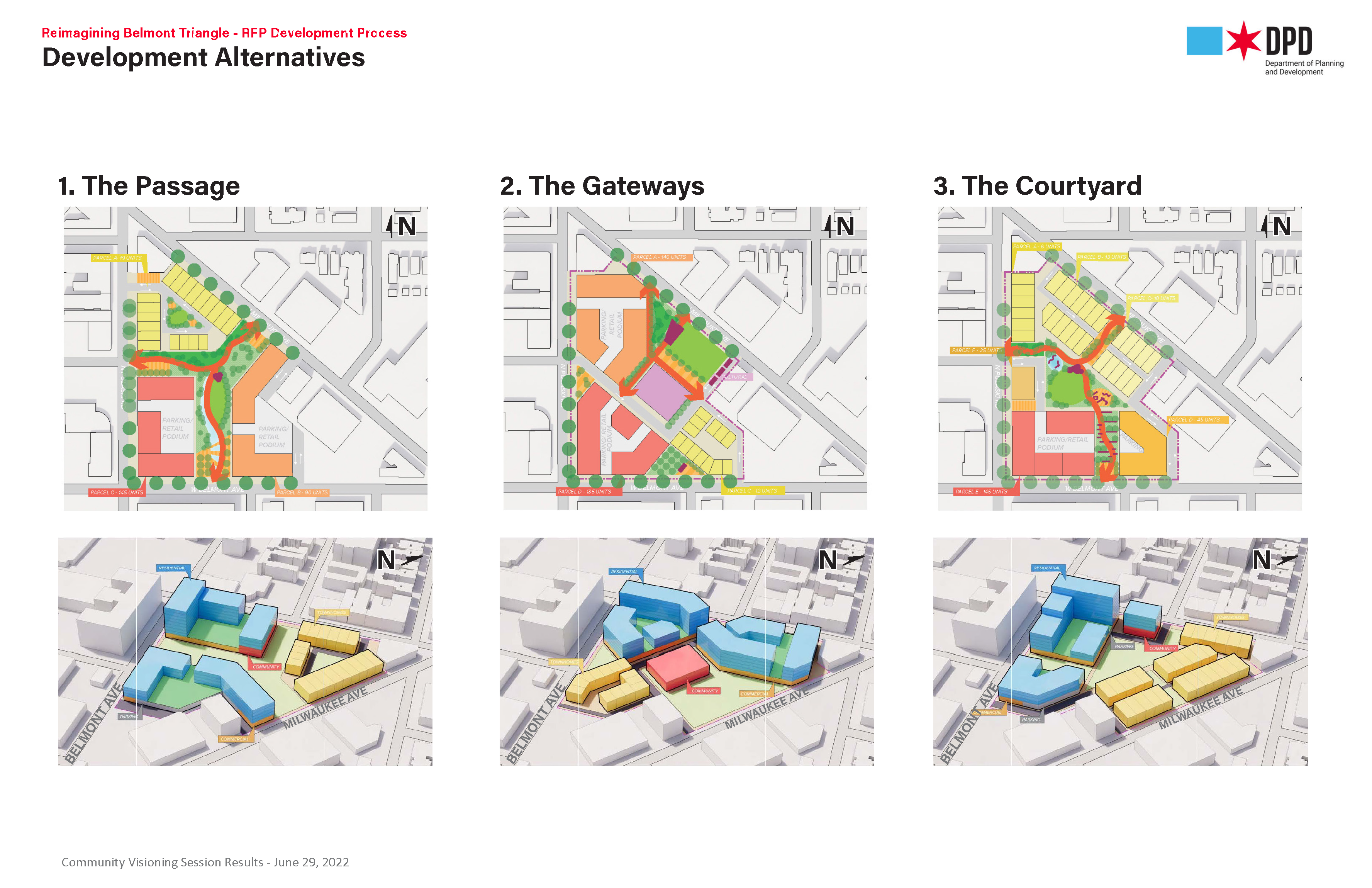 May 23: Community Visioning Workshop
In-person event held at Federico Garcia Lorca Elementary School.
April 28: Community Visioning Kickoff