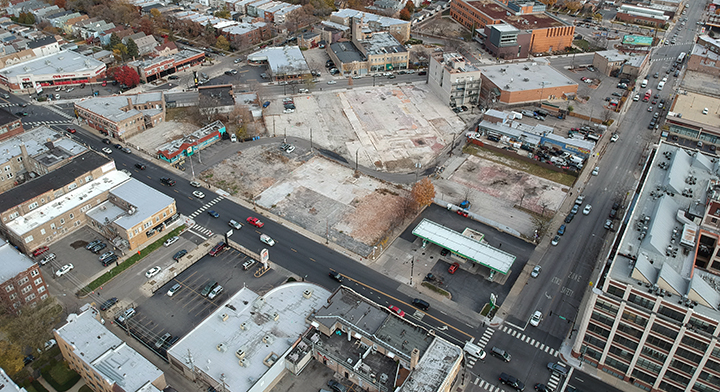 The redevelopment of Avondale's "Belmont Triangle" will be subject to a community visioning process that kicks off on Thursday, April 28, at a virtual neighborhood meeting co-hosted by the Chicago Department of Planning and Development (DPD) and Ald. Ariel Reboyras (30th).
The community engagement process will seek input on opportunities to redevelop approximately four acres of vacant land within the block bounded by Belmont Avenue, Milwaukee Avenue and Pulaski Road to create a community-led vision for the site.
The kick-off meeting will be an informational session to outline the process, review existing conditions and introduce the timeline. The process will continue through the spring and include a survey and other public engagement opportunities to identify viable options for future uses and new construction.
In collaboration with Ald. Reboyras, DPD identified the site for community visioning due to its diminishing role providing retail- and service-oriented amenities for the neighborhood. The process is part of a strategic effort under Mayor Lori E. Lightfoot to maximize neighborhood opportunity sites throughout Chicago on behalf of nearby stakeholders and the entire city.
UPCOMING EVENTS
Community Visioning Update
6-8 p.m. Wednesday, June 29 | Register now via Zoom

The Department of Planning and Development is hosting a virtual meeting at 6 p.m. on Wednesday, June 29 to share the latest results from the ongoing community visioning process for the future redevelopment of the Belmont Triangle.
Attendees will have the opportunity to review and provide feedback on conceptual visions for the Belmont Triangle property. Those concepts were developed using public input gathered at a May 23 workshop and through additional engagement efforts.
Interpretive services will be available in Spanish and Polish.
PREVIOUS COMMUNITY EVENTS
April 28: Community Visioning Kickoff
May 23: Community Visioning Workshop
The Department of Planning and Development (DPD) and 30th Ward Alderman Ariel Reboyras held an in-person community visioning session on Monday, May 23 at Federico Garcia Lorca Elementary School.