Chatham Commercial Design Guidelines
Updated Feb. 7, 2019
In 2017 and 2018, the Department of Planning and Development (DPD) worked in partnership with the Congress for New Urbanism (CNU), the Richard H. Driehaus Foundation and Farr Associates to engage Chatham residents, businesses and stakeholders in a planning exercise to create a set of design guidelines and other recommendations aimed at enhancing Chatham's commercial corridors.

The Chatham community is one of several neighborhoods in which the City of Chicago has established diverse initiatives aimed at stimulating economic growth and fostering residential, commercial and mixed-use development opportunities. Some of these initiatives include the designation of two Tax Increment Financing (TIF) Districts, the establishment of a Special Service Area (SSA), and the designation of the Chatham Retail Thrive Zone. The Retail Thrive Zones program is intended to promote entrepreneurship, build community-based wealth and employment, and improve access to amenities.

Study Area

The study area, outlined in the below map, includes 75th Street between Wabash and Cottage Grove avenues, Cottage Grove Avenue between 75th and 79th streets, and 79th Street between Michigan and Maryland avenues. At the time of the study, there were 166 active business licenses in the area, many of which are focused on the food, retail and auto service industries. The study area also includes historically significant buildings that form a Chicago Landmark District, and a few interesting Midcentury Modern buildings.
Design Guidelines
The Chatham Commercial Corridor Design Guidelines document is the result of public feedback received from three community meetings and a survey, conducted with the help of Farr Associates. The Guidelines identify recommendations and improvements that local business owners could implement to enhance the existing physical condition of the corridors.
This includes feasible examples of how to maintain and enhance the character of commercial buildings along the corridors through signage, canopy and storefront improvements, preserve historic buildings, and engage stakeholders in community-building activities like "Dining on the 5" that help to enhance the overall condition and attractiveness of the commercial corridors.
For additional information, please contact dpd@cityofchicago.org.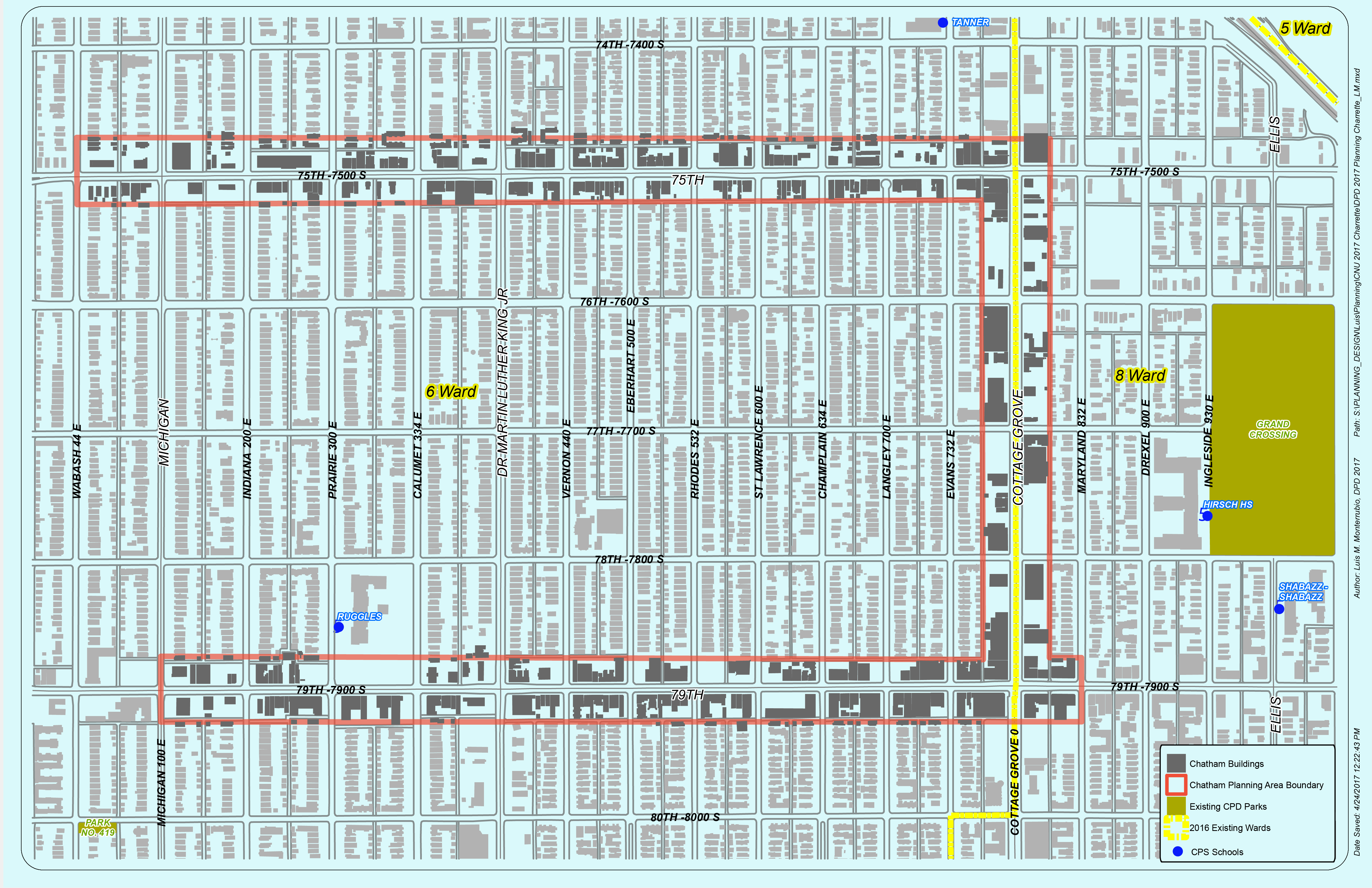 Supporting Information Facts
Department:
People We Serve: