Leadership
Celia Meza
Corporation Counsel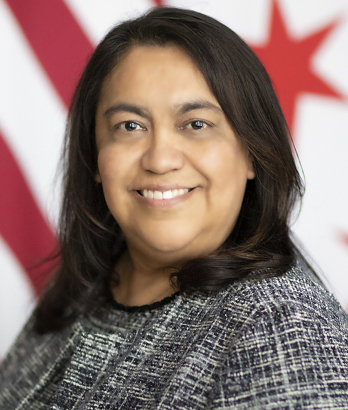 Celia Meza is an experienced attorney with litigation, labor, employment, investigations, ethics, compliance, and corporate experience. She has a diverse government background having worked in federal, state, and local government legal positions. Celia also has a background in corporate work having served as in-house counsel in a public and private corporation as well as a non-profit organization. She has conducted jury and bench trials in federal and state criminal and civil courts, and has appeared before administrative agencies, local municipal courts, and labor arbitrators.
Celia's public sector background includes service as an Assistant United States Attorney for the Department of Justice, Northern District of Illinois, Criminal Division where she prosecuted mail and wire fraud, narcotics, bank robbery, and counterfeit money cases on behalf of the United States and presented oral argument before the 7th Circuit. Celia has also worked in the City of Chicago's Office of the Corporation Counsel as both an Assistant Corporation Counsel and Deputy Corporation Counsel in the Labor Division and the Employment Litigation Division. Celia's government experience also includes service as Deputy Inspector General of Investigations for the City's Office of Inspector General and Vice President of Human Resources for the Chicago Transit Authority.
Celia also has varied experience working as in-house counsel. She served as General Counsel and Chief Compliance Officer for a healthcare billing company, Assistant General Counsel for Exelon Corporation, Assistant General Counsel for Chicago State University, and Associate General Counsel for the American Academy of Orthopaedic Surgeons. In these various positions she was responsible for developing, implementing, and overseeing Corporate Compliance Programs, Business Codes of Conduct, Human Resources Manuals and Contract Management systems. Celia is skilled in contract negotiation, enforcement, and providing legal counsel on corporate business matters.

Current Position
In May of 2019, Lori Lightfoot was sworn in as the Mayor of the City of Chicago and Celia joined her administration in the newly created position of Mayor's Counsel and Senior Ethics Advisor. Celia is a direct report to the Mayor and in this position, she provides legal guidance to the Mayor on City operations and policy matters. Within the Mayor's Office she advises senior staff on legal, ethics and compliance concerns, as well as administrative operations. She ensures that ethical policies and procedures are upheld by office staff and coordinates and conducts internal investigations to resolve ethics, human resources, and compliance issues when necessary.
Judicial Clerkship
Minnesota Supreme Court. St. Paul, MN. Judicial Law Clerk to Justice Alan C. Page.
Education
University of Iowa - College of Law. Iowa City, Iowa. Juris Doctorate.
University of Illinois - Champaign-Urbana, Illinois. Bachelor of Arts in English Literature.

Bar Admissions
Illinois Supreme Court; Federal Trial Bar – Northern District of Illinois.
Northern District of Illinois; 7th Circuit Court of Appeals; 2nd Circuit Court of Appeals.
Certifications/Professional Organizations/Boards
Association of Inspectors General, Certified Inspector General
Hispanic Lawyers Association-Illinois, Member, Former Board Member and Treasurer
Leadership Greater Chicago, Former Fellow and Board Member