Appointment to Meet with MOPD Preliminary Plan Review
The Accessibility Compliance Unit provides pre-permit plan review to assist architects, builders, and developers in the early stages of plan development with accessibility requirements.
Pre-permit plan reviews for accessibility compliance for an initial fee of $150. Additional meetings on the same project are available for an additional fee of $100.
You can schedule a pre-permit review, online, by using our online reservation form.
You can also schedule a pre-permit review with our Accessibility Compliance Unit or obtain additional information by contacting Matthew Sepanik at 312.744.4496 or e-mail Matthew.Sepanik@cityofchicago.org.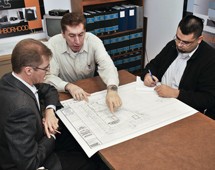 Visit the MOPD Project Data Form page for all accessibility plan reviews.