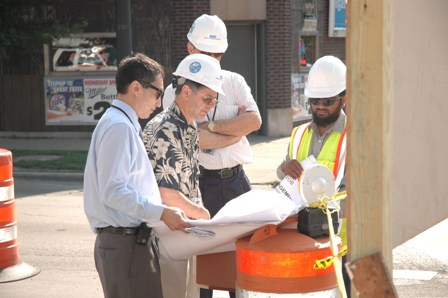 This Bureau provides design services for the water and sewer main system. This includes determining the size of the water and sewer mains needed to properly serve the community as well as future growth; the placement of the valves needed to control the flow of potable water; and, the placement of underground sewer structures that can remove storm and waste water for treatment.
The Bureau of Engineering also provides inspectional services for buildings both public and private that are connected to the public water and sewer mains. These are the water and sewer lines that connect any structure to the mains in the street, typically through the buildings frontage.
Inspections of all potable water connections are conducted by Plumbing Inspectors: 312.744.7017.
Private Drains or sewer lines (up to 6-inches) are inspected by the Drain Inspectors: 312.744.5503.
Large private sewer structures 8-inches and larger are inspected by the Mason Inspectors contractors can call: 312.744.5502.