The City of Chicago envisions a green recovery that will strengthen local communities, provide critical relief for residents, and improve the overall livability of our City. Mayor Lightfoot is advancing four strategies that position Chicago to achieve its 2025 and 2035 clean energy targets, reduce reliance on fossil fuels, deliver local benefits to residents and businesses. The four strategies include:
Comprehensive Climate Action Plan
Cities around the world are witnessing the undeniable impacts of a changing climate. In Chicago, summer temperatures continue to climb and intense rains flood homes and the shoreline. The moment is now to minimize the burdens on residents in the face of future climate stressors, and maximize the benefits for communities historically left out of sustainability initiatives and investments. Together, we must work across industries and communities to repair, protect, and transform our city to be more resilient.
The City of Chicago's next climate action plan will build upon the rich research, active community-level sustainability initiatives, and activism within the city. Sustainable Chicago 2015 identified strong actions for residents and businesses for a competitive and sustainable city while Resilient Chicago (2019) demonstrated the importance of diverse, community-driven programming. This year, community partners and other stakeholders will work to identify the most critical strategies for activating healthy, vibrant, and resilient communities across the city.
The City will begin stakeholder and public engagement for the climate action plan in Summer 2021. The insights will also be used to inform the We Will Chicago citywide plan.
Building Decarbonization Strategy
Currently, buildings account for 70% of Chicago's greenhouse gas emissions, therefore the City must reduce energy consumption in buildings to meet our long-term climate goals. As part of the City's commitment to power all buildings by clean, renewable energy by 2035, city leadership will develop a Building Decarbonization Strategy.
Beginning in Fall 2020, the Mayor's Office and the Department of Buildings, and non-profit partners Elevate and NRDC, hosted a series of stakeholder meetings to discuss the importance of an equitable building decarbonization strategy, and conducted best practice research on building decarbonization efforts across 12 peer cities. In Summer 2021, the City will convene a Policy Development Working Group to explore strategies to allow residents and businesses to reap the benefits of decarbonization and actively participate in reaching the City's Paris Climate Agreement commitment. The group's policy recommendations will be delivered to Chief Sustainability Officer Angela Tovar and Mayor Lightfoot to inform future budget and policy priorities.

Electricity Franchise Negotiations
For the first time in nearly 30 years, the City of Chicago is able to renegotiate or replace its electricity franchise agreement. This is a historic opportunity to modernize Chicago's energy economy, advance climate justice goals, and strengthen accountability strategies with the utility.
The future franchisee will operate and manage the electric distribution system, through a franchise agreement, and be expected to deliver equitable community benefits as outlined in an Energy and Equity Agreement. Together, both agreements will bring household savings, promote greater transparency, bring necessary infrastructure investment, and enable clean energy access for more residents. The Energy and Equity Agreement will center on 3 pillars: governance and transparency; energy and electrification; and equity and neighborhood development.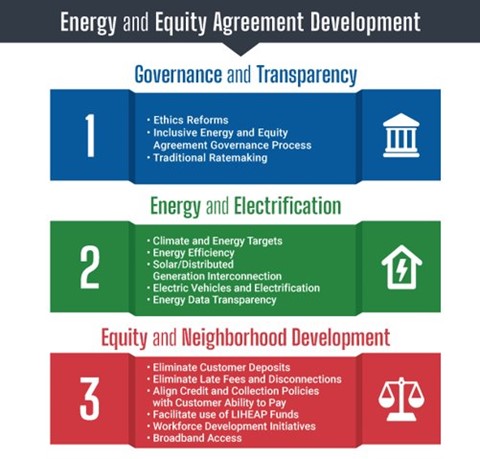 At this time, the City is currently evaluating whether to enter into a new franchise with the incumbent or to explore awarding a franchise to new franchisee(s). On April 30, 2021, the Department of Assets, Information, and Services released a Request for Information (RFI) for the electricity franchise . The results of the RFI will be used to inform the City's next franchise for electricity delivery, while furthering the City's environmental, social, and economic objectives.
Public input is a critical part of the negotiation process to secure the strongest agreement for Chicagoans. You can submit your suggestions and comments about the priorities of the Energy and Equity Agreement and community benefits to: FranchiseFeedback@cityofchicago.org.
Clean Energy Transition Planning (Update)
In November 2020, the Department of Assets, Information, and Services (AIS) began a process to identify a retail energy supplier that will deliver 100% renewable energy for the City's municipal buildings and operations. Most notably, half of the energy will come from a newly built renewable development in the region that will create new clean energy jobs. AIS will announce the retail energy supplier in Spring 2021.
Read the September 2020 Request for Proposal, here.