Buildings Hearings Division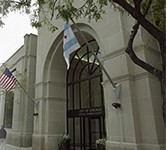 The Buildings Hearings Division hears cases initiated from the Building, Fire and Zoning Departments. Common complaints include:
Building code violations (i.e., unkept buildings, buildings with safety, structural, plumbing, electrical problems)
Gang and narcotics (i.e., task force cases involving illegal gang activity and drug houses)
Zoning code violations (i.e., illegal construction/conversions without proper permit and billboard violations);
Lead paint in buildings with minors; and,
Fire code violations (i.e., insufficient exits or fire extinguishers, firetrap buildings).
For more information, please contact: Administrative Hearings, Buildings Hearings Division, 312.742.8254.