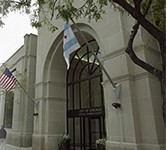 Why was I issued a Notice of Violation?
When the City of Chicago determines that an ordinance violation has occurred, it will serve (in-person or by mail) the party responsible for the alleged violation with a Notice of Violation ("Notice") outlining the city's allegations. more
How to prepare for a hearing?
In general, the Notice will inform you of: 1) the alleged violation; 2) the date, time and place that the alleged violation occurred; and 3) what your options are with regard to payment, mandatory appearance at a hearing, or the opportunity to request a hearing to contest (fight) the violation. more
What to expect at a hearing?
Who may participate in the hearing will vary depending on the nature of the code violation.
Each hearing will have a hearing officer. The hearing officer is a licensed Illinois attorney appointed by the Department director to preside over the hearing as an independent and impartial "judge". more
What happens after the hearing?
If you ignore the Notice, a hearing officer may enter a Default Judgment against you based on the evidence presented. A "Default Judgment" is similar to a Judge's order in that it can be used to place a lien on your property, garnish your wages and/or affect your credit. The city usually requests that the maximum fine be imposed in default matters. more
Appealing a decision
Either side may appeal the hearing officer's decision to the Circuit Court of Cook County (Richard J. Daley Center, 50 W. Washington, 6th Floor) within 35 days by filing a civil lawsuit for administrative review and by paying the applicable state filing fee.