CDOT Releases Updated Cycling Strategy to Expand Bike Network and Increase Everyday Cycling in Chicago
March 29, 2023
Cycling strategy identifies vision for next 150 miles of bikeways, emphasizing low-stress options to make riding a bike safer and more convenient for all Chicagoans
Download the full Chicago Cycling Strategy HERE.
CHICAGO – The Chicago Department of Transportation (CDOT) today released the Chicago Cycling Strategy, outlining a community-driven approach to expanding Chicago's bike network and creating a more equitable, safe, and inviting city for cycling. With a focus on providing low-stress options, working with community stakeholders, and filling gaps in the citywide network, this strategy will make Chicago a better place for cycling and help create a more connected, healthy, and sustainable city. CDOT will be designing and implementing 150 miles of bikeways in the coming years – the vast majority of which are low-stress – with several projects beginning installation this spring.

"We are excited to share this latest update of our Chicago Cycling Strategy, which tells the story of where we've been and where we're headed on the journey to build the best bike network of any big city in the county," said CDOT Commissioner Gia Biagi. "We've set a vision for the next 150 miles of bikeways in our city and, more importantly, have outlined the practiced methods that will help us get there."

The Chicago Cycling Strategy is designed to work at both the citywide and neighborhood scales, allows for flexible approaches to best meet the needs of residents, and reflects the rapidly evolving nature of our transportation system. The strategy establishes three pillars for everyday cycling:
A connected network serving all neighborhoods and all Chicagoans
Focused on local trips to get people to the places that are most meaningful to them
Providing low-stress options to make everyday cycling safe and convenient

With these goals in mind, CDOT plans to implement 150 miles of new bikeways in the next few years, including important citywide connections and local neighborhood routes. Of the identified projects, 85 percent are protected bike lanes or neighborhood greenways. Currently, half of Chicagoans live within 1/2 mile of a protected bike lane, neighborhood greenway, or off-street trail. Implementation of the next 150 miles will result in 70 percent of Chicagoans living within 1/2 mile of a low-stress bikeway. View Our Vision for the Next 150 Miles of Bikeways HERE.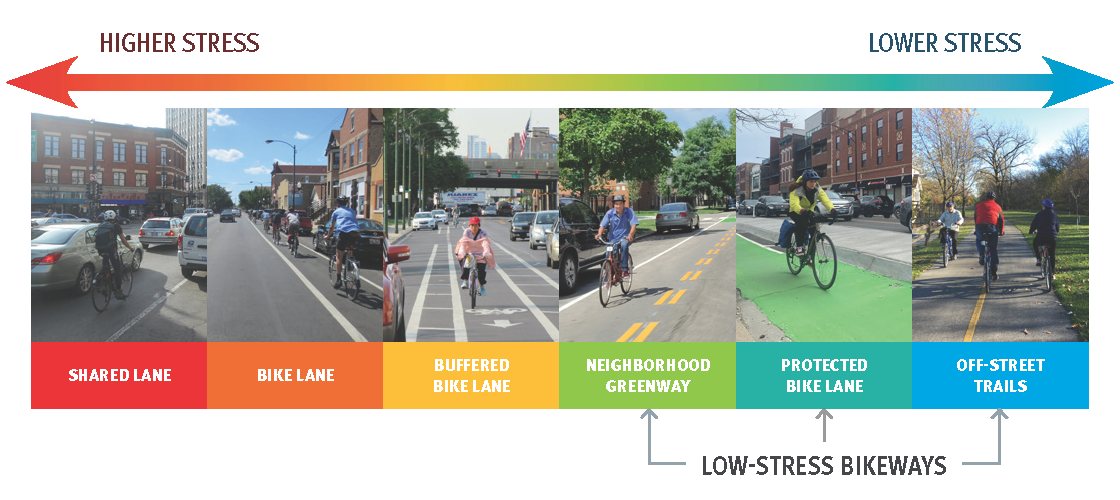 "Chicago is a great city for biking, but we know for too many people biking is still not a comfortable or convenient option for getting around. Despite progress, a lot of work remains to create the kind of low-stress network of bike lanes that supports people of all ages and abilities," said Jim Merrell, Advocacy Director at the Active Transportation Alliance. "The Chicago Cycling Strategy is an important step forward and provides a set of concrete goals and benchmarks that advocates like us can use to ensure the city follows through on its commitment to create safer streets for people on bikes."

Recognizing that every neighborhood has different opportunities, challenges, and perceptions of biking, CDOT has developed a community-driven approach for building connected Neighborhood Bike Networks to rapidly expand the network, one neighborhood at a time. This approach has been implemented in several west side communities, where CDOT was able to triple the mileage of bikeways in Belmont Cragin and North Lawndale in just two years by working closely with a cross section of local advocates, community-based organizations, and other trusted voices from the neighborhood.

Last year, CDOT and community partners began the South Lawndale Neighborhood Bike Network process, including the Little Village and Marshall Square neighborhoods, and in 2023 will begin a planning and engagement process in the Brighton Park, Gage Park, and McKinley Park neighborhoods. Additional Neighborhood Bike Networks will continue to expand as new community partnerships are established. In neighborhoods already well-served by the bike network, CDOT will identify opportunities to close network gaps, upgrade existing bikeways, and build upon past successes to ensure residents can access local destinations easily by bike.

The Chicago Cycling Strategy builds upon CDOT's accelerated pace of building bike infrastructure under Mayor Lightfoot through the Chicago Works Capital Improvement Plan. Since 2020, the bike network has grown by an average of 30 miles per year—double the annual rate at which the bike network was expanding from 2011-2019. Three-quarters of the bike network growth has been on the South and West sides since 2019. Chicago's network of bicycle infrastructure currently includes more than 420 miles of protected bike lanes, neighborhood greenways, off-street trails, and other on-street bikeways.