CDOT Completes Two New Bridges on Halsted Street over Chicago River
May 25, 2012
Bridge Projects are Key to Near North Side Economic Development and Quality of Life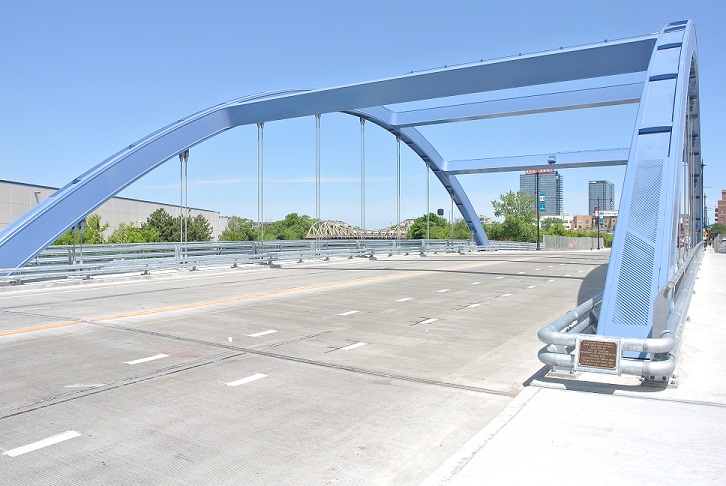 The Chicago Department of Transportation (CDOT) today announced the completion of the reconstruction of two bridges on Halsted Street between Division and Chicago Avenues.
"Chicago cannot build and maintain a 21st century economy on 20th century infrastructure," said CDOT Commissioner Gabe Klein. "These vital investments in our infrastructure will spur economic development on Goose Island and improve the quality of life in the Near North Side for decades to come."
Klein today visited the newly constructed "tied-arch" bridge in the 1100 block of North Halsted Street, which replaced an aging bascule movable bridge. The $13.7 million project consisted of the removal of the old bridge, pavement and lighting. The new modern-design bridge is wider, with two travel lanes and a new bike lane in each direction. The project was funded through grants from the Federal Highway Administration.
Klein also announced the re-opening of the bascule bridge on Halsted just north of Chicago Avenue over the North Branch of the Chicago River. The $6.5 million rehabilitation project was entirely funded through the Tax Increment Financing program.
That project included the complete replacement of the moveable roadway floor system and deck, sidewalk decks, lateral bracing, and handrails. The bridge also underwent a number of improvements, including adding bike lanes, architectural handrails and new guardrails to protect pedestrians from vehicles.
News Release Facts
Department:
Programs & Initiatives: