Wells/Wentworth Corridor Work Begins
September 30, 2016
New Access to Ping Tom Memorial Park; Buffered Bicycle Lane in Phase I
Mike Claffey 312.744.0707 | Michael.Claffey@cityofchicago.org
Susan Hofer 312.742.2006 | Susan.Hofer@cityofchicago.org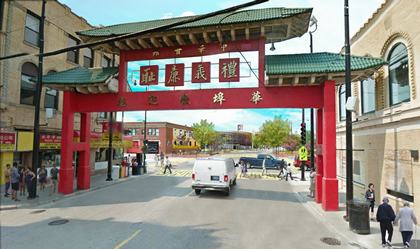 Wells Wentworth Community Flyer
CDOT announced that construction of Phase I of the Wells Wentworth Connector improvement project is now underway. The project will ultimately create a new roadway between the Loop and Chinatown. It will offer safer travel options for motorists, bicycle riders, commuters and pedestrians by adding a new traffic signal at 18th and Wentworth, new sidewalks on both sides of the street and a buffered bicycle lane. The project area spans from S. Wells between W. Roosevelt Rd. and W. 16th St. and S. Wentworth Ave. between W. 16th St. and W. Cermak Rd.
"This project exemplifies Chicago's strong commitment to the economic growth of the Chinatown community," said CDOT Commissioner Rebekah Scheinfeld. "By creating direct road, transit and bicycle access to Chinatown's thriving commercial center, we hope to strengthen the community's identity and economy."
Phase I of the project, S. Wentworth Ave. between W. 17th St. and W. 19th St., widens the existing right of way to incorporate new sidewalks on both sides of the street and allow for a buffered bike lane, improving pedestrian and bicycle access to the Ping Tom Memorial Park Fieldhouse. A new traffic signal at 18th and Wentworth will help control the flow of vehicle traffic and increase safety for all users. A cul-de-sac will be installed on Wentworth just north of Ping Tom Memorial Park that will be removed when the new road is extended north to Roosevelt during the third phase of construction, starting in 2018.
There will be traffic and bike restrictions on W. 18th St. during construction of the new signal at Wentworth. Parking will be prohibited on both sides of Wentworth Ave. between Ping Tom Memorial Park and 19th St. during construction, but parallel parking will be reinstated upon completion. Work on Phase I is expected to be completed in June 2017.
"These improvements will make Chinatown more pedestrian and bike friendly while bringing new economic opportunities to a growing and vibrant community," said Alderman Daniel Solis.
Phase II work has already begun, with the demolition of two of the three buildings that have been acquired to make way for the Wentworth realignment at Cermak. The second phase of the project will realign Wentworth Ave. between Archer and Cermak to eliminate the offset intersection at Wentworth and Cermak, which had the highest number of crashes in the project area. It will greatly improve safety for both motorists and pedestrians and will create a better connection between historic Chinatown south of Cermak and Chinatown Square north of Archer. The Phase II project limits are S. Wentworth Avenue between W. 19th St. and W. Cermak Rd. As part of the Phase II project, a new plaza will be built on the east side of Wentworth at 19th St., to highlight the entrances to both parts of Ping Tom Memorial Park. The realignment construction project will get underway after completion of Section 1 in 2017.
Construction of the first and second phase of the project is expected to cost $16.9 million with funds coming from River South and 24th/ Michigan Tax Increment Financing.
Attached graphics include an overview of the entire project, a preliminary rendering of 19th Street and a rendering of the proposed Cermak entrance to Chinatown.
You can follow CDOT on digital media:
Twitter: @ChicagoDOT
Facebook: www.facebook.com/CDOTNews
The web: chicagodot.org