Chicago Pedestrian Crash Analysis
As a part of a federally funded initiative to improve pedestrian safety within Chicago, the Chicago Department of Transportation (CDOT) completed a comprehensive analysis of pedestrian crashes within the city.
This study will be used as to inform the development of the Chicago Pedestrian Plan, new engineering treatments throughout the city, and our ongoing pedestrian safety education efforts.
CDOT is committed to making Chicago the most pedestrian friendly city in the country and recognizes that safe streets are an essential first step.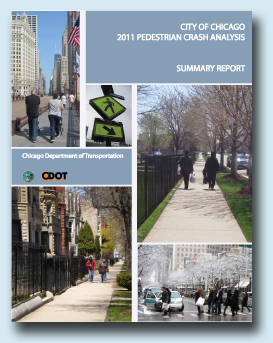 Download the 2011 Pedestrian Crash Analysis Summary Report (PDF, 1.57MB)
---
2011 Pedestrian Crash Analysis Summary Report Table of Contents
- Pedestrian Safety In Chicago (PDF)
- Pedestrian Crash Trends (PDF)
- Who Was Involved in Pedestrian Crashes (PDF)
- When Did Pedestrian Crashes Occur (PDF)
- Where Did Pedestrian Crashes Occur (PDF)
- Pedestrian Crash Types (PDF)
- Roadway Characteristics (PDF)
- Next Steps (PDF)
---
For a more detailed version of this report, please download:
2011 Pedestrian Crash Analysis Technical Report (PDF, 2.61MB)