In May 2020, the Chicago Department of Transportation (CDOT) launched "Our Streets," a community-based COVID-response program that invites Chicago neighborhoods to request that local roads be converted into corridors for improved, safe travel and healthy activity during the stay-at-home period and through reopening. Below is a summary of the various programs that fall under "Our Streets" as well as our efforts to gather feedback throughout the pandemic.
Pop-Up Essential Bus Lanes
CDOT and the Chicago Transit Authority (CTA) have teamed up to launch Pop-Up Essential Bus Lanes. This pilot program has being implemented on two of the City's highest ridership routes, Chicago Avenue (#66) and 79th Street (#79). One lane of traffic in each direction will be dedicated for buses to help reduce delays and bus bunching. The temporary Pop-Up Essential Bus Lanes prioritize service for essential workers and other bus riders. In total, the pilot provides more than 12 miles of temporary dedicated bus lanes.
Expanded Outdoor Dining
Throughout the summer, CDOT worked closely with the City's Department of Business Affairs and Consumer Protection to convert streets in key commercial corridors throughout the city into expanded outdoor dining areas. The program has been incredibly successfully, providing a lifeline for businesses during the pandemic. Hundreds of restaurants have taken advantage of the program and are planning to extend it into winter.
CDOT and other City agencies are working with permit holders to reconfigure spaces to add shelters and heating elements and to extend permits as requested as restaurants and diners prepare for the Chicago winter. New permits will be in effect through 2021.
Shared Streets
As a part of Our Streets, the Chicago Department of Transportation worked with Aldermen and other community groups in 2020 to better understand how COVID was impacting people's ability to get around their neighborhoods. The overwhelming request was to provide Shared Streets, which restrict vehicular access to local traffic only, to allow more space for people to walk, bike, and roll since many sidewalks were crowded and did not allow for proper distance between people to stay safe. Read the Frequently Asked Questions for more information on Shared Streets.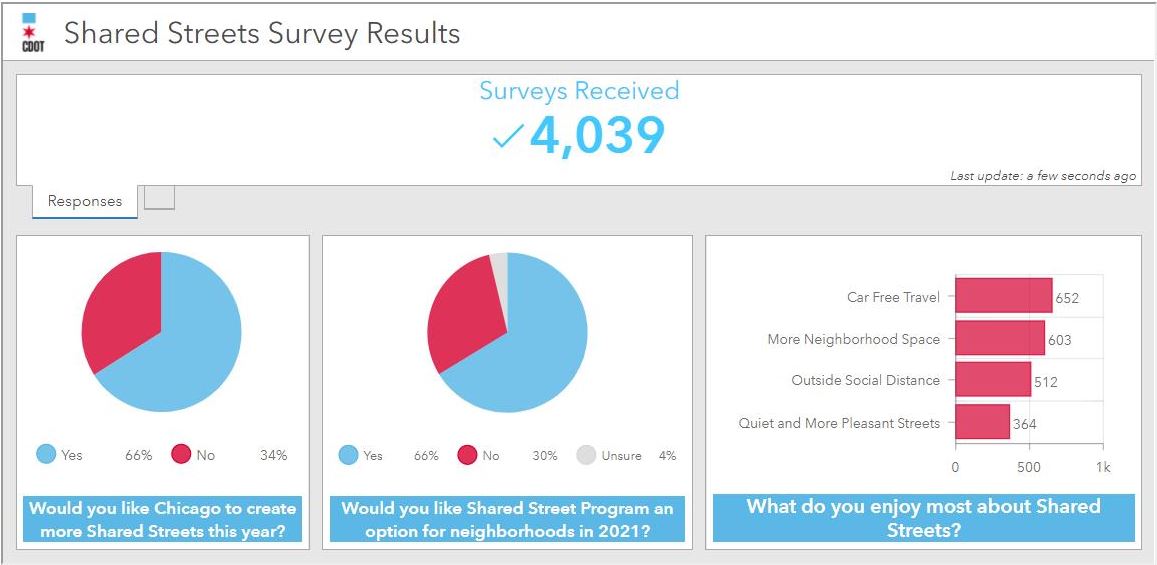 Throughout the program, CDOT collected feedback through an online survey to help with evaluate the Shared Streets program. Over 4000 surveys were completed, with a majority of responses hoping that we offer the program again in 2021. We are currently in the process of evaluating all survey responses and will publish a summary of our findings as well as recommendations for the future of the program.
Shared Streets 2020 Locations
Leland Avenue (East), between Lincoln and Clark (5/29-11/30/20)
Leland Avenue (West), between Virginia and Western (6/19 - 11/11/20)
Leland Avenue (Uptown), between Clark and Kenmore (10/02-11/30/20)
Cortland/Wabansia, between Lawndale and Humboldt (06/12 – 08/21/2020)
Cortland/Wabansia, between Humboldt and Marshfield (6/12-11/13/20)
Drexel Boulevard, between Oakwood and 51st Street (6/13 – 10/02/2020)

Dorchester/Kenwood Loop, between 68th and 70th Streets (6/26 -11/6/20)
Palmer Street, between Long and Cicero (6/30-11/30/20)
Dickens Avenue, between Racine and Clark (07/07 – 08/21/2020)
South Shore Drive, between 53rd and 56th Streets (07/07 – 10/02/2020
Dante/77th Street, between South Chicago and Blackstone (7/16 -11/6/20)
Catalpa Avenue, between Ashland and Clark (8/28-11/30/20)
School Street, between Damen to Paulina (including Ravenswood and Henderson) (9/28 - 11/6/20)
Grace Street, between Kedzie and California (including Richmond between Addison and Grace) (11/2-11/30/20)
COVID Mobility Survey
From late May to the end of 2020, we heard from over 1700 Chicagoans who shared their observations about how COVID has impacted their ability to get around the city and what CDOT can do to help.
The maps below show: what parts of the city have been in touch with us (left) and what the most common requests were, by ZIP code (right).
| | |
| --- | --- |
| | |
| Click image to display larger map | Click image to display larger map |
Travel Guidelines
We've created some simple guidelines to help you get around the city safely
Axios Interview
Axios interviews Commissioner Biagi in its What Matters 2020 series on the topic of the future of transportation and COVID-19.
Former Secretary of Transportation Ray LaHood and League of Cities CEO Clarence Anthony are also interviewed;
Commissioner Biagi starts at 20:40.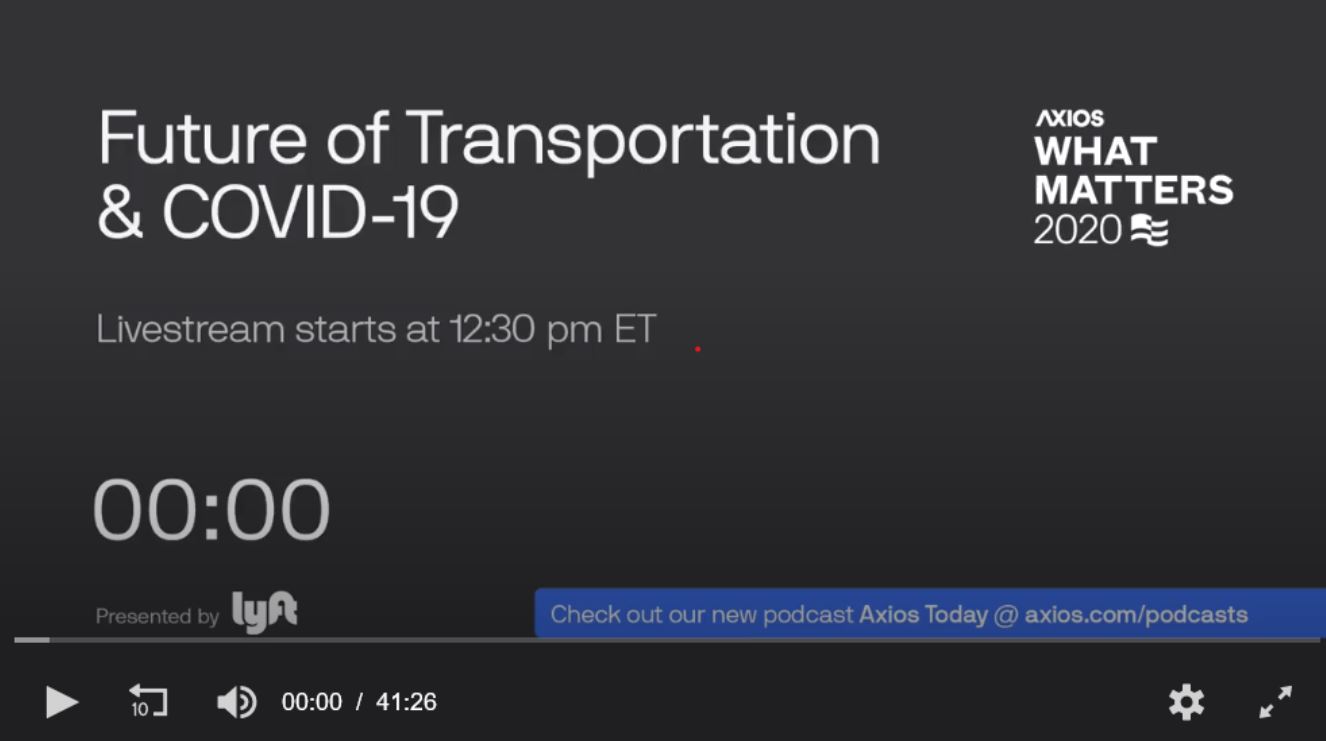 City Club of Chicago CDOT

Commissioner Gia Biagi discusses the role of transportation in COVID recovery and making
Hear Commissioner Gia Biagi discuss how COVID-19 is changing the way Chicagoans
use city streets with Karen Weigert and host Jenn White on
Reset
,
May 28, 2020.
#AskDrArwady
CDOT Commissioner Gia Biagi discusses how the City of Chicago is responding to transportation
issues posed by the COVID-19 pandemic with Chicago's Public Health Commissioner,
Dr. Allison Arwady, on #AskDrArwady May 4, 2020.