The Chicago Department of Transportation (CDOT) launched "Our Streets," a community-based COVID-response program that invites Chicago neighborhoods to request that local roads be converted into corridors for improved, safe travel and healthy activity during the stay-at-home period and through reopening.
Shared Streets
As a part of Our Streets, the Chicago Department of Transportation has been working with Aldermen and other community groups to better understand how COVID is impacting people's ability to get around their neighborhoods. The overwhelming request has been to provide Shared Streets, which restrict vehicular access to local traffic only, to allow more space for people to walk, bike, and roll since many sidewalks are getting crowded and don't allow for proper distance between people to stay safe. Read the Frequently Asked Questions for more information on Shared Streets.
Have you used a Shared Street this summer? CDOT launched a survey to help with evaluating the Shared Streets. Anyone can take the survey to provide their opinion about any of the Shared Streets, and the survey can be completed more than once if you'd like to provide feedback on multiple Shared Streets. The survey can be found at chicago.gov/sharedstreetsurvey. Below is an interactive dashboard showing a summary of survey results received thus far.

Where can I find Shared Streets?
Leland Avenue (East), between Lincoln and Clark
Leland Avenue (West), between Virginia and Western
Cortland/Wabansia, between Humboldt and Marshfield
Drexel Boulevard, between Oakwood and 51st Street

Dorchester/Kenwood Loop, between 68th and 70th Streets
Palmer Street, between Long and Cicero
South Shore Drive, between 53rd and 56th Streets
Dante/77th Street, between South Chicago and Blackstone
Catalpa Avenue, between Ashland and Clark
School Shared Street, between Damen to Paulina (including Ravenswood and Henderson)
COVID Mobility Survey
Over the course of the summer, we've heard from over a thousand Chicagoans who have shared their observations about how COVID is impacting their ability to get around the city and what CDOT can do to help.
The maps below show: what parts of the city have been in touch with us (left) and what the most common requests are, by ZIP code (right). Want to see your feedback reflected on the maps? Complete this quick, 4-question survey and come back again next week to see what's new.
| | |
| --- | --- |
| | |
| Click image to display larger map | Click image to display larger map |
What else is CDOT doing in response to COVID?
CDOT continues to work with residents, aldermen, and community organizations to further develop the Our Streets program. For example, CDOT partnered with the Department of Business Affairs and Consumer Protection to create the Expanded Outdoor Dining Program, which allows restaurants to operate in the public way and in private parking lots.
Travel Guidelines
We've created some simple guidelines to help you get around the city safely.
Axios Interview
Axios interviews Commissioner Biagi in its What Matters 2020 series on the topic of the future of transportation and COVID-19.
Former Secretary of Transportation Ray LaHood and League of Cities CEO Clarence Anthony are also interviewed;
Commissioner Biagi starts at 20:40.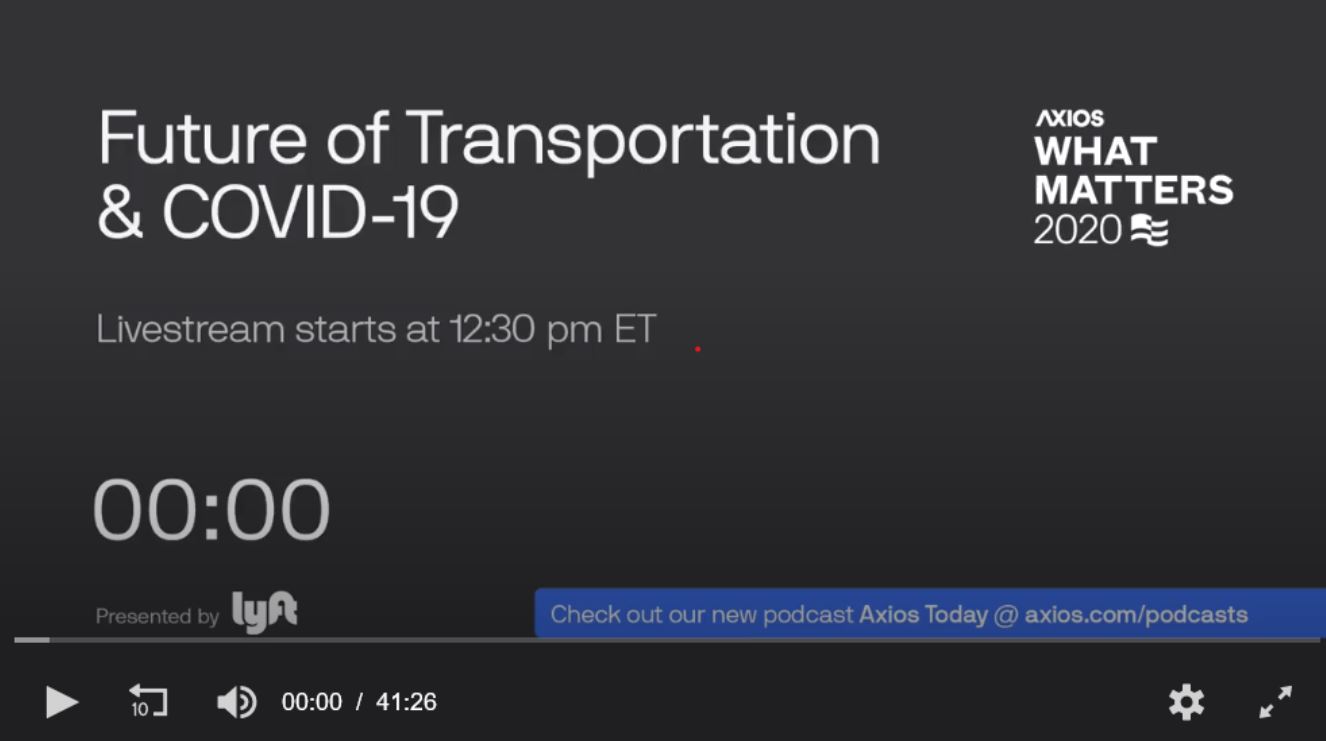 City Club of Chicago CDOT

Commissioner Gia Biagi discusses the role of transportation in COVID recovery and making
Hear Commissioner Gia Biagi discuss how COVID-19 is changing the way Chicagoans
use city streets with Karen Weigert and host Jenn White on
Reset
,
May 28, 2020.
#AskDrArwady
CDOT Commissioner Gia Biagi discusses how the City of Chicago is responding to transportation
issues posed by the COVID-19 pandemic with Chicago's Public Health Commissioner,
Dr. Allison Arwady, on #AskDrArwady May 4, 2020.