First Comprehensive Retrospective of Robert Colescott to Open at the Chicago Cultural Center This Saturday, December 4
December 3, 2021
Welcome back to "The People's Palace" for six free art exhibitions, tours, a redesigned Welcome Center and Learning Lab — and holiday shopping at BUDDY
DCASE Communications dcase@cityofchicago.org
Download High-Resolution Images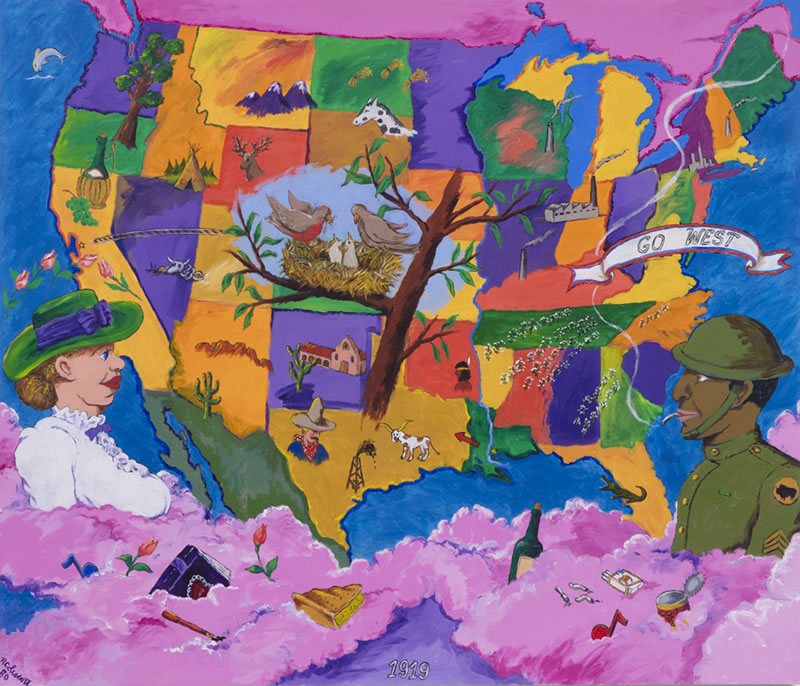 (click on image to enlarge)
GO WEST, 1980. Acrylic on canvas. Courtesy of The Robert H. Colescott Separate Property Trust and Blum & Poe, Los Angeles/New York/Tokyo. Photo Credit: Joshua White. © 2021 The Robert H. Colescott Separate Property Trust / Artists Rights Society (ARS), New York.
CHICAGO—The Department of Cultural Affairs and Special Events (DCASE) is pleased to announce the first comprehensive retrospective of Robert Colescott (1925-2009), one of America's most compelling and provocative artists, opening at the Chicago Cultural Center (78 E. Washington St., ChicagoCulturalCenter.org) on Saturday, December 4. In his large-scale paintings, Colescott confronted deeply embedded cultural hierarchies involving race, gender and social inequality in America with fearless wit and irony. This free exhibition brings together 55 paintings and works on paper spanning 50 years of Colescott's prolific career. Art and Race Matters: The Career of Robert Colescott has been extended through May 29, 2022.
"Robert Colescott's work has never been more relevant," said Lowery Stokes Sims, co-curator of the exhibition with Matthew Weseley. "He expanded modes of Black representation in art, and questioned aesthetic and social values that have determined the perception of the Black body. His masterful appropriations of art history address the suppression and distortion of the contributions of Black people in world art and history, offer us a means — if we are up to the task — to forthrightly confront issues of identity, social mores, capitalism and colonialism in the current American landscape."
Art and Race Matters invites a renewed examination of the artist, whose work is still as challenging, provocative and relevant now as it was when he burst onto the art scene over five decades ago. Presenting works from across Colescott's career, the exhibition traces the progression of his stylistic development and the impact of place on his practice, revealing the diversity and range of his oeuvre: from his adaptations of Bay Area Figuration in the 1950s and 60s, to his signature graphic style of the 1970s, and the dense, painterly figuration of his later work. Art and Race Matters also explores prevalent themes in Colescott's work, including the complexities of identity, societal standards of beauty, the reality of the American Dream and the role of the artist as arbiter and witness in contemporary life.
Art and Race Matters: The Career of Robert Colescott is co-curated by Lowery Stokes Sims and Matthew Weseley, and organized by Raphaela Platow, the Contemporary Arts Center's Alice & Harris Weston Director and Chief Curator. Following its debut in Cincinnati, the exhibition traveled to the Portland Art Museum, Sarasota Museum of Art and Chicago Cultural Center.
Major support of the exhibition has been provided by the Henry Luce Foundation, the National Endowment for the Arts, and Richard Rosenthal; the Andy Warhol Foundation for the Visual Arts for the research phase of the exhibition and the exhibition itself; and the Harold & Arlene Schnitzer CARE Foundation for its support of the catalog. The exhibition was awarded a Sotheby's Prize in 2018 in recognition of curatorial excellence and its exploration of an overlooked and under-represented area of art history.
The exhibition is made possible by the Terra Foundation for American Art.
Advisory: This exhibition contains mature content including nudity — and uses the language of visual and verbal stereotype to critique and expose racism and sexism in American culture.
EXHIBITION-RELATED PROGRAMMING:
Exhibition programming at the Chicago Cultural Center includes Gallery Talks with Daniel Schulman, DCASE Director of Visual Arts, from 12:15–1pm on Wednesdays, December 15, February 16 and April 13.
Additionally, Colescott Night: comedy and performances curated and hosted by Melissa DuPrey on December 13 from 6–9:30pm will include DJ sets by Sadie Woods in the Exhibit Hall (6–7pm and 8:30–9:30pm); a screening of Colescott's "Dulacrow's Masterwork: A Mockumentary Film," 1976 (6–7pm); and the main program in Preston Bradley Hall featuring Taneshia "Just Nesh" Rice, Calvin Evans and Windy Indie (7–8:30pm). ASL interpretation will be provided. Melissa DuPrey notes, "As comedians, we are called to highlight the hypocrisy and, most times, the absurdity of racial and societal inequities, while we still must live these experiences as Black and Brown bodies well after we leave the stage. I'm honored to help make the connection between Colescott's early work and how comedy is currently living during these hypercritical times by inviting comics and performers I admire who utilize these intersections in their art."
Watch for additional programming in 2022 including a "Streamable Learning" virtual field trip on January 11 at 1pm CST; a conversation with Dr. Richard Powell, Professor of Art and Art History at Duke University, in February (date TBA); and a program with exhibition curator Lowery Stokes Sims in the spring.
OTHER CHICAGO CULTURAL CENTER PROGRAMS:
Welcome back to the Chicago Cultural Center — also known as "The People's Palace" (78 E. Washington St., open daily 10am–5pm), offering six free art exhibitions, tours, a redesigned Welcome Center and Learning Lab — and holiday shopping at BUDDY. Plan your visit at ChicagoCulturalCenter.org.
Continuing exhibitions include "CHICAGO: Where Comics Came to Life, 1880–1960" (extended through January 9, 2022), made possible by the Terra Foundation for American Art; "Jeremiah Hulsebos-Spofford: League of Nations" (extended through January 23, 2022), partially supported by the Illinois Arts Council and Indiana University Northwest; "Successful Failures: 30 Years of Lumpens, radical media makers and cultural entrepreneurs building communities of the future" organized by Public Media Institute and friends (through February 6, 2022); "The Great Chicago Fire in Focus" (through Spring 2022) — part of a citywide commemoration of the 150th anniversary of the Great Chicago Fire; and "All Together Now: Sound x Design" (through April 3, 2022) across the street at the Design Museum of Chicago at Expo 72 (72 E. Randolph St., DesignChicago.org).
Building Tours are offered on Thursdays and Fridays at 1:15pm, space is limited. These free tours are led by volunteer docents and begin in the Welcome Center.
Welcome Center programming includes "CULTURE SNAPS" featuring creative people, places and things from across Chicago — featuring BandWith Chicago's Drumline program on December 4 from 3–4pm. Details at ChicagoCulturalCenter.org.
Learning Lab programming includes the "Meet an Artist" series featuring Shine On, Chicago! founder Jim Kropp and teen photo ambassadors on December 10 & 11 from 12–2pm. Details at ChicagoCulturalCenter.org.
Visit BUDDY (Hi-Buddy.org) at the Chicago Cultural Center (78 E. Washington St., store hours Tuesday – Saturday from 11am–5pm and Sunday from 11am–4pm) to support more than 200 local artists and small manufacturers selling Chicago-made art, objects and more. Buddy, a project of Public Media Institute in collaboration with DCASE, is "a shop, a hub for making connections between friends we have and those we have yet to meet." Ornaments for All: 1st Annual Buddy Artist Ornament Show is a must-see through December 31. Plan your visit at ChicagoCulturalCenter.org.
# # #
Chicago Department of Cultural Affairs and Special Events
The Department of Cultural Affairs and Special Events (DCASE) is dedicated to enriching Chicago's artistic vitality and cultural vibrancy. This includes fostering the development of Chicago's non-profit arts sector, independent working artists and for-profit arts businesses; providing a framework to guide the City's future cultural and economic growth, via the Chicago Cultural Plan; marketing the City's cultural assets to a worldwide audience; and presenting high-quality, free and affordable cultural programs for residents and visitors. For more information, visit chicago.gov/dcase.
DCASE programming is supported by the Chicago Transit Authority.