The Department of Cultural Affairs and Special Events administers several programs geared toward supporting Chicago's various communities. DCASE's Neighborhood Festival Program provides assistance to residents and community organizations to obtain the necessary information and permits to present festivals and other special events in Chicago's neighborhoods. Other neighborhood services include the Jumping Jack Program. DCASE also organizes Chicago's City Markets and administers the long-running Maxwell Street Market.
Chicago's City Markets bring more than 70 vendors selling fresh fruits, vegetables, plants and flowers to over 20 neighborhoods throughout the City of Chicago.
The Maxwell Street Market is an open air market located in the near west side of Chicago, where you can find bargains and vendors bargaining with an international flavor.
Apply to be a vendor at Maxwell Street Market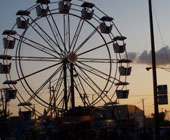 The Neighborhood Festival Program is designed to provide assistance in obtaining the necessary food and liquor vending permits, street closures, and required special permitting. This area also works closely with all city departments to ensure proper staffing and event awareness.
2020 Special Events Permit Packet
2020 Special Events Resource Guide
Each year, the Jumping Jack delights children across Chicago. This inflatable playground, provided by the Department of Cultural Affairs and Special Events, is available for free, all summer long. Learn more about the Jumping Jack Program.