New 'REACH' Sculpture Installed at O'Hare Multi-modal Facility
April 27, 2023
Large-Scale Sculpture, by Coby Kennedy and Hank Willis Thomas, Latest Series of Works Installed Throughout MMF in Partnership Between CDA, DCASE
cdamedia@cityofchicago.org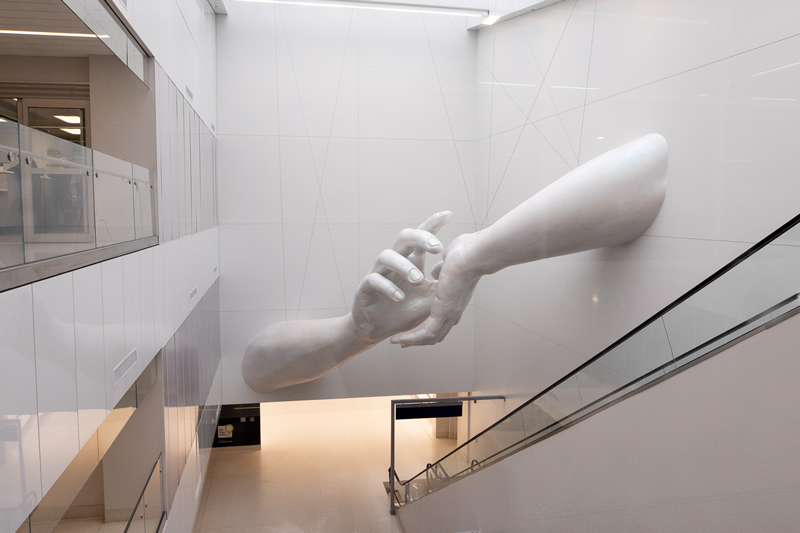 Hank Willis Thomas and Coby Kennedy, REACH, 2023. Photo: Nicole Harrison. Courtesy of For Freedoms
The Chicago Department of Aviation (CDA) and Department of Cultural Affairs and Special Events (DCASE) today announced the installation of "REACH," a new large-scale sculpture by New York-based artists Hank Willis Thomas and Coby Kennedy, in the Multi-Modal Facility (MMF) at O'Hare International Airport.
"O'Hare is the first thing millions of visitors see upon arriving in our city every year, and I'm proud to be able to use that first impression to highlight the work of so many talented artists," said CDA Commissioner Jamie L. Rhee. "I look forward to the CDA's continued partnership with DCASE as more art installations go up in the expanded and modernized Terminal 5 later this year."
"We are excited to partner with the Department of Aviation to bring the work of these talented artists to O'Hare," said DCASE Commissioner Erin Harkey. "Through these new works — and the 19 public art commissions featuring more than 20 artists coming to Terminal 5 — we hope that people feel welcomed, represented, and inspired to explore Chicago's neighborhoods, communities, and culture. These projects present a unique opportunity to invest in artists and creative workers while providing visitors a dynamic and welcoming first impression of our city."
"REACH" consists of two arms, approximately 27 and 31 feet long, suspended between nine and 34 feet off the ground in the North Escalator Hall of the MMF. Viewers approaching the three-story hall through the tunnel from the public lobby will see a massive beckoning hand overhead. The experience of the installation will dynamically change for viewers coming from the upper levels of the parking structure, with the sculpture appearing at eye level from the top floors and towering overhead as they descend the escalators to pass through and underneath the iridescent arms.
"As longtime collaborators we have had an incredible opportunity to create an artwork together and reframe a piece of public space, where most are in transit and passing through, for interconnectivity and togetherness. 'REACH' is a connection point and large-scale gesture that inspires us to come together," said artists Coby Kennedy and Hank Willis Thomas.
"REACH" is just the latest in a series of art installations that have gone up in recent years at the MMF, which houses economy parking, rental car facilities, and access to the revamped Airport Transit System (ATS), a fast, efficient train that connects travelers to O'Hare's four terminals. The facility is LEED Silver certified and, in 2022, received Illinois' first Parksmart Silver certification.
"Palimpsest" by Chicago's own Nick Cave was installed in 2019. The multi-story beaded and bustled tapestry is made of plastic pony beads, shoelaces, and nylon fishing net, with patterns and colors meant to emphasize the collective power of connectedness. The piece hangs near another set of escalators in the MMF.
"Horizon Light" by New York-based James Carpenter Design Associates consists of 196 color-anodized ellipses with subtle variations in color temperature and integrated LED lighting programmed to run light sequences along the length of the sculpture. The work, which spans the bus and shuttle pick-up and drop-off area outside the MMF, is meant to embody a sense of twilight over Lake Michigan. It was also installed in 2019.
"Field Lines" by Los Angeles-based artist Rob Ley, installed in 2018, consists of painted aluminum strips along the wall above the rental car counters in the MMF's main hall. The piece is sculpted to evoke the steady flow of a breeze through a field, inspired by the dynamic air currents that shape wind and weather patterns across the globe to impact air travel in ways that can be both supportive and disruptive.
As part of the expansion and modernization of Terminal 5 under the O'Hare 21 capital improvement program, the CDA and DCASE are also partnering to commission the largest single acquisition of works by Chicago artists by the City of Chicago in the last 30 years.
This $3.5 million project presents a unique opportunity to invest in Chicago artists and creative professionals while providing international visitors with a dynamic and welcoming first impression of our city. Nineteen commissions featuring more than 20 artists will be completed and unveiled in phases throughout 2023.
About Coby Kennedy and Hank Willis Thomas:
Coby Kennedy (b. 1977; lives and works in New York) uses the communication tools of the advertising and entertainment industry to create paintings, videos and sculptures that hint at unspoken truths, the modern culture of veiled intent, and the questions of subjective realities. A graduate of Columbia University's Fine Art MFA and Pratt Institute's Industrial Design BA programs, the artist and industrial conceptual designer has completed residencies at the Skowhegan School of Painting and Sculpture (2011), Red Bull Arts Detroit (2016), and Anderson Ranch Arts Center (2018). Kennedy is the recipient of the Civil Society Institute Fellowship and One World Award, and has exhibited work domestically and internationally, in Japan, South Africa and Italy.
Hank Willis Thomas (b. 1976, Plainfield, NJ; lives and works in Brooklyn, NY) is a conceptual artist working primarily with themes related to perspective, identity, commodity, media, and popular culture. His work has been exhibited throughout the United States and abroad including the International Center of Photography, New York; Guggenheim Museum Bilbao, Spain; Musée du quai Branly, Paris; Hong Kong Arts Centre, Hong Kong, and the Witte de With Center for Contemporary Art, Netherlands.
About Chicago Department of Aviation (CDA) and Department of Cultural Affairs and Special Events (DCASE):
The Chicago Department of Aviation (CDA) owns and operates one of the world's busiest airport systems, comprised of O'Hare and Midway International Airports. Chicago's airports offer service to more than 250 nonstop destinations worldwide, including 47 foreign countries, combined. Together, Chicago's airports serve more than 105 million passengers each year and generate approximately $70 billion in annual economic activity for the region. The CDA is self-supporting, using no local or state tax dollars for operations or capital improvements at either airport. For more information, visit www.flychicago.com.
The City of Chicago Department of Cultural Affairs and Special Events (DCASE) supports artists and cultural organizations, invests in the creative economy, and expands access and participation in the arts throughout Chicago's 77 neighborhoods. As a collaborative cultural presenter, arts funder, and advocate for creative workers, DCASE programs and events serve Chicagoans and visitors of all ages and backgrounds, downtown and in diverse communities across the city—to strengthen and celebrate Chicago. For more information, visit Chicago.gov/DCASE.
###