Chicago Cultural Center — Plan Your Visit
DCASE Homepage > Chicago Cultural Center > Plan Your Visit
Designed by the Boston firm of Shepley, Rutan & Coolidge as the first home of the Chicago Public Library, the Chicago Cultural Center was completed in 1897. It was listed on the National Register of Historic Places on July 31, 1972, and was designated a Chicago Landmark by the City Council on November 15, 1976.

The Beaux Arts style was influenced by the buildings of the 1893 World's Columbian Exposition. The building's interior features rooms modeled on the Doge's Palace in Venice, the Palazzo Vecchio in Florence, and the Acropolis in Athens. Its lush ornamentation includes two stained-glass domes, rare marbles inlaid with sparkling mosaics, and intricate, coffered ceilings.
Click on the links below to go directly to the section.
Closed in response to COVID-19.
Monday–Friday, 10am–7pm
Saturday–Sunday, 10am–5pm
The exhibitions close 15 minutes before the building closes.
First Floor
Second Floor
Claudia Cassidy Theater
Grand Army of the Republic (G.A.R.) Rotunda, Hall, and Annex
Healy Millet Dome
Chicago Rooms Gallery
Public Washrooms
After School Matters (Offices)
Third Floor (Washington Street Side)
Third Floor (Randolph Street Side)
Building Management and Rental Office
Fourth Floor
Sidney R. Yates Gallery
Exhibit Hall
Yates Annex
Department of Cultural Affairs and Special Events (offices)
Fourth Floor Conference Room
Fifth Floor (Washington Street Side)
Chicago Children's Choir (offices)
Department of Cultural Affairs and Special Events (offices)
Millennium Park Room
5th Floor Garland Meeting Room
5th Floor Washington Meeting Room
Pedway Randolph Street Side
Pedway
Poetry Center (offices)
Pedway West Meeting Room

The Learning Lab is a place to engage and experiment with aspects of all DCASE cultural programming. Watch archival footage of guests at past DCASE events on a vintage TV set, hear the sounds of upcoming DCASE music festivals, try your hand at mural making like Keith Haring on our chalk wall, touch pieces of the building to get a feel of the sumptuous materials used to create this golden age building and more!
Visitor Information Centers
The Visitor Information Center located within the Chicago Cultural Center (operated by Choose Chicago) was closed effective January 4, 2016. For Chicago visitor information including Things To Do, visit www.choosechicago.com – or visit the Macy's on State Street Visitor Center located at 111 N. State Street, 1st Floor (details below).
Choose Chicago will maintain its InstaGreeter service at the Chicago Cultural Center, offering FREE on-the-spot tours of the city offered by volunteer Chicago Greeters. InstaGreeter tours are available Friday–Saturday 10am–3pm and Sunday 11am–2pm, leaving from Randolph Lobby.
Macy's on State Street
Address: 111 N. State Street, 1st Floor
Neighborhood: Loop
Visitor information center hours of operation reflect store hours.

Closed Easter, Thanksgiving Day and Christmas Day.
Note: The Chicago Water Works Visitor Information Center has closed, but Chicagoans and out-of-towners should continue to visit the Chicago Water Works Pumping Station (across Michigan Avenue from the Historic Water Tower), 163 E. Pearson St., check out a satellite location of Chicago Public Library – or see a show at Lookingglass Theater.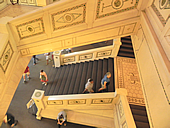 Building Tours reveal the storied history of the landmark Chicago Cultural Center – offered year round on Wednesdays, Thursdays, Fridays and Saturdays at 1:15pm. The 45–60 minute tours are FREE and led by volunteer docents. Find out more information.
Wireless is available to the public, in the public locations of the Cultural Center. The network is named "Chi-Fi." Coverage/accessibility may be different in various locations inside the building, and speed is dependant on the number of users at any given time.
A good place to try access is in the Randolph Square on the first floor, north side of the building.
Accessibility Information
To request reasonable accommodation in order to fully participate in an event at the Chicago Cultural Center or to ask a question, please contact dcase@cityofchicago.org. Requests: 72 hours advance of the event date is required, 2 weeks is recommended.
Accessible Entrance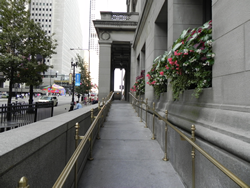 The wheelchair accessible entrance is located at street level at Garland Court, near the Randolph Street entrance, where power assisted doors are located at the westernmost entry portal.
Elevators
All elevators in the building are accessible.
An elevator is located in the Randolph Street Lobby which connects to the underground Pedway.
An elevator located outside the building on the southwest corner of Michigan Avenue and Randolph Street connects to the underground Pedway providing access to the Chicago Cultural Center, the Metra Train Station and the Grant Park Underground Garage.
Wheelchairs
Wheelchairs for use in the Chicago Cultural Center are available upon request on a first come, first served basis. Upon arrival, please ask the security officer on duty in the lobby for assistance.
Water Fountains
Wheelchair–height water fountains are located on the first, second and fourth floors near the restrooms.
Restrooms
All restrooms are wheelchair accessible. Restrooms are located on the first and second floors.
Assistive Listening Devices (ALD)
ALDs for the hearing-impaired are available for all public concerts and lectures.
Accessible Seating
An accessibility lift and assisted seating are available in the Claudia Cassidy Theater.
Renaissance Court Gallery
Chicago Cultural Center, First Floor North

Hours: Monday–Friday, 9am–4:30pm; Saturday, 9am–2pm
Renaissance Court is an award-winning senior center which presents a variety of enriching and enjoyable cultural, educational, health, and fitness programs for adults age 55 and older. It offers an opportunity to renew past interests, learn new skills, and make new friends. The focus of the programming is on the arts: the visual and performing arts, literature, music, and more make up the core of the many high quality classes and events.
From The North:
If traveling from the North on the Kennedy Expressway or Edens Expressway (Interstate 90/94), exit at Monroe Street and drive East to Michigan Avenue.

If driving on the Outer Drive (North Lake Shore Drive/Highway 41), exit at Randolph Street and drive West to Michigan Avenue.
From The South:
If traveling from the South on the Dan Ryan Expressway (Interstates 90/94), exit at Congress Parkway and drive East to Michigan Avenue and then North to Washington Street. If driving on Lake Shore Drive (Highway 41), exit at Randolph Street and drive West to Michigan Avenue.
From The East:
If traveling from the East on the Indiana Toll Road (Interstate 90), take the Chicago Skyway to the Stony Island exit, follow Highway 41 (Lake Shore Drive) to downtown Chicago, exit at Randolph Street and drive West to Michigan Avenue.

If coming in from the East on Interstate 90/94, continue on the Dan Ryan Expressway, exit at Congress Parkway, drive East to Michigan Avenue and then North to Washington Street.
From The West:
If traveling from the West on the Eisenhower Expressway (Interstate 290), which becomes Congress Parkway, drive East to Michigan Avenue, and then turn North (left) to Washington Street.
Convenient parking is located in the Millennium Park Garage, Grant Park North, Grant Park South and East Monroe Garages. For more information or directions for any of these parking garages, visit www.millenniumgarages.com or call 312.616.0600.
El: Pink, Orange, Green, Brown, Purple to Randolph; Blue to Washington; Red to Lake.
Bus: 3, 4, 6, 10, 14, 26, 143, 144, 146, 147, 151, 157.

Both Chicago Transit Authority buses and trains, and Metra's commuter rail lines stop conveniently near the Cultural Center. For detailed travel information visit www.transitchicago.com or call the Travel Information Center at 1-888-YOUR-CTA or 1-888-CTA-TTY1 (TTY).
Divvy is Chicago's bike sharing system with thousands of bikes and hundreds of stations across the city. Intended to provide Chicagoans and visitors with an additional transportation option for getting around the city. There is a Divvy Bike station located at the Chicago Cultural Center on the Michigan Avenue side of the building. For more information and pricing, please visit www.divvybikes.com.
The Chicago Cultural Center is located in the heart of downtown Chicago, where there are plenty of restaurants to cater to your dining needs.
Civil Weddings Performed by the Marriage Court of Cook County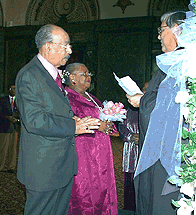 Minimal fee; By appointment only; Registration required
Information and registration: 312.603.5660
A total of ten (10) marriage and civil union ceremonies are performed by judges at the Chicago Cultural Center, G.A.R. Hall, 78 East Washington Street on one Saturday per month and are by appointment only.
Ceremonies are performed only between 10:45am and 11:15am.
Couples interested in holding their services at the Cultural Center must first register in person at:
Cook County Building Marriage Court
119 W. Randolph St. (lower level)
Hours: Mondays–Fridays, 9am–12 Noon and 2–4pm;
Saturdays, 9am–12 Noon
Telephone: 312.603.5660
The Cultural Center does not provide registration for civil weddings. For information on how to register, call the Marriage Court at 312.603.5660 or visit www.cookcountycourt.org
Private Wedding Ceremonies and Receptions
The Cultural Center's beautiful and versatile spaces are ideal for wedding ceremonies, receptions and other private events. View more information on renting space and the Cultural Center's wedding packages.