Chicago Cultural Center — Plan Your Visit
DCASE is dedicated to serving Chicago's cultural landscape.
Please join us for exhibitions and programs in the Chicago Cultural Center, Millennium Park and more.
Chicago Cultural Center is located at 78 East Washington, Chicago, Illinois 60602, across the street from Millennium Park. It is bordered by Michigan Avenue to the East, Randolph Street to the North, Washington Street to the South and Garland Court to the West.
There's always something to see at the Chicago Cultural Center.
Current Building Hours:
Daily, 10am-5pm
Exhibition galleries begin closing 15 minutes prior to building closing.
Tickets are not required for entry into the building or exhibitions. Admission is free.
2023 Closed Holidays
New Year's Day - Sunday, Jan. 1
New Year's - Monday, Jan. 2 (Observed)
St. Patrick's Day Parade Day - Saturday, March 11
Memorial Day - Monday, May 29
Independence Day - Tuesday, July 4
Labor Day - Monday, Sept. 4
Thanksgiving Day - Thursday, Nov. 23
Christmas Day - Monday, Dec. 25
2023 Open Holidays
Martin Luther King, Jr.'s Birthday - Monday, Jan. 16
Lincoln's Birthday - Monday, Feb. 13
Washington's Birthday - Monday, Feb. 20
Pulaski Day - Monday, March 6
Juneteenth - Monday, June 19
Columbus Day - Monday, Oct. 9
Veterans Day - Friday, Nov. 10 (Observed)
The Welcome Center, Exhibitions, G.A.R. Hall and Rotunda, Preston Bradley Hall's Tiffany Dome and more, visit the webpage for information.
Public Transportation is one of the easiest and most economical ways to get around downtown.
Both Chicago Transit Authority buses and trains, and Metra's commuter rail lines stop conveniently near the Cultural Center.
For detailed travel information visit www.transitchicago.com or call the Travel Information Center at 1-888-YOUR-CTA or 1-888-CTA-TTY1 (TTY).
Public Transportation

Take CTA to the Chicago Cultural Center
From the elevated lines: exit at Washington/Wabash and walk east.
From the subway: exit at Lake (Red Line) or Washington (Blue Line) and walk east.
Served by Michigan Avenue buses 3, 4, 19, 20, 26, 60, 66, 124, 143, 147, 151, 157 and Washington St. buses 4, J14, 20, 56, 66, 147.
For travel information, visit www.transitchicago.com. For fare information or to purchase fares in advance, visit www.ventrachicago.com.
(click on map to enlarge)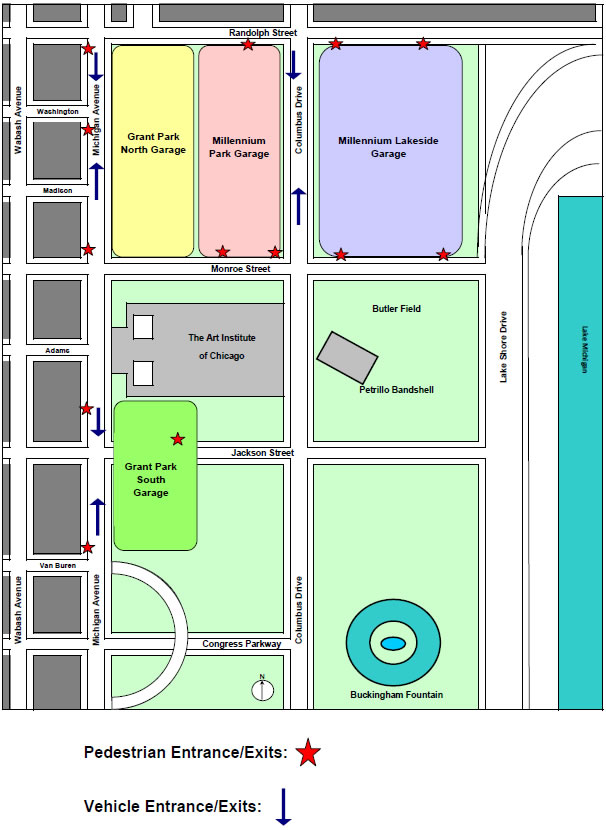 METRA
Metra's suburban commuter rail system has 11 lines with 239 stations radiating from downtown Chicago to the six-county area of northeast Illinois. For regional transit schedules and fares, and a map of downtown stations, visit METRA's website at http://metrarail.com.
Parking
Nearby parking garages are located at Grant Park North Garage (25 N. Michigan Ave.), Grant Park South Garage (325 S. Michigan Ave.) and Millennium Park Garage & Millennium Lakeside Garage (5 S. Columbus Dr.).
Pay in person at each garage location or pre-pay online for discounted parking. Visit www.millenniumgarages.com/rates or call 312.616.0600 for 24/7 customer service.
Biking
Bike parking is available on the perimeter of Grant and Millennium Parks, close by to the Chicago Cultural Center. Visit the Chicago Bicycle Program for maps, safety, and other information.
Divvy is Chicago's bike sharing system intended to provide Chicagoans and visitors with an additional transportation option for getting around the city with thousands of bikes and hundreds of stations across the city. There is a Divvy Bike station located at the Chicago Cultural Center on the Michigan Avenue side of the building. For more information and pricing, please visit www.divvybikes.com.
Policies and Patron Services
No guns inside the building please.
Info desks, staffed with security and DCASE Volunteers, are located in both the Randolph Street (North) and Washington Street (South) lobbies. Stop by for information about what's free and fun in the building that day.
Welcome Center
Visit the Welcome Center off the Randolph Street (North) lobby for the Neighborhood Cultural Spotlights, the Community Wall (bring your Chicago cultural event poster/flyer), Good Things Vending, Millennium Park Campus information and the Thursday and Friday free building Tours.
Learning Lab
Visit the Learning Lab an interactive studio on the first floor, (Garland Corridor near the Washington entrance) that offers sights, sounds, and experiences for visitors of all ages and a wide range of abilities. Visit our website to learn more about programs and check out images of the reinvigorated space by design team Made in Englewood (Eric Hotchkiss and Andre Westhelle).
Photography
Please read the Chicago Cultural Center's Photography Policy.
Visit BUDDY on the 1st floor. Committed to giving artists and small manufacturers in Chicago a place to showcase and sell their goods and artworks to a vast audience of Chicagoans and visitors at the Chicago Cultural Center.
Restrooms are located on the North side of the building on floors 1, 2, and 4. All restrooms are wheelchair accessible and have water fountains nearby. Bottle fillers are on the 1st & 4th floors on the North side hallway of the building.
You may take a break at the Randolph Square seating area. Please, only eat and drink at the tables.
Elevators are available on the South and North side of the building.
Get Married Here!
Civil Weddings Performed by the Marriage Court of Cook County
Minimal fee; by appointment only; registration required
Currently unavailable.
Private Wedding Ceremonies and Receptions
The Cultural Center's beautiful and versatile spaces are ideal for wedding ceremonies, receptions and other private events. View more information on renting space and the Cultural Center's wedding packages.
Mobility Access
The wheelchair accessible entrance, located street level at Garland Court and Randolph Street, leads to the westernmost Randolph Square entry doors which have power assisted opening.
All restrooms and elevators are in the Chicago Cultural Center are wheelchair accessible.
Wheelchairs for use in the Chicago Cultural Center are available upon request on a first come, first served basis. Upon arrival, please ask the security officer on duty in the lobby for assistance. The wheelchairs may be used in the building and returned to the security desk when finished. There is not staff available to push the chairs.
Wheelchair accessible seats and seats accessible without stairs are available in the back rows of the Claudia Cassidy Theater.
An accessibility lift and assisted seating are available in the Claudia Cassidy Theater.
An elevator connected to the underground Pedway is located in the Randolph Street Lobby. An elevator located outside the building on the southwest corner of Michigan Avenue and Randolph Street also connects to the underground Pedway providing access to the Chicago Cultural Center, the Metra Train Station and the Grant Park Underground Garage.
D/deaf or hard-of-hearing Accessibility
Assistive Listening Devices
Assistive hearing devices for the hearing-impaired are available for all public concerts and lectures and feature FM headsets and over-the-head headphones. Please ask the staff or DCASE Volunteer on duty at the event for assistance.
Induction Loop
If you use a hearing aid or cochlear implant that has a T-Coil, feel free to turn it on for any performance, tour, or lecture in Claudia Cassidy Hall!

If you use the loop, we would love to hear about your experience—we're always fine-tuning the system, and all feedback is helpful. Please email dcase@cityofchicago.org
Open Captioning
Open captioning features a text display of the words and sounds heard during a performance or film. We aim to open caption all our films. If you would like to request captioning at an upcoming event please email dcase@cityofchicago.org a minimum of 72 hours before the event.
American Sign Language Interpretation
We offer American Sign Language interpretation by trained interpreters at our larger events. To confirm ASL or request it for smaller events please email dcase@cityofchicago.org a minimum of 72 hours before the event.
To request a tours with ASL interpretation please visit DCASEVolunTours.org and fill out a request form.
Blind or Low-Vision Accessibility
Touch tours and audio described performances and exhibition openings are scheduled selectively.


To request a touch tour or audio described performance please contact dcase@cityofchicago.org a minimum of 72 hours advance of the date.
Map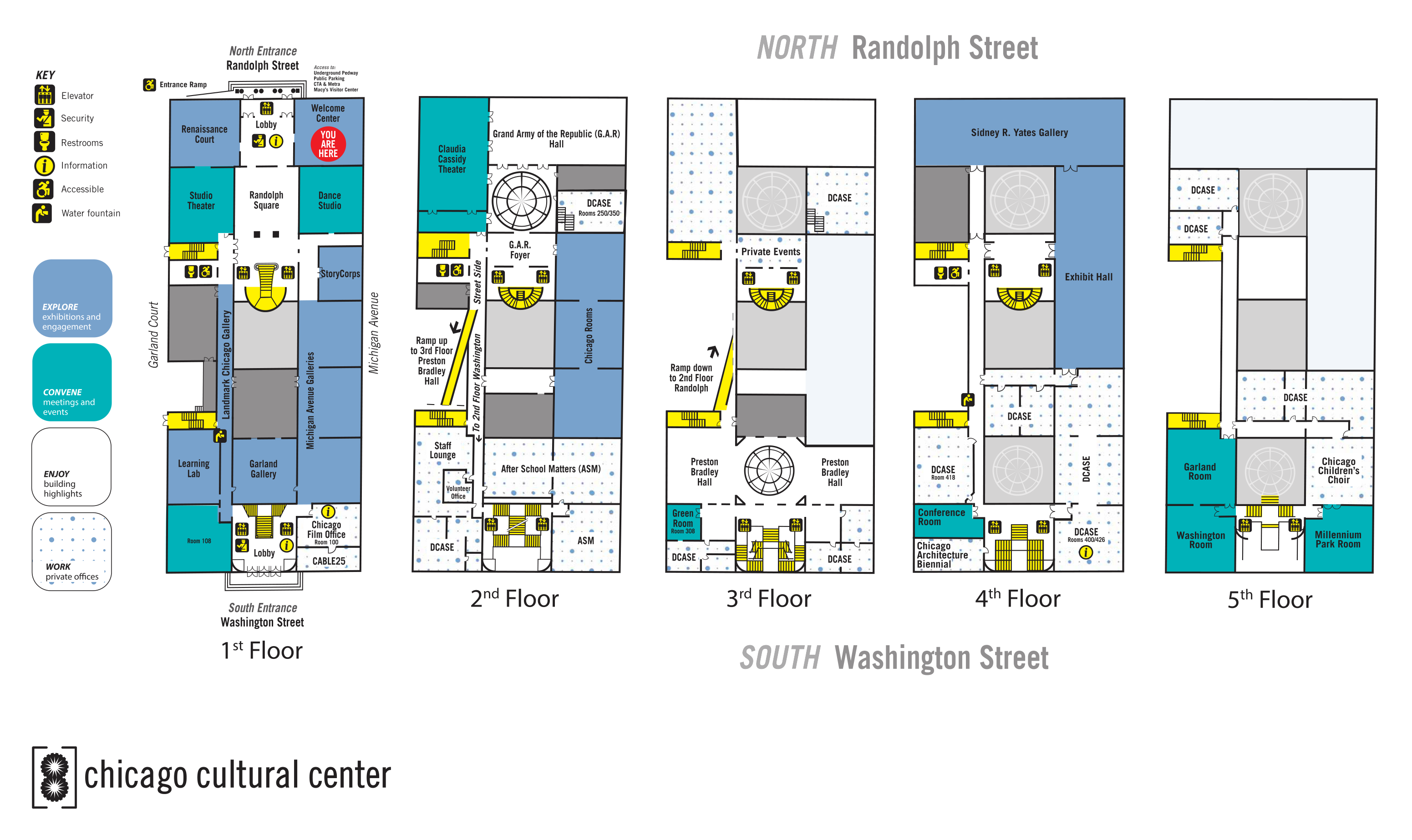 (click on image to enlarge)
Questions or suggestions?