CHAIN REACTION: Chicago Biking on the Move
May 16–July 13, 2014
Expo 72, 72 E. Randolph St.
Chicago Cultural Center > Visual Art Program > Exhibitions > Past Exhibitions > Expo 72 > CHAIN REACTION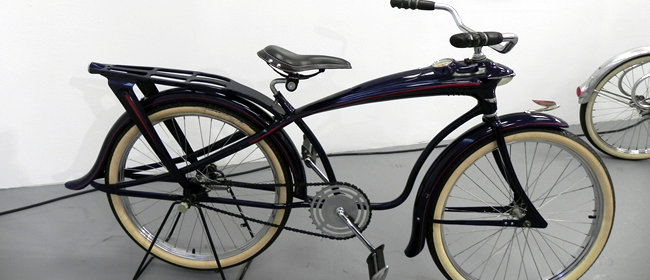 (click on image to enlarge)
Pedal into the past, present and future of cycling with this bike-inspired exhibit. See the arch of bicycle design starting from the 1860s and continuing through today featuring a selection of Mark Mattei's collection of antique bicycles. National biking awareness organization ARTCRANK will exhibit contemporary posters by artists using art to change the way people think about cycling and how it impacts our lives for the better. Also, see bikes from the Chicago Cruisers, a west side bike club, and learn how they strengthen our neighborhoods through biking and community outreach.

---
Visit us:
Admission is FREE
Monday–Friday, 10am–7pm
Saturday–Sunday, 10am–5pm
(Closed Holidays)
Find us:
Expo 72
72 E. Randolph St.
Chicago, IL 60601
Supporting Information Facts