DCASE Homepage > Chicago Blues Festival
As part of Chicago In Tune, DCASE will present new and reimagined programs in place of this year's Chicago Blues Festival in Millennium Park. Four special evenings at Jay Pritzker Pavilion presented with the Millennium Park Foundation will honor music born and innovated in Chicago – including Chicago In Tune–Blues (September 18 at 5:30–8:30pm). DCASE and its partners will also celebrate blues music with community concerts in the Bronzeville and Austin neighborhoods, on historic Record Row and in music venues across the city.
Chicago In Tune is a new citywide festival celebrating Chicago's diverse and legendary music scene and the 2021 Year of Chicago Music.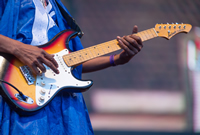 Join us for Bronzeville Blues, the Chicago Blues Club City Tour, the Music Lives Here: Record Row Series – and Soul City Blues – Austin.
Corporate partners of the Chicago Blues Festival.
Request media credentials, download photos and videos – and view current news releases.

---
Visit us:

Admission is FREE
Open Daily 6am–11pm
Welcome Center 9am–5pm
Plan Your Visit Here
---
Find us:
Millennium Park
201 E. Randolph St.
Chicago, IL 60601
Parking:
Nearby parking garages are located at Grant Park North Garage (25 N. Michigan Ave.), Grant Park South Garage (325 S. Michigan Ave.) and Millennium Park Garage & Millennium Lakeside Garage (5 S. Columbus Dr.).
Pay in person at each garage location or pre-pay online for discounted parking. Visit www.millenniumgarages.com/rates or call 312.616.0600 for 24/7 customer service.
Public Transportation:

Take CTA to Millennium Park
From the elevated lines: exit at Washington/Wabash and walk east.
From the subway: exit at Lake (Red Line) or Washington (Blue Line) and walk east.
Served by buses 3, 4, 6, J14, 20, 56, 60, 124, 146, 147, 151, 157
For travel information, visit www.transitchicago.com. For fare information or to purchase fares in advance, visit www.ventrachicago.com.
Supporting Information Facts
Additional Information
Sponsored By: