History of the Chicago Blues Festival
Chicago Blues Festival > Festival History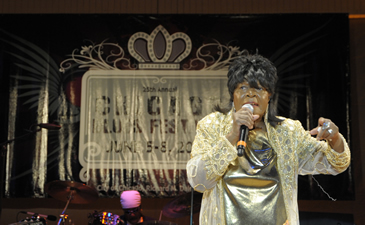 The Chicago Blues Festival has presented countless number of blues notes and moments to millions of blues fans from around the world on Chicago's lakefront Grant Park. After coming on board midstream for the initial festival in 1984 I have had the opportunity to help the City of Chicago celebrate an important part of the city's heritage and lay the foundation for the annual festival's role in becoming an important city institution. The city's first Blues festival helped open the summer festival season and came a year after the death of blues icon Muddy Waters. Thus the first festival celebrated Muddy's memory and presented many artists who today are just a memory. Eddie Taylor, Estella Yancey, Jr. Wells, and many who represented the Sons and Daughters who today make up a very important part of the mature Chicago Blues community.

Through the years the festival has celebrated many benchmarks; what would have been Robert Johnson or T-bone Walker turning 80 years old to the centennials of Big Bill Broonzy, Bessie Smith, Skip James and others. Each benchmark places the blues in context especially when icons like Sunnyland Slim, Jimmy Walker, and Willie Dixon were around to help keep the blues alive. In previous years we have been privileged to present Honey Boy Edwards, Henry Townsend and Homesick James on days when the Blues in the Schools students perform. That's what the festival is all about-showing the blues as a living tradition and celebrating the men and women who lived their lives playing and singing the blues.

So, let it be the night Chuck Berry shared the stage with Keith Richards or the evening the crowd left the park after Little Milton's set singing "Hey Hey the Blues are Alright"; or even the days Janie Hunter did circle dances with the audience and John Lee Hooker did "Boogie chillen" solo for a crowd of hundreds the Chicago Blues Festival as it stands has provided countless number of memories for too numerous numbers of patrons to be able to quantify in this passage. Thus, turn the page and plan your weekend out with a music to "let you hair down and have a good time."