Richard Hunt's Jacob's Ladder
Public Art Program > Jacob's Ladder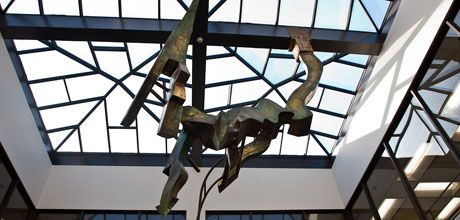 Carter Woodson Regional Library
9525 S. Halsted St.
Chicago, IL 60628
Located in the Carter Woodson Regional Library, Richard Hunt's sculpture titled, Jacob's Ladder, fills the foyer with linear design and captivating height. Made of welded bronze and brass, Jacob's Ladder is comprised of two pieces, one acting as a base on the ground and a second hanging from the ceiling.
Supporting Information Facts
Additional Information

Learn more about the Chicago Department of Cultural Affairs and Special Events and the Chicago Public Art Program.