Public Art Program > Four Seasons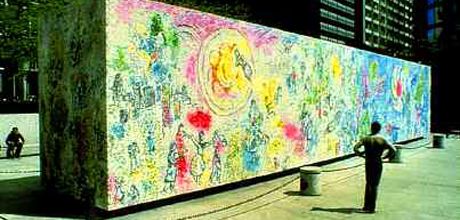 10 S. Dearborn St., Chase Tower
Chicago, IL 60601
Composed of thousands of inlaid chips in over 250 colors, Marc Chagall's mosaic artwork The Four Seasons portrays six scenes of Chicago. It features a vocabulary of images informed by the artist's Russian-Jewish heritage and found in his Surrealist paintings such as birds, fish, flowers, suns and pairs of lovers. Chagall maintained, "the seasons represent human life, both physical and spiritual, at its different ages." The design for this mosaic was created in Chagall's studio in France, transferred onto full-scale panels and installed in Chicago with the help of a skilled mosaicist.
Chagall continued to modify his design after its arrival in Chicago, bringing up-to-date the areas containing the city's skyline (last seen by the artist 30 years before installation) and adding pieces of native Chicago brick.
Supporting Information Facts
Additional Information

Learn more about the Chicago Department of Cultural Affairs and Special Events and the Chicago Public Art Program.