Crown Fountain in Millennium Park
Public Art Program > Crown Fountain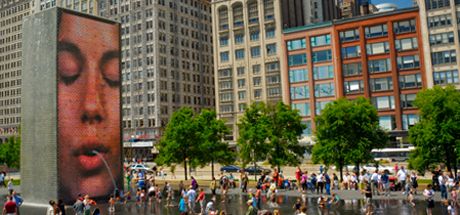 201 E. Randolph St., between Michigan Ave. and Columbus Ave.
Chicago, IL 60602
Designed by Spanish artist Jaume Plensa, the Crown Fountain in Millennium Park is a major addition to the city's world-renowned public art collection.

The fountain consists of two 50-foot glass block towers at each end of a shallow reflecting pool. The towers project video images from a broad social spectrum of Chicago citizens, a reference to the traditional use of gargoyles in fountains, where faces of mythological beings were sculpted with open mouths to allow water, a symbol of life, to flow out.

Plensa adapted this practice by having faces of Chicago citizens projected on LED screens and having water flow through an outlet in the screen to give the illusion of water spouting from their mouths. The collection of faces, Plensa's tribute to Chicagoans, was taken from a cross-section of 1,000 residents.

The fountain's water features operate during the year between mid-spring and mid-fall, while the images remain on view year-round.