Elizabeth Catlett's Floating Family
Public Art Program > Floating Family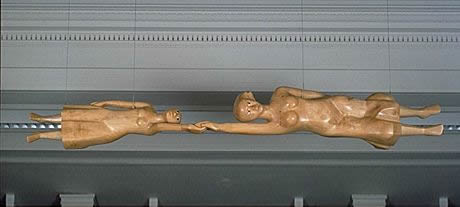 Legler Branch Library
115 S. Pulaski Rd.
Chicago, IL 60624
Artist Elizabeth Catlett carved each of these floating figures from a single Mexican primavera wood tree trunk. Arms and legs were carved separately from a third trunk and attached later. In much of her work, Catlett celebrates the beauty and dignity of African American women and motherhood. These figures could be interpreted as mother and child, drifting quietly, locked together by the touch of their hands.
Supporting Information Facts
Additional Information

Learn more about the Chicago Department of Cultural Affairs and Special Events and the Chicago Public Art Program.