Ellen Lanyon's Riverwalk Gateway
Public Art Program > Riverwalk Gateway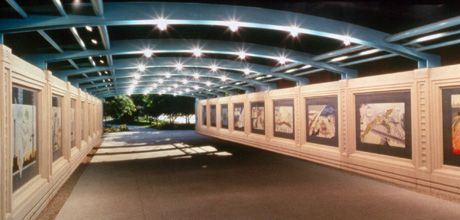 Lake Shore Drive & Wacker Drive
Chicago, IL 60601
Ellen Lanyon's mural charts the rise of Chicago and the significance of the river to the city. Its narrative panels begin with the explorations of Jacques Marquette and Louis Jolliet in 1673, and commemorate landmark events and important sites along the river and lake through the year 2000.
Lanyon's Riverwalk Gateway reminds Chicago of its great achievements and humble beginnings. It celebrates the city's advancements in industry and engineering, and the resolve of the hardworking Midwesterner. Installed along the parallel interior walls of a trellised passageway, located under Lake Shore Drive on the south bank of the Chicago River where the river meets the lake, this gateway connects the Chicago Riverwalk to the lakefront bicycle path.
Supporting Information Facts
Additional Information

Learn more about the Chicago Department of Cultural Affairs and Special Events and the Chicago Public Art Program.