Ellsworth Kelly's "I Will"
Public Art Program > I Will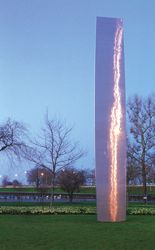 Fullerton Ave. & Cannon Dr.
Chicago, IL 60614
I Will, the title of artist Ellsworth Kelly's Minimalist sculpture, was the motto adopted by Chicagoans after the Great Chicago Fire of 1871. The hollow stainless steel column, rising from the ground at the fire's northernmost end, is dedicated to the determination of Chicagoans to overcome the destruction of the fire and rebuild the city. The shape of the column correlates to the forms of skyscrapers to which the city of Chicago "gave birth." Characteristic of Kelly's work, I Will gives the impression of a flat, two-dimensional image despite its sculptural nature.