Public Art Program > Gallery 37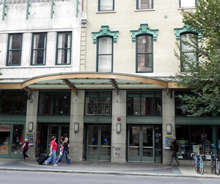 66 E. Randolph St.
Chicago, IL 60601

The Gallery 37 Center for the Arts provides a venue for youth, families and adults to participate in several innovative arts programs, including After School Matters and the Chicago Public Schools' Advanced Arts Education Program. Home to three site-specific public artworks created to enhance and celebrate its mission as a center for learning, Gallery 37 Center for the Arts is free and open to the public.
---

Times' Branch
Christopher Furman
2003, Mixed media and puppets, dimensions vary
City of Chicago Public Art Collection

Known for his elaborate kinetic sculptures, Christopher Furman, assisted by Gallery 37 student artists of puppetry, created this working clock for the vestibule. The clock tells allegorical time, marking each actual hour of the day with bells activated by Jacquemarts (puppets) that emerge from it. Jacquemart figures are a 14th-century invention that remains popular in European clock making. It is believed these figures are effigies of watchtower guards who signaled impending doom.
---

Starring: Labor
Storefront Theater Marquee
Jeffrey Goldstein
2003, Storefront Theater Marquee, Wood marquetry,H 97 in. x W 20 ft. x D 2.75 in.
2003, Starring: Labor, Oil on linen, H 47 in. x W 57 in., City of Chicago Public Art Collection

The Storefront Theater lobby marquee and box office window are crafted of marquetry, an old-world technique of wood mosaic. Two-dozen species of wood are represented including rare East Indian rosewood and padauk. The marquetry of the box office façade is Goldstein's interpretation of artworks by Chicago Imagists Jim Nutt, Gladys Nilsson, Ed Paschke, Karl Wirsum and Roger Brown. Starring: Labor, a painting adjacent to the box office, pays homage to Chicago's workers. The artist is a fourth-generation Chicago carpenter and cabinetmaker.
---

Moderato Cantabile
Phil Schuster and Mirte

2002, Mosaic relief, 100 sq. ft.
City of Chicago Public Art Collection

Phil Schuster and Mirtes Zwierzynski created this mosaic in collaboration with apprentice artists of the Gallery 37 jobs-training program in the arts. The totemic and organic shapes appear to float between the wall columns, accentuating the verticality of the architecture, and the function of this space as a dance studio. Imagery of faces, figures, and the natural elements of water and fire describe emotions, gestures and rhythms expressed through the art of dance.
Location: 2nd floor dance studio