Public Art Program > Goldblatt's Building
1613-35 W. Chicago Ave.
Chicago, IL 60622
The historic Goldblatt Brothers Department Store building, constructed between 1921 and 1928, was the first store in the prominent regional department store chain founded by brothers Maurice and Nathan Goldblatt. The structure was designated a City Landmark in 1998 and underwent a complete renovation by the City of Chicago Public Building Commission. Goldblatt's houses several City of Chicago department offices and the West Town Senior Satellite Center, operated by the Chicago Department of Family & Support Services.
---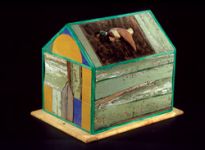 Migration
Don Baum
1985, Wood and mixed media, H 16 in. x W 14 in. x D 20 in.
City of Chicago Public Art Collection

Chicago artist Don Baum builds miniature houses constructed from found objects such as feathers, hair, musical instruments and paint-by-number canvas boards. Through these intimately sized sculptures, all shaped like generic houses resting on breadboards, Baum explores the symbolic significance of the home. The home traditionally represents sanctuary, comfort and security. However, through his choice of materials, Baum toys with the viewer's notions of the home and the safety and continuity it implies. His inspiration for the houses came from a text titled Montaillou, named after a medieval French village. In this text, he discovered the concept of the domus, a house that is at once a physical, psychological and moral entity. Drawing upon the theme of the domus, Baum's houses (cobbled together from a wide array of disparate objects) stand testament to the capacity of a form to carry an infinite variety of meanings.
Sylvia
Donald Lipski
2004, Hosiery, wood and fasteners, H 41.5 in. x W 41.5 in. x D 6 in.
City of Chicago Public Art Collection
Location: 2nd floor lobby

Inventive combinations of found items and everyday objects characterize Donald Lipski's work. His sculptures explore the notions of consumerism and mass production that dominate American culture. Lipski subverts the practical functionality and replicated sameness of mass-produced objects, turning the mundane into something beautiful. His two pieces for Goldblatt's, one constructed from bicycle handlebars, the other from nylon stockings, reflect this building's original function as the headquarters of a once-leading Chicago department store. The sculptures are also a personal tribute by the artist to his parents. Lipski's father ran a Chicago-based bicycle import business and sold bicycles to Goldblatt's, while his mother once worked in the hosiery department, formerly located on the second floor of this building.
Build Your Ship
Thomas McDonald
2004, Painted steel, H 62 in. x W 123 in. x D 13 in.
City of Chicago Public Art Collection

The art of Thomas McDonald incorporates ships, among other modes of transportation, as metaphors for the journey of life. The artist believes that life is a voyage of learning and awareness. This voyage is not merely a physical experience, but an intellectual, emotional and spiritual journey toward understanding. McDonald hopes that viewers encountering Build Your Ship will be inspired to pause and consider their own private journeys.
Snow Sculpture for Chicago
Tony Tasset
2004, Polystyrene, acrylic, brass, steel, epoxy, oil paint and resin, H 102 in. x W 163 in. x D 93 in.
City of Chicago Public Art Collection

Chicago artist Tony Tasset created this conceptual sculpture, a pile of snow, as a site-specific installation for the west window of the Goldblatt's building façade. This window is the only remaining display window of the former department store. To create a hyper-realistic replica of a typical Chicago snow pile, Tasset included pieces of handcrafted debris such as coffee cups and matchbooks. In his assessment "these piles of snow are sublime; both ugly and beautiful, like life.
For more information click here.
Additional Artworks at the Goldblatt's Building
Paintings: Brenda Barnum
Mixed Media: Stephanie Brooks
Painting: Rodney Carswell
Photographs: Carlos Flores
Photograph: Jin Lee
Sculptures: Donald Lipski
Painting: James Lutes
Sculpture: Michael Piazza
Photographs: Art Shay
Painting: Christopher Tavares Silva
Mixed Media: Lane Twitchell