Harold Washington Library
Public Art Program > Harold Washington Library
400 S. State St.
Chicago, IL 60605
The City of Chicago's Public Art Collection at the Harold Washington Library Center was funded through the City's Percent-for-Art Program. The collection consists of over 50 works of art that are installed on every floor of the building. It is the single largest public art project in the City of Chicago's history to date. The collection contains works in almost every artistic medium, addresses important architectural spaces in the building, recognizes major art movements associated with Chicago, memorializes the late Mayor Harold Washington and celebrates Chicago's rich cultural diversity.
For more Information, visit http://www.chipublib.org/.
---
Du Sable's Journey
Houston Conwill, Artist
Joseph Depace, Architect
Estella Conwill Majozo, Poet
1991, Terrazzo and inlaid brass, Diam. 18 ft.
City of Chicago Public Art Collection

The center of this circular "cosmogram" traces the water routes traveled by Jean Baptiste Point Du Sable, Chicago's first settler, from his native Haiti through the various waterways that lead to the Great Lakes. The map is encircled by a ring of quotations taken from Harold Washington's first and second inaugural addresses, showing the important link between Chicago's first settler, who was of French African descent, and Chicago's first African American mayor. Du Sable's Journey takes the graphic form of a cakewalk, a circle dance performed by slaves for slave owners in the South, which has become a symbol not only of oppression but also of expression and survival. The intersecting lines of demarcation, named for Dr. Martin Luther King Jr. and Malcolm X, form a symbolic crossroads at Chicago, placing the city's history and present challenges in the broader context of the American experience.
---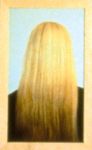 Untitled (Two Heads)
Jeanne Dunning
1991, Two framed Cibachrome images, H 50.5 in. x W 31 in. (each)
City of Chicago Public Art Collection

Jeanne Dunning's pair of photographs shows the same female model in two different poses. In each image, hair is the dominant feature, creating the sole identity of the model and forming an abstract image in itself. These photographs subvert traditional portraiture, demonstrating the power of style to define identity. Resembling fashion advertisements rather than individual portraits, the works comment on the glut and emptiness of commercial imagery in modern culture. In the context of the library, viewers may be inspired to reflect on the power of images and their ability to look past these images, to attain knowledge and self-actualization.
---
Events in the Life of Harold Washington
Jacob Lawrence
1991, Ceramic tile mosaic, H 10.5 ft. x W 15.25 ft.
City of Chicago Public Art Collection

Jacob Lawrence's mosaic greets library patrons at the end of the Congress Parkway corridor, in the main lobby's northern niche. This monumental work, by one of the most renowned African American artists of the 20th century, recognizes the late Harold Washington's accomplishments as student, Civilian Conservation Corps worker, soldier, lawyer, congressman and mayor of Chicago. These periods of his life are portrayed on the pages of books spread across the mayor's desk, which collectively form a symbolic mountain, culminating in Washington's election as the first African American mayor of Chicago. The face of each representation of the late mayor is left blank so that his figure becomes the symbol of everyman, climbing upward to success through learning, hard work and opportunity.
---
Carriona Figure No. 2
Manuel Neri
1981, Marble with oil-based pigment, H 58 in. x W 16 in. x D 12 in.
City of Chicago Public Art Collection

Carved from Italian marble and splashed with bold color, Carriona Figure No. 2 reflects both classical and contemporary art forms, a Manuel Neri trademark. The fragmented form derives from the artist's interest in ancient sculpture, much of which was traditionally painted, though surviving specimens have lost most of their original surface pigment over the centuries. Neri first became interested in working in marble after seeing the fragmented Elgin Marbles in the British Museum. His sculptural style is nonetheless a progression from the Expressionist style he employs as a painter; using colored pigments on his sculptures evokes this link.
---
The Winner
Faith Ringgold
1988, Painted quilt, H 71.5 in. x W 71.5 in.
City of Chicago Public Art Collection

The Winner is characteristic of Faith Ringgold's vivid "story quilts," narrative interpretations of the artist's own history in Harlem, New York City. While touching on the suffering of inner-city life, the quilts generally convey positive themes, which are embodied in the protective and nurturing qualities of the quilts themselves. Bridges are recurring images, perhaps as symbols of advancement and hope—a theme also suggested by images of marathon runners overcoming the challenges of the race.
---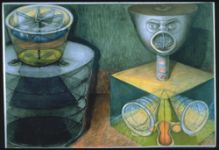 Spinning Head (Mujer Ovarios)
Bibiana Suarez
1988, Graphite and pastel on paper, H 6 ft. x W 8.5 ft.
City of Chicago Public Art Collection

Bibiana Suárez's artwork addresses her identity as a Puerto Rican and a woman. Her imagery—which often includes masks, machines, carnivals and physiological forms, all set in a flurry of motion—possesses multiple layers of significance, suggesting growth resulting from physical and spiritual suffering.
---
Additional Artworks at the Harold Washington Library Center
Collaborative Painting: Marcus Akinlana, Nina Smoot-Cain, Hector Duarte, Olivia Gude, Roberto Valadez and John Pitman Weber
Photoprints: Othello Anderson
Installation: Nicholas Arbatsky
Sculpture: Muneer Bahauddeen
Sculptures: William Dawson
Painting: Robert Dilworth
Installation (not on display): Kate Ericson and Mel Ziegler
Photoprint: J. Alex Galindo
Mixed Media: Nereyda García-Ferraz
Drawing: Edgar Heap-of-Birds
Painting: Michiko Itatani
Sculpture: Preston Jackson
Installation: Joseph Kosuth
Painting: Bertrand Phillips
Sculptures: David Philpot
Painting: Christina Ramberg
Painting: Arnaldo Roche Rabell
Paintings: Tim Rollins + K.O.S. and students from Chicago Public High Schools
Painting: Alejandro Romero
Painting: Filémon Santiago
Photoprint: Lorna Simpson
Mixed Media: Buzz Spector
Ceiling Installation: Nancy Spero
Wood Constructions: Karl Wirsum