City Gallery in the Historic Water Tower
806 N. Michigan Ave.
The City Gallery is Currently Closed
DCASE Homepage > Visual Arts Program > City Gallery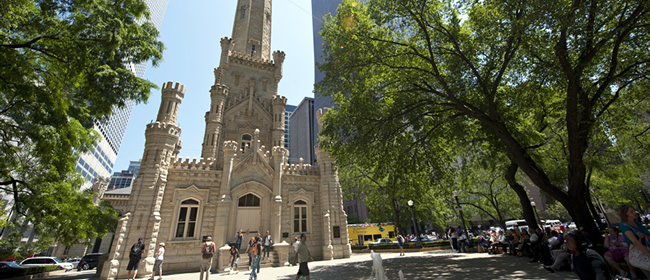 (click on image to enlarge)
A resplendent venue showcasing the work of local photographers and artists, the City Gallery in the Historic Water Tower, is centrally located along the city's famed Magnificent Mile.
The Chicago Water Tower is the city's most familiar and treasured landmark. Constructed between 1867 and 1869, it was created for Chicago's municipal water system, and originally housed a 135 foot iron standpipe used to regulate water pressure. It gained special significance as one of the few buildings to survive the destructive path of the Great Chicago Fire of 1871. Both the Water Tower and Pumping Station to the east were designed by William W. Boyington, one of Chicago's most prolific architects of the mid-nineteenth century.

---
Visit us:
Only open during exhibitions, Admission is FREE
Monday–Friday, 10am–7pm
Saturday–Sunday, 10am–5pm
(Closed Holidays)
---
Find us:
City Gallery in the Historic Water Tower 806 N. Michigan Ave.Chicago, IL 60611
Take CTA to the City Gallery