For the Common Good: Meet The Remediators
November 8, 2014—April 5, 2015
City Gallery in the Historic Water Tower, 806 N. Michigan Ave.
Visual Art Program > Exhibitions > Past Exhibitions > City Gallery in the Historic Water Tower > For the Common Good: Meet The Remediators
Nancy Klehm and Emmanuel Pratt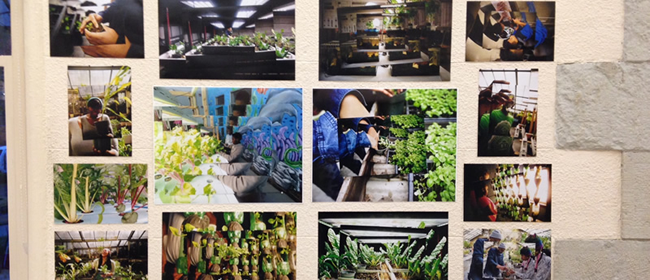 (click on image to enlarge)
Nancy Klehm
and
Emmanuel Pratt
are leaders in the genre of contemporary art called Social Practice, with significant involvement in environmental concerns. The displays here illustrate that while aquaponics and bioremediation may be big concept ideas, they are scalable to domestic use with readily available materials. Deeply rooted in community, the work of Klehm and Pratt involves neighborhood youth and volunteer efforts to create gardens and urban farms that expand awareness of local and global issues.
Public Programs
Artist Talk
March 24, 6pm
Chicago Cultural Center, Claudia Cassidy Theater, 2nd floor North

---
Visit us:
Admission is FREE
Monday–Friday, 10am–7pm
Saturday–Sunday, 10am–5pm
(Closed Holidays)
Find us:
City Gallery in the Historic Water Tower 806 N. Michigan Ave.Chicago, IL 60611
Take CTA to the City Gallery