City Works: Provocations for Chicago's Urban Future
May 24–September 29, 2013
Expo 72, 72 E. Randolph St.
Chicago Cultural Center > Visual Art Program > Exhibitions > Past Exhibitions > Expo 72 > City Works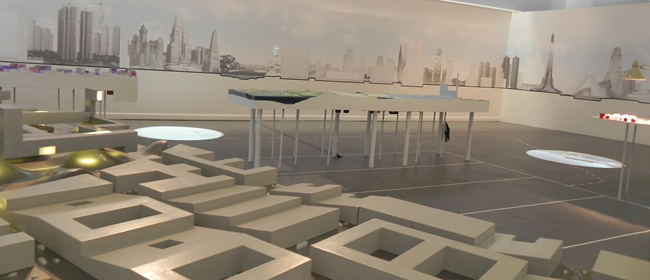 (click on image to enlarge)
City Works, previously shown at the 13th International Architecture Biennale in Venice (2012), has returned to the city of its origin. The exhibition re-envisions a series of urban environments that are typical for Chicago in order to examine alternatives to the way architecture engages the city. It is a collaborative effort by five teams – David Brown, Alexander Eisenschmidt, Studio Gang, Stanley Tigerman, and UrbanLab – determined to find potentials for spatial, material, programmatic, and organizational invention within the city. Curated by Eisenschmidt, the installation involves a large model of a visionary Chicago as well as an encompassing panorama drawing that creates a visual backdrop.

---
Visit us:
Admission is FREE
Monday–Friday, 10am–7pm
Saturday–Sunday, 10am–5pm
(Closed Holidays)
Find us:
Expo 72
72 E. Randolph St.
Chicago, IL 60601