Julie Murphy: Escape into Absurdity
January 25–April 20, 2014
City Gallery in the Historic Water Tower, 806 N. Michigan Ave.
Visual Art Program > Exhibitions > Past Exhibitions > City Gallery in the Historic Water Tower > Julie Murphy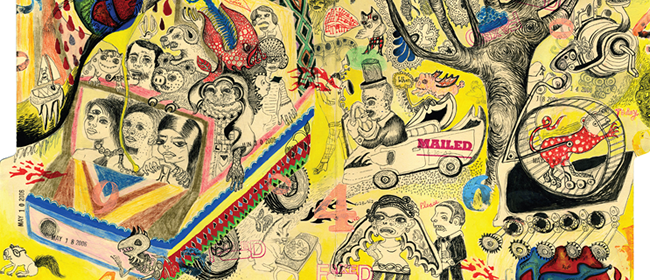 (click on image to enlarge)
A lifelong doodler, Chicago-based artist Julie Murphy uses her vast work experience as inspiration for her drawings. Jobs in a wide assortment of fields, including administrative assistant for a pharmacology nomenclature group, video editor, bartender, printmaking teacher assistant, script reader, art department coordinator for television, stop-motion animation prop designer, PA, bank employee, radio station assistant, receptionist, waitress in a retirement home, and children's shoe salesman have fueled the desire to escape reality, in addition to supplementing a rainbow of character studies for artistic creations. Julie earned a BFA degree in illustration from Art Center College of Design in California, as well as a BS degree in radio/television/film from Northwestern University.

---
Visit us:
Admission is FREE
Monday–Friday, 10am–7pm
Saturday–Sunday, 10am–5pm
(Closed Holidays)
Find us:
City Gallery in the Historic Water Tower
806 N. Michigan Ave.
Chicago, IL 60611
Take CTA to the City Gallery
Supporting Information Facts