Millennium Park — Attending An Event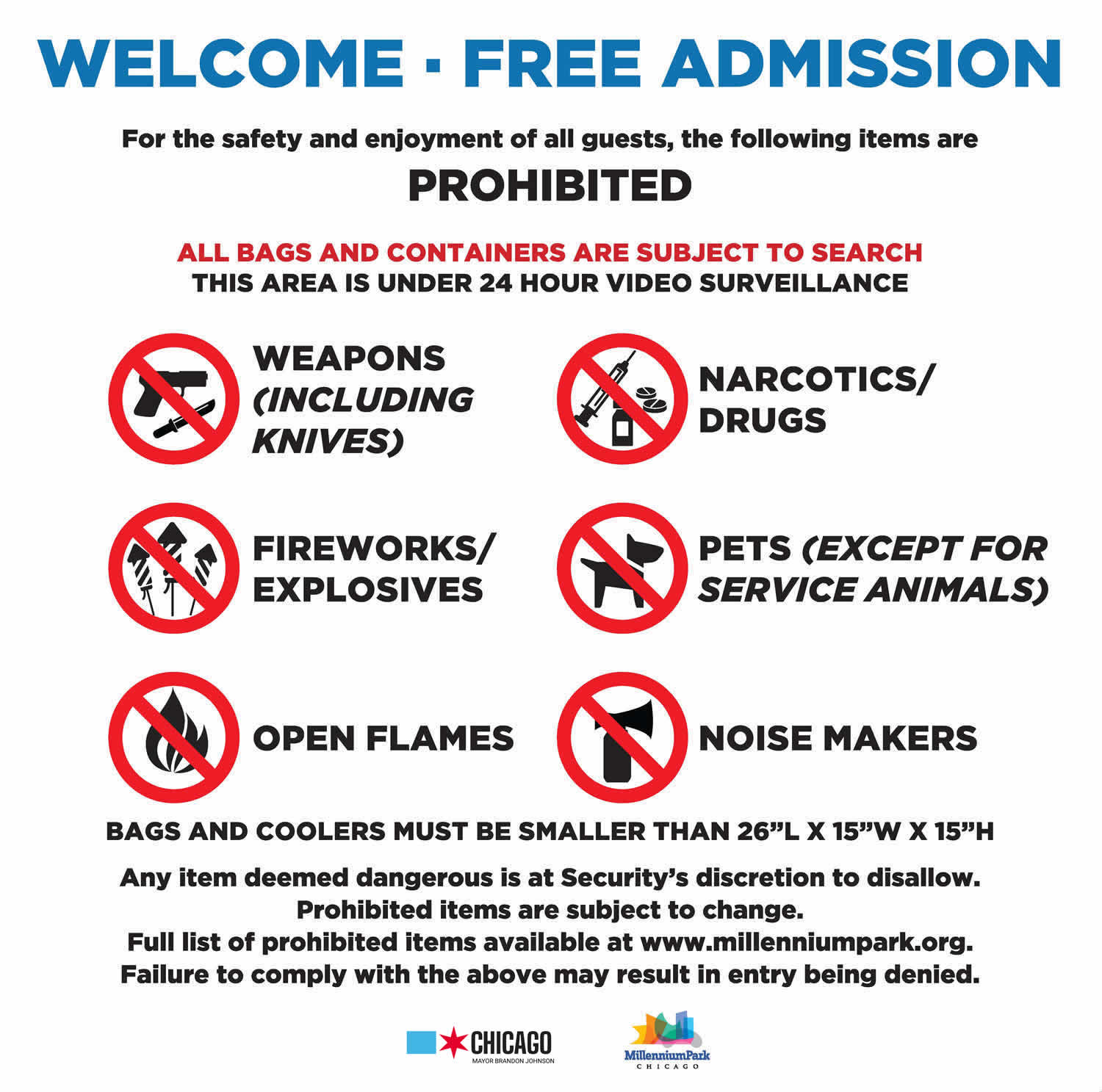 Your safety and security are important to us. A security perimeter and bag check are in place for all Jay Pritzker Pavilion events this summer.
Please be patient and plan ahead for the Millennium Park Security Perimeter. Knowing what items are prohibited will help speed your bag check. Entry may be faster for those without bags. Please review the full prohibited items list before your visit.
Prohibited Items:
Pets (except for service animals)
Hammocks
Totems, flags, banners, lawn stakes
Tents, canopies, shade structures, umbrellas (staked or golf)
Balloons
Noise makers
Laser pointers
All metal knives and cutlery (**corkscrews and plastic/compostable cutlery ARE allowed)
Skateboards, scooters, bicycles, personal motorized vehicles (exception ADA mobility devices)
Drones, hoverboards, motorized toys
Professional grade walkie-talkies or radios
Unauthorized/unlicensed vendors
Unauthorized solicitation and materials including handbills, flyers, stickers, samples, giveaways, etc.
Illegal and illicit substances of any kind including drugs or drug paraphernalia
Firearms, explosive, weapons of any kind *(including pocket knives, pepper spray, fireworks, etc)
Open flames
Outside Alcohol Prohibited at select events (see above)
Any item deemed dangerous by Security
This list is subject to change.
Safety Guidelines:
Smoking
Please read the Millennium Park Rules (PDF) for information on smoking and other points.
Patron Services/Front of House:
Event Entrance/Exit​
East Walkway of Jay Pritzker Pavilion ​
West Walkway of Jay Pritzker Pavilion (Recommended Accessible Entrance/ 201 E. Randolph)​
Washington St. & Michigan Ave.​
Madison Ave. & Michigan Ave.​
East Excursion (off Monroe St.)​
Garage East
Security gates open 90 minutes before the event start time. The Parks event footprint will be closed to the public for 1 hour before the gates open.
Check out our accessibility information page.
MP Event Guidelines:
Visitors will have additional food and beverage options at various price points available for purchase inside the venue on the West Pad.
Subject to bag search at the security perimeter, guests will be allowed to bring their own food and non-alcoholic and alcoholic beverages to all events at Millennium Park's Jay Pritzker Pavilion.
Bags and coolers must be smaller than 26L x 15W x 15H.
Smoking including e-cigs or vaping devices is not allowed on the Great Lawn or in the Jay Pritzker Pavilion seating area. Please smoke only in the designated perimeter.
Umbrellas may only be used in inclement weather
Professional video, audio and photography equipment and set up are not allowed except for previously approved media professionals.
Please dance.
Please keep all seating section aisles clear (no sitting, standing or dancing in the aisles).
Please be respectful of our park landscaping and keep it beautiful for all to enjoy. Do not trample the plantings or pull/hang from the tree limbs. Thank you.
Capacity:
If venue is nearing capacity you may be asked to release held space.
The venue will close once capacity has been reached. Announcement of capacity closure will come via @Millennium_Park Twitter and with venue signage; there will be no pre closure capacity based announcements. Concert-goers are recommended to arrive early, as entry cannot be guaranteed.
Weather:
Concerts and performances in the Jay Pritzker Pavilion are held rain or shine, unless there are severe weather warnings and/or the imminent threat of lightning in the area. Follow us on Twitter @Millennium_Park for weather-related announcements. Unfortunately, we cannot respond to every weather question.
The Pavilion and Great Lawn are not protected from the elements. The Great Lawn's design allows water to drain quickly. Please plan ahead for your comfort while in our outdoor venue.
The Great Lawn will be closed except during events. There are auxiliary lawns around the perimeter of the venue where you may picnic when the Great Lawn is closed.
Food & Beverage:
Subject to bag search at the security perimeter, guests will be allowed to bring their own food and non-alcoholic and alcoholic beverages to all events at Millennium Park's Jay Pritzker Pavilion.
Concessions will be available on the McCormick Tribune Plaza (along Michigan Ave.) is open Wednesday, Thursday and Sunday from 11am-8pm & Friday and Saturday 11am-9pm. Concessions will also be available on the West Pad during events.
Lost & Found – Questions about lost and found items should be directed to the Welcome Center (open 9am-7pm, open until the end of the performance on event nights). 312.742.1168
Grant Park Music Festival Open Rehearsals:
Open rehearsals of the Grant Park Orchestra and Chorus return June 14 through August 19 and typically take place Tuesdays through Fridays between 11am and 1pm. Audiences are welcome to sit in the Pavilion Seating Bowl to watch.
General Millennium Park Rules:
Please observe the Millennium Park Rules (PDF) to ensure that everyone's visit is enjoyable.
For information on Millennium Park permit requirements, including for photography and large gatherings of 50 persons or more, contact Antigona Kerimi akerimi@mbres.com.
Information on Millennium Park private events is detailed online.
If you see something suspicious, say something to on-site security personnel or call 9-1-1. Be familiar with the surrounding area and heed staff and security warnings.