Millennium Park — Plan Your Visit
DCASE Homepage > Millennium Park > Plan Your Visit
(Updated Jan. 28, 2021)
Based on Chicago's key health metrics, the city is currently in Phase 4 (Gradually Resume) – allowing additional businesses and public amenities to open with limited capacities and appropriate safeguards. Although progress has been made in order to move to phase four, all residents should continue to abide by important guidance including: physically distancing and wearing a face covering; limiting non-business, social gatherings to 50 persons for indoor events and 100 for outdoors; staying at home if you are considered vulnerable, feel ill or have come into contact with someone with COVID-19; and getting tested if you have symptoms. Please refer to the Chicago Department of Public Heath's website, chicago.gov/coronavirus, for the latest local updates on the response to COVID-19.
The park is open daily, 8am to 9pm, for groups of 10 persons or fewer who practice physical distancing and wear face coverings.
Due to increased attendance and to protect the health and safety of residents and visitors, the City of Chicago has implemented additional security measures. Guests are asked to enter and exit only at Michigan Avenue/Washington Street, Michigan Avenue/Madison Street and Randolph Street/North Promenade.
Open Daily, 8am to 9pm:
Chase Promenades - with views of Cloud Gate (also known as "The Bean") from Chase Promenade Central
Boeing Galleries and exhibitions
Lurie Garden (without water feature)​
Crown Fountain (without water feature)​
Wrigley Square (without water feature)​
McDonald's Cycle Center (for rentals and reservation repairs)
At this time, the Jay Pritzker Pavilion, the Welcome Center, the Great Lawn, and the BP Bridge between Millennium Park and Maggie Daley Park remain closed.
Safety Guidelines: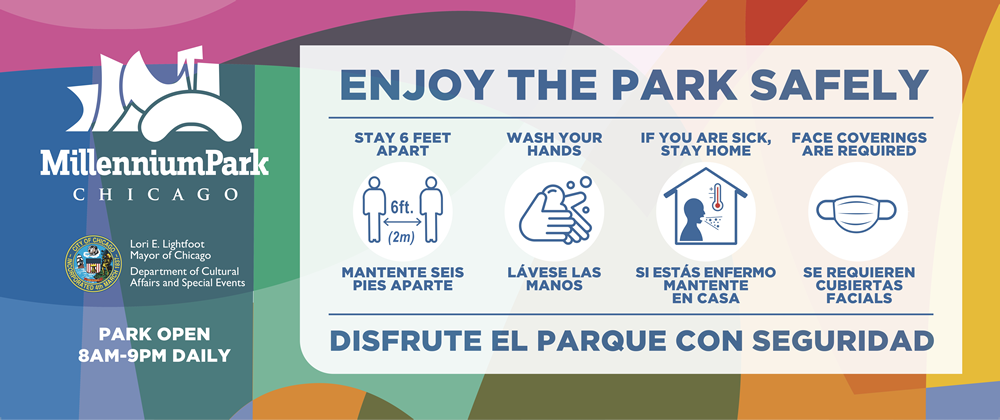 Guests are urged to enjoy the park safely, and signage will be posted to remind everyone of important safety measures.
Face coverings are required
Maintain physical distance of 6 feet (2 meters) apart
Do not gather in groups of more than 10 persons
Follow recommendations from the Chicago Department of Public Health — wash your hands or use hand sanitizer frequently, avoid touching your face with unwashed hands and cover your noses and mouths when sneezing or coughing
Stay home if you feel unwell
Entrance and Exit:
Guests are asked to enter and exit only at Michigan Avenue/Washington Street, Michigan Avenue/Madison Street and Randolph Street/North Promenade. All entrance/exits have accessible ramps.
If capacity is reached within the Park, entrances will temporarily close. Guests will be asked to wait in physically-distanced lines for entry into the park.
The entrances will be staffed to monitor capacity and reinforce physical distancing and mask wearing.
Bag Checks:
Bags will be checked at the Park entrance from 2pm to closing at 9pm, daily, Friday, December 11 - Sunday, December 13 and Friday, December 18 - January 3.
The following items are prohibited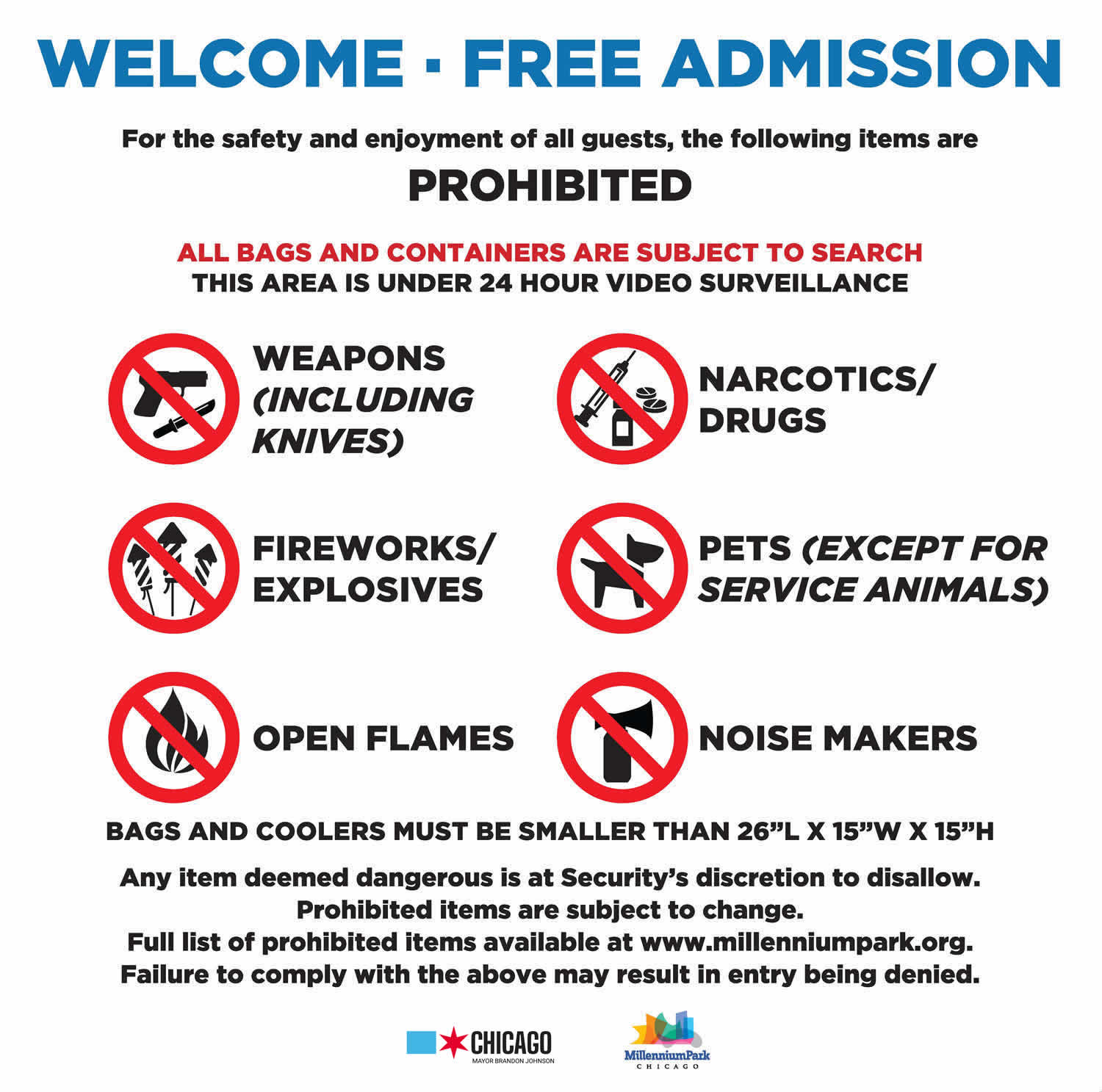 Restrooms:
The restrooms are closed.
Portable toilets are available in the North Promenade. There are 6 portable restrooms, 2 are accessible units.
Portable restrooms are open Mon.–Thur. 12-7:30pm and Fri.–Sun. 11am-8:30pm.
Food & Beverage:
The Park Grill Café outdoor plaza is closed.
General Millennium Park Rules:
Please observe the Millennium Park Rules (PDF) to ensure that everyone's visit is enjoyable.
For information on Millennium Park permit requirements, including for large gatherings of 50 persons or more, contact kperez@mbres.com.
If you see something suspicious, say something to on-site security personnel or call 9-1-1. Be familiar with the surrounding area and heed staff and security warnings.
Art in the Park:
The Crown Fountain is a "live" piece of art, and in its establishment has an agreement with the City, park founders and artist Jaume Plensa that it not display any images beyond the faces that were curated by the School of the Art Institute of Chicago.
The image of Cloud Gate is copyrighted and trademarked to artist Anish Kapoor. Any commercial use of these images is strictly prohibited unless approved by the artist. Projections of images on Cloud Gate are also precluded by this copyright. For more information, email DCASE@cityofchicago.org.
Additional Information

---
Follow us: