Chicago Public Art Program > Mural Registry > Photo Gallery
(click on images to enlarge)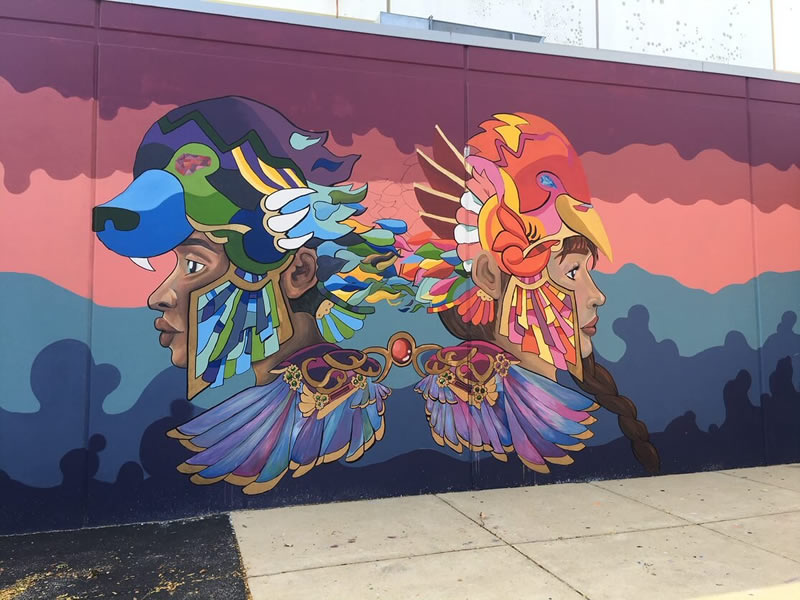 We are Titans
Artist Credit: Chicago Math and Science Academy Art Students
Year: 2019
7212 N. Clark St., Chicago, IL 60626
Photo Credit: Chicago Math and Science Academy
The image represents what it means to students to be a CMSA Titan. The faces represent the mostly Hispanic and Black American population of the school. When students stand in the center of the image, they become a winged titan, showing that each individual can ultimately only represent oneself.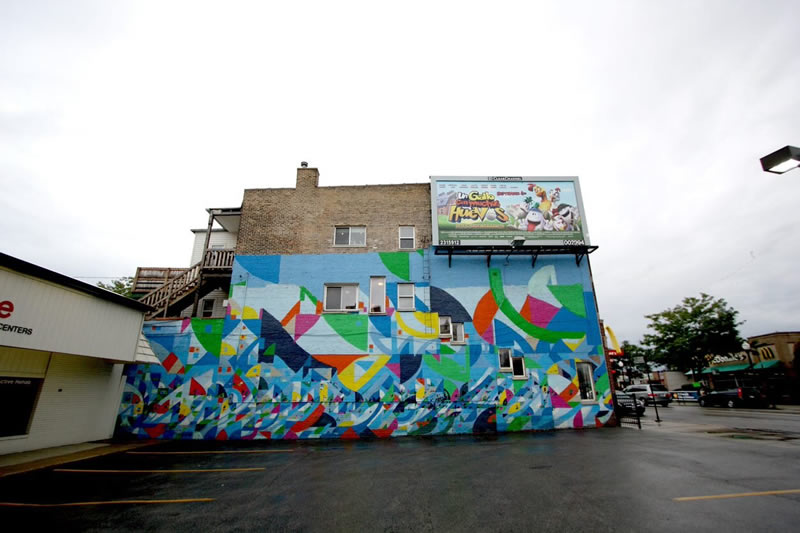 Clark and Olive
Artist Credit: Justus Roe
Year: 2014
Location: 5621 N. Clark St., Chicago, IL 60660
Photo Credit: Max Herman
Description: Abstract landscape painting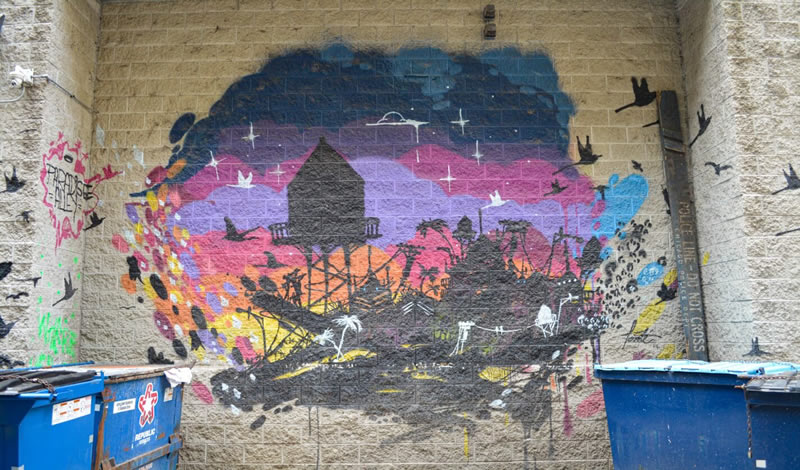 Fonte's World
Artist Credit: Fonte
Year: 2017
Location: 173 N. State St., Chicago, IL 60601
Description: This mural was created for ACTIVATE: a project of the Chicago Loop Alliance Foundation.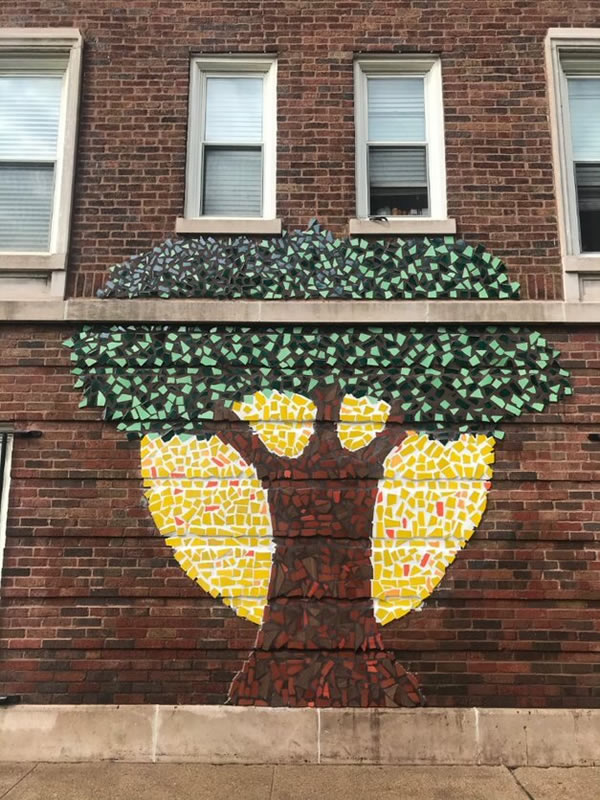 The Rowen Tree
Artist Credit: Rowan Trees Residents
Year: 2019
Location: 500 W. Englewood Ave., Chicago, IL 60621
Description: A mosaic mural completed by the residents at Rowan Trees to depict the hope, growth, and deep roots needed for recovery of substance use and mental illness. Art was designed by members of Threshold.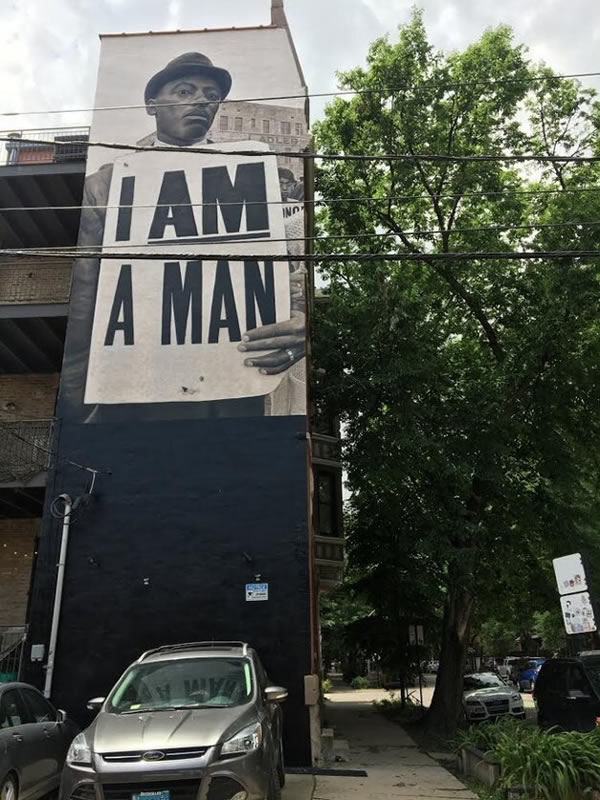 I am a Man
Artist Credit: Darius Dennis, Robin Alcantara, Jared Diaz, Ephraim Gebre
Year: 2020
Location: 1379 N. Wolcott Ave., Chicago, IL 60622
Description: Painted in memory of Echol Cole and Robert Walker, the two sanitation workers that died provoking the Memphis Sanitation Strike on February 12th, 1968.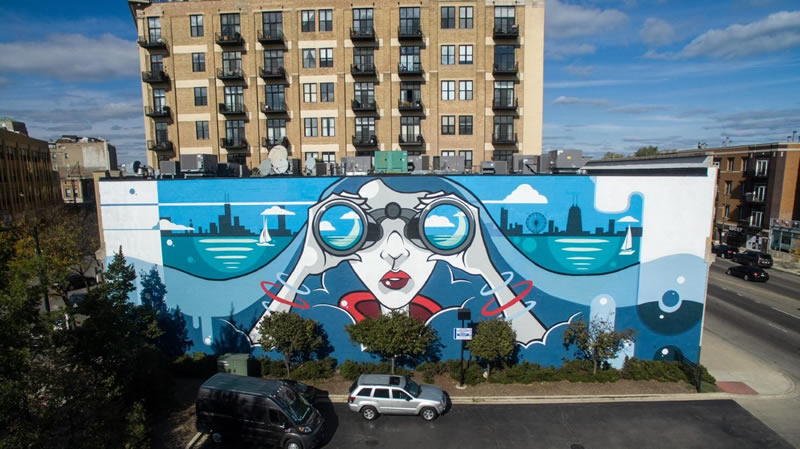 Lake View
Artist Credit: Anthony Lewellen
Year: 2017
Location: 3241 N. Lincoln Ave., Chicago, IL 60657
Photo Credit: Lakeview Chamber of Commerce
Description: LAKE VIEW by Anthony Lewellen is an iconic 4,00 square-foot mural that celebrates Lakeview at an intersection that has historically served as the geographical center of the neighborhood. According to Lewellen, who grew up in Lakeview and has been a prominent figure in the Chicago arts community for decades, the artwork presents a visual metaphor that embodies the area's namesake and simultaneously plays with the notion of personification. "The central female figure, her hair flowing like waves, towers above the surrounding trees and buildings and in her reflected gaze, we see the horizon clear, blue, open and full of possibilities."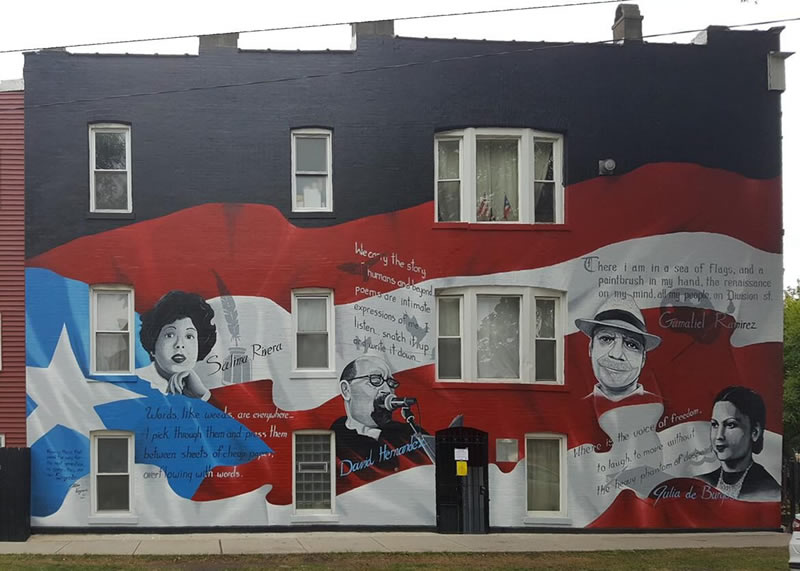 Legends
Artist Credit: John Vergara
Year: 2018
Location: 3501 W. Piece Ave., Chicago, IL 60651
Description: The memorial wall is celebrating the life and contributions of four Puerto Rican, artists, poets, activist and trail blazers in the arts and literary world. The homage to these poets, artist and activist is to bring to the public an awareness of their artistic legacy and give them recognition for their journey in using the spoken word and brush to paint with pride and dignity so future generations will stand strong and be proud of their cultural ties. Featured from left to right Legend pioneers, Salima Rivera (1946-2004) David Hernandez (1946-2013) Gamaliel Ramirez (1949-2018) and Julia De Burgos (1914-1953) - The wall features black and white images of these Puerto Ricans with excerpts of their poetry in proximity of their image along with shadow images of icons relevant to their character. The span of the background of the mural is of the Puerto Rican Flag. Assistant Artist – John Pitman Weber, Patricia Perez and Alisa Scott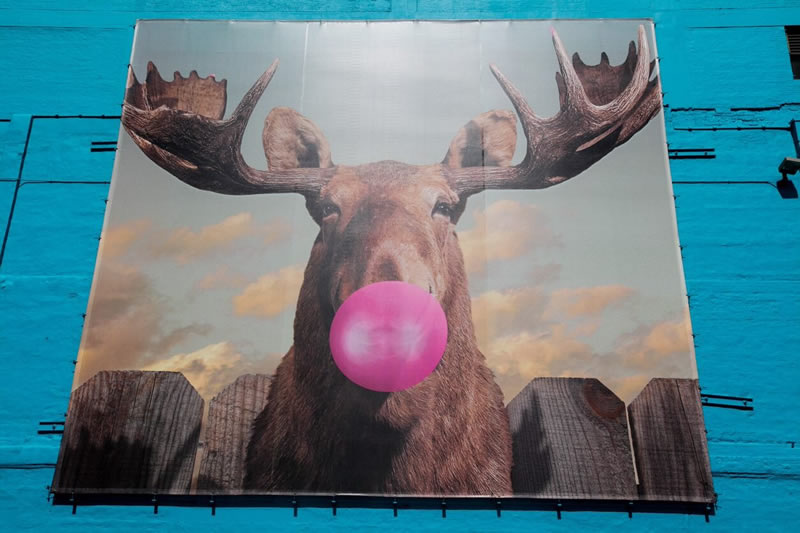 Moose Bubblegum Bubble
Artist Credit: Jacob Watts
Year: 2014
Location: 33 E. Congress Ave., Chicago, IL 60605
Photo Credit: Wabash Arts Corridor
Description: "Street art and graffiti are no longer strictly defined as vandalism and deserves to be recognized as a valid and important art genre," said Shepard Fairey, artist and curator of The Provocateurs. "It challenges the notion that public space should be dominated by advertising and government signage. Columbia College and the City of Chicago have enthusiastically supported our outdoor mural project."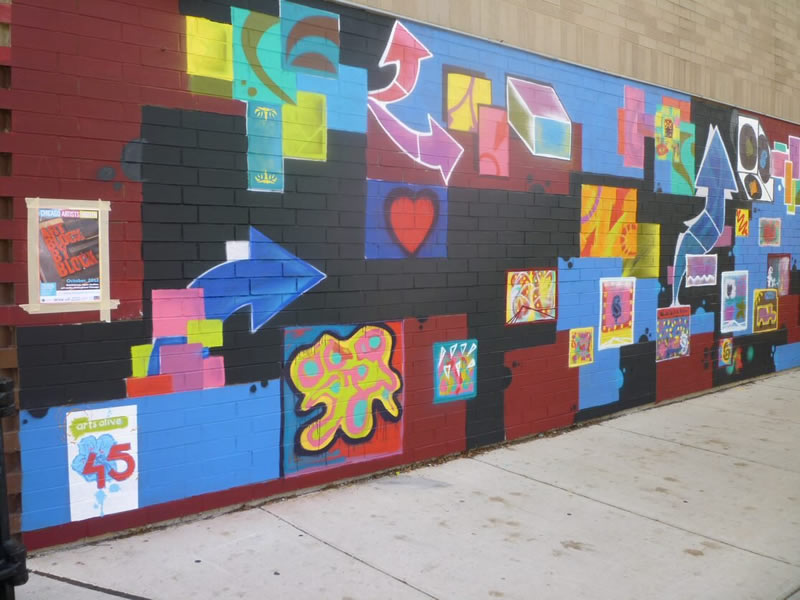 Block by Block
Artist Credit: Uneek and Flash
Year: 2012
Location: 4080 N. Milwaukee Ave., Chicago, IL 60641
Description: "Block By Block" was painted as the first sanctioned aerosol mural in the 45th ward. It was painted on the most graffitied wall in that part of the ward. The painting of the mural "supervised" by Bill Weyna and Gabriel Cosaquillo, and was painted for Chicago Artists Month 2012 in the tradition of people coming together to create a community quilt. The public was invited to come and paint a block of the "Aerosol Quilt"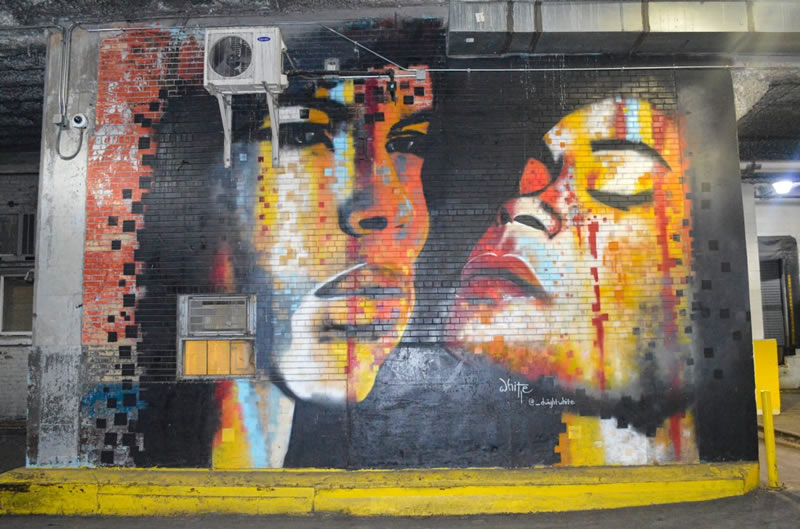 Lost In Now
Artist Credit: Dwight White
Year: 2017
Location: 25 E. Monroe St., Chicago, IL 60603
Photo Credit: Chicago Loop Alliance Foundation
Description: A hidden treasure in the heart of the city. Created to capture the idea that as long as one of them is focused on their love, it won't be lost. Sometimes focus is in a meditation state and other times it's all about setting eyes on what's to be built in the future. This mural was created for ACTIVATE: a project of the Chicago Loop Alliance Foundation.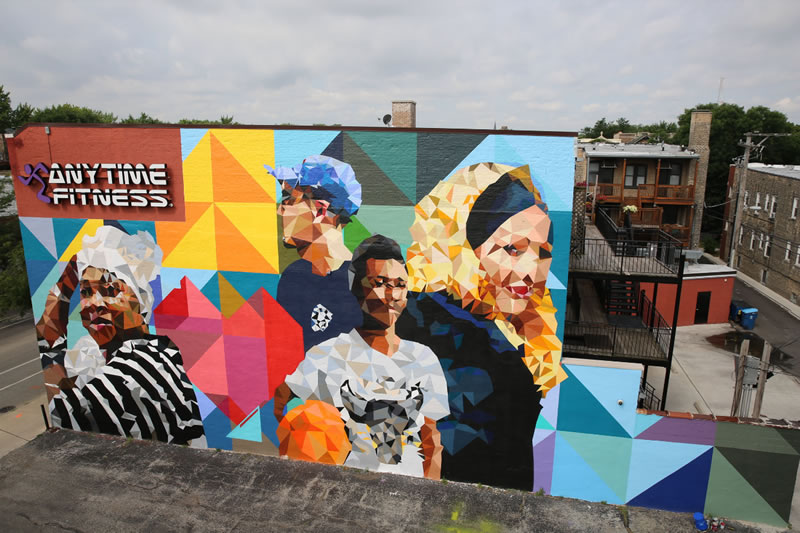 Respiration
Artist Credit: Mauricio Ramirez
Year: 2018
Location: 1346 W. Devon Ave., Chicago, IL 60660
Photo Credit: Edgewater Chamber of Commerce
Description: The Edgewater Chamber of Commerce, with the permission of SSA #26 worked with Mauricio Ramirez, the franchises of Anytime Fitness and the property owner to bring more art to the neighborhood.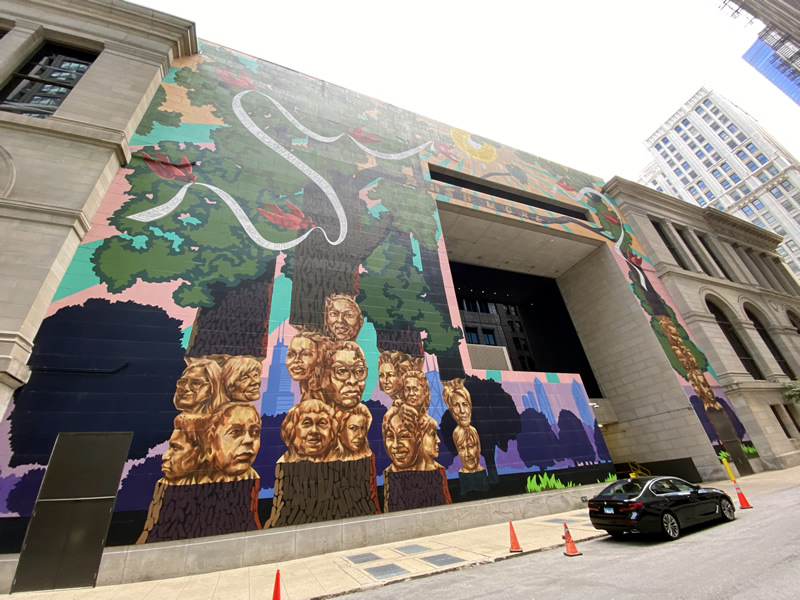 Rush More
Artist Credit: Kerry James Marshall
Year: 2017
Location: 78 E. Washington st., Chicago, IL 60602
Photo Credit: Jasmine Clark
Description:This large-scale mural on the Chicago Cultural Center building is the culmination the city's Year of Public Art. Made by internationally renowned Artist Kerry James Marshall, the 132 x 100-foot mural—the largest artwork he has ever designed or created—honors 20 women who have shaped the city's vibrant arts and cultural landscape. In explaining his choice of women, Kerry James Marshall said, "In the history of monuments you have very few that represent women, but in the history of Chicago you have very many women that played key roles in establishing culture here. . . . My idea was to make a Forest Rushmore acknowledging the contribution of 20 women who've worked to shape the cultural landscape of the city, past and present." The mural, executed by Artist Jeff Zimmerman, consists of trees as totems decorated by the women's faces on the bottom. Up above are the park-like treetops, birds, a yellow-and-blue sun, and a ribbon that floats throughout the mural.
The cross-cultural, multi-generational list of women include (left to right) actress and cofounder of Dearborn Homes Youth Drama Workshop Cheryl Lynn Bruce; founder of Chicago Children's Theatre Jacqueline Russell; former Chicago First lady and founder of After School Matters Maggie Daley; founder of the DuSable Museum of African American History Margaret Burroughs; founder of Little Black Pearl Monica Haslip; television host and producer Oprah Winfrey; poet Gwendolyn Brooks; former Chicago cultural affairs commissioner Lois Weisberg; actress/writer, and cofounder of Collaboraction theater, Sandra Delgado; journalist and writer Achy Obejas; founder of eta Creative Arts Foundation Abena Joan Brown; Poetry magazine founder Harriet Monroe; founder of Black Ensemble Theater Jackie Taylor; founder and Artistic director of Chicago Shakespeare Theater Barbara Gaines; former director of the Renaissance Society Suzanne Ghez; dancer and president of Muntu Dance Theatre of Chicago Joan Gray; dancer, choreographer, and founder of Ruth Page Center for the Arts Ruth Page; writer Sandra Ciseneros; Artist and cofounder of the AfricCobra collective Barbara Jones-Hogu; Janes Saks, founder of Project & and the Ellen stone Belic Institute for the study of Women and Gender in the Arts and Media.
The mural is funded by Murals of Acceptance, whose goal is to bring art to all people in a free public setting.

The Love that I Vibrate
Artist Credit: Sandra Antongiorgi, Andy Bellomo, and Sam Kirk
Year: 2017
Location: 3245 N. Halsted St., Chicago, IL 60657
Photo Credit: DCASE
Description: Located at the Howard Brown Health Center, the mural features an image of holistic healer and interdisciplinary artist Kiam Marcelo Junio, and pays tribute to the countless artists, hard-working activists, healers, teachers, leaders, and queers who work to bring the community together.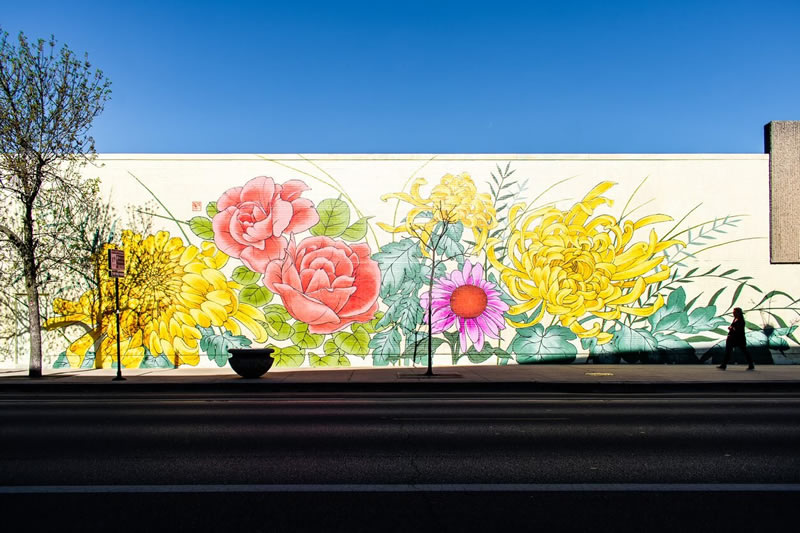 Urbs in Horto
Artist Credit: Louise "Ouizi" Chen
Year: 2019
Location: 3637 N. Southport Ave., Chicago, IL 60613
Photo Credit: Lakeview Chamber of Commerce
Description: "URBS IN HORTO, Latin for 'City in a Garden,' is the official city motto of Chicago. In order to capture the essence of this phrase, I portrayed a lush bouquet of Chrysanthemums, Roses, Echinacea, and prairie grasses. Each of these blooms can be found in the city and serves a purpose in the bouquet apart from making a beautiful arrangement. Chrysanthemums are Chicago's official flower, so they are featured most prominently in the mural. Roses are universally recognizable and loved, but they were also Anne Hewlett Fuller's favorite, and the bloom that the famous Chicagoan architect and designer Buckminster Fuller gave her in courtship. Echinacea and prairie grasses are both found growing wild in Chicago, a nod to the abundance of beautiful wild foliage in Illinois. The symbolic blooms coupled with the title of the piece honor the city's close and nuanced relationship with nature."
URBS IN HORTO is part of the Lakeview Public Art Program, an initiative of Special Service Area 27 and its 501(c)(3) non-profit partner organization, Friends of Lakeview which showcases original works of art by innovative artists throughout the West Lakeview neighborhood.
Learn more at www.lakeviewchamber.com/art.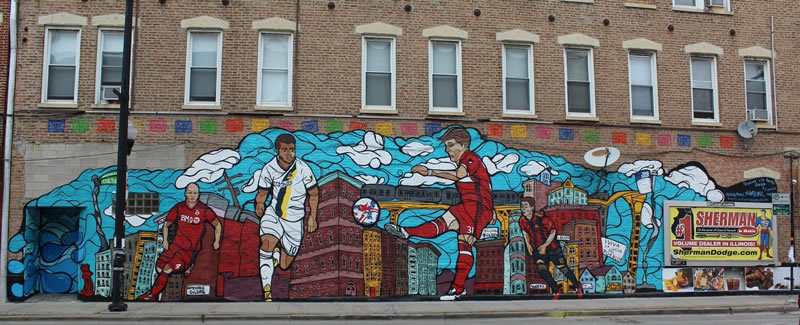 Viva Futbol
Artist Credit: Sam Kirk
Year: 2017
Location: 1724 S. Ashland Ave., Chicago, IL 60608
Photo Credit: Sam Kirk
Description: Commission with Major League Soccer for 2017 All-Star Game in Chicago.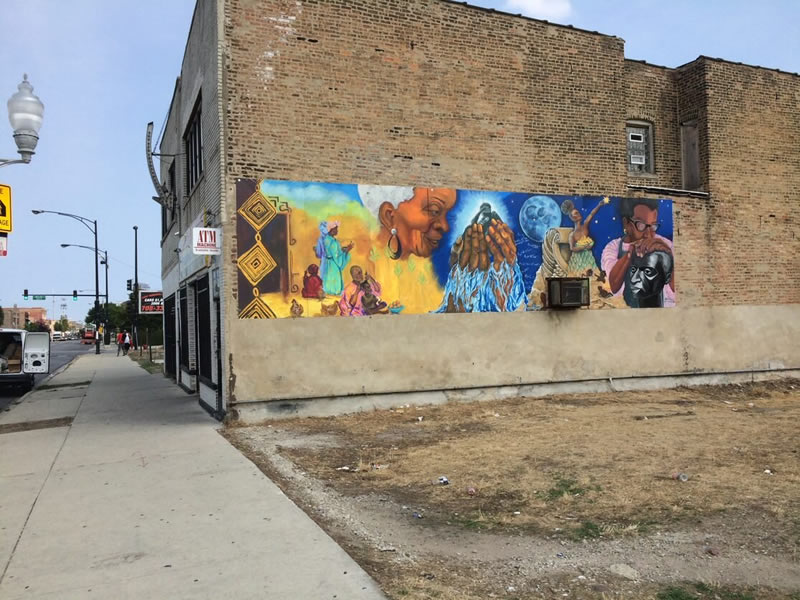 What We Create
Artist Credit: Cyd Smillie
Year: 2017
Location: 1813 W. 63rd St., Chicago, IL 60636
Description: "What we create" was funded in part thru an IAP grant from DCASE. It features what women do from house care and child care to creation to keeping dreams. The faces of the women are the faces of women in the community and Elizabeth Catlett on the far right. This mural was painted in part by the campers of I Grow Chicago.