June 22–September 29, 2013
City Gallery in the Historic Water Tower, 806 N. Michigan Ave.
Visual Art Program > Exhibitions > Past Exhibitions > City Gallery in the Historic Water Tower > Nailed: Handwork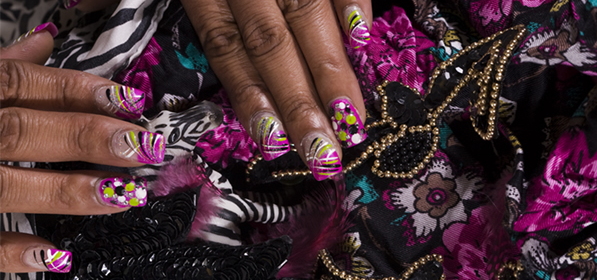 (click on image to enlarge)
The Department of Cultural Affairs and Special Events is pleased to present Nailed: Handwork is a solo exhibition of large scale photographs made by Chicago artist and educator Helen Maurene Cooper at the City Gallery's Historic Water Tower, June 22-September 29. Opening reception is June 21 from 5-7pm.
Cooper has been obsessed with nail art since 2008 when she began getting her own nails done at the Bottom (no longer in existence but infamous on the west side to women in the know). Nailed: Handwork shows a selection of two bodies of photographs (Hard Candy and Jazzy Nails) inspired by a Cooper's love of the unique Chicago nail art scene. Hard Candy, 2009-present, is a series of larger than life, macro photographs that illustrate the details and designs of acrylic hand-painted nails within mountains of confections, piles of glitter, and well-organized clutter to create novel relationships between material and color. Jazzy Nails, 2013, is a series of staged portraits made against various backdrops in a salon in collaboration with the nail techs and patrons of Naughty Nailz where Cooper is a weekly customer.

---
Visit us:
Admission is FREE
Monday–Friday, 10am–7pm
Saturday–Sunday, 10am–5pm
(Closed Holidays)
Find us:
City Gallery in the Historic Water Tower 806 N. Michigan Ave.Chicago, IL 60611
Take CTA to the City Gallery
Supporting Information Facts