Special Events and Expanded Outdoor Permits
DCASE Homepage > Special Events and Expanded Outdoor Permits
COVID-19 Update
Chicago is currently in Phase 5. These recommendations replace the industry-specific guidelines. This guidance includes recommendations for all types of businesses and venues, customers, and employees in order to help maintain healthy environments and operations, as well as lower the risk of COVID-19 spread. For more information, please refer to the latest guidelines.
(click on image to enlarge)
2021 Expanded Outdoor Dining Application

(Application works best in Google Chrome)
Expanded Outdoor Dining FAQ (pdf)
This new permit has been created specifically for temporary outdoor service for bars on restaurants on the public way or private property.
Individual, fully-licensed food and/or liquor establishments may apply to temporarily use private property to extend service space, where adherence to public health guidelines are observed.
Individual establishments that serve liquor only may apply to use the sidewalk space in front of or immediately adjacent to their establishment. Six feet of pedestrian access must be maintained, and barriers must be placed around outdoor service areas on the sidewalk. Retail Food Establishments should use the sidewalk café permit to operate on the sidewalk – learn more here.
Applications for street closure will be accepted from Chambers of Commerce, SSAs, Business Associations, or a minimum of three (3) establishments (on a contiguous city block) applying together. At least 50 percent of participating establishments must serve food. Applicant(s) may request full street closure (maintaining a 14-foot fire lane) or use of private property, as long as:
Establishments only allow outdoor dining and drinking;
Food and drinks are prepared inside the licensed establishments;
Health guidelines set by public health officials are followed.
There is no processing fee to submit the application for any Expanded Outdoor Dining Permit.
2021 Online Special Event Permit Application
(Not Required for Expanded Outdoor Dining Application )

DCASE processes Special Events applications for outdoor festivals, street and art/craft fairs and athletic events.
Special Event Permits will be issued but are subject to change based on updated health and safety guidelines from either the City of Chicago or State of Illinois. All events must follow guidelines in place at the time of the event.
Contact SEPermits@cityofchicago.org with any questions.

(application works best in Google Chrome)
Please review the Special Event Permit Application Guide for guidance.
Outdoor events held in the City of Chicago must complete a Special Event Permit Application if the event
Will close City streets (street closures are not allowed for private events);
Will prepare Food on a public street/sidewalk or private property (open to the public);
Will serve alcohol;
Will sell merchandise;
Have tent(s) larger than 20 ft. x 20 ft. (400 sq. ft.); OR
Have stage(s) taller than 2 ft.
Bar Crawls must also complete an application if the event
Expects to exceed 500 participants;
Includes 5 or more stops/participating establishments; OR
Includes 3 or more stops/participating establishments on the same street block.
DCASE Processing Fee:
The processing fee for a Special Event Permit Application starts at $100 if submitted more than 60 days before the start of the event. The fee increases if submitted closer to the event. Applications may be submitted up to 180 days prior to the event and must be submitted at least 14 days prior to the start of the event.
$100 (60+ days before event)
$200 (59-45 days before event)
$500 (44-30 days before event)
$1,000 (29-22 days before event)
$2,000 (21-14 days before event)
Applications will NOT be accepted less than 14 days
Events taking place on Chicago Park District property require an additional Park District Special Event Permit
Supporting Information Facts
Additional Information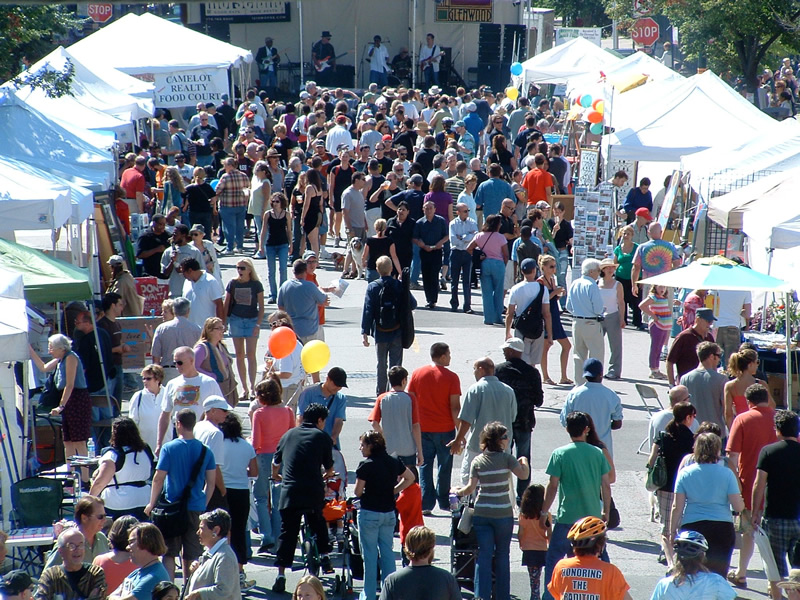 Check out the Choose Chicago festival & event guide for a full list of events traditionally held each month in Chicago.
---
Questions? Email SEPermits@cityofchicago.org
---
State of Illinois Outdoor Markets and Festival Guidelines
Special Event Permit Application Guide
How to Create a Web Portal Account
Accessibility at Outdoor Events
Choosing an Event Management Company
Embrace Year of Chicago Music (PDF)
---