City of Chicago Christmas Tree
November 19, 2021—January 9, 2022
Tree Lighting Ceremony presented by Powering Chicago, Friday, November 19, 6pm
Millennium Park, Near Michigan Ave. & Washington St.
DCASE Homepage > Millennium Park > Events Calendar > City of Chicago Christmas Tree

(click on image to enlarge)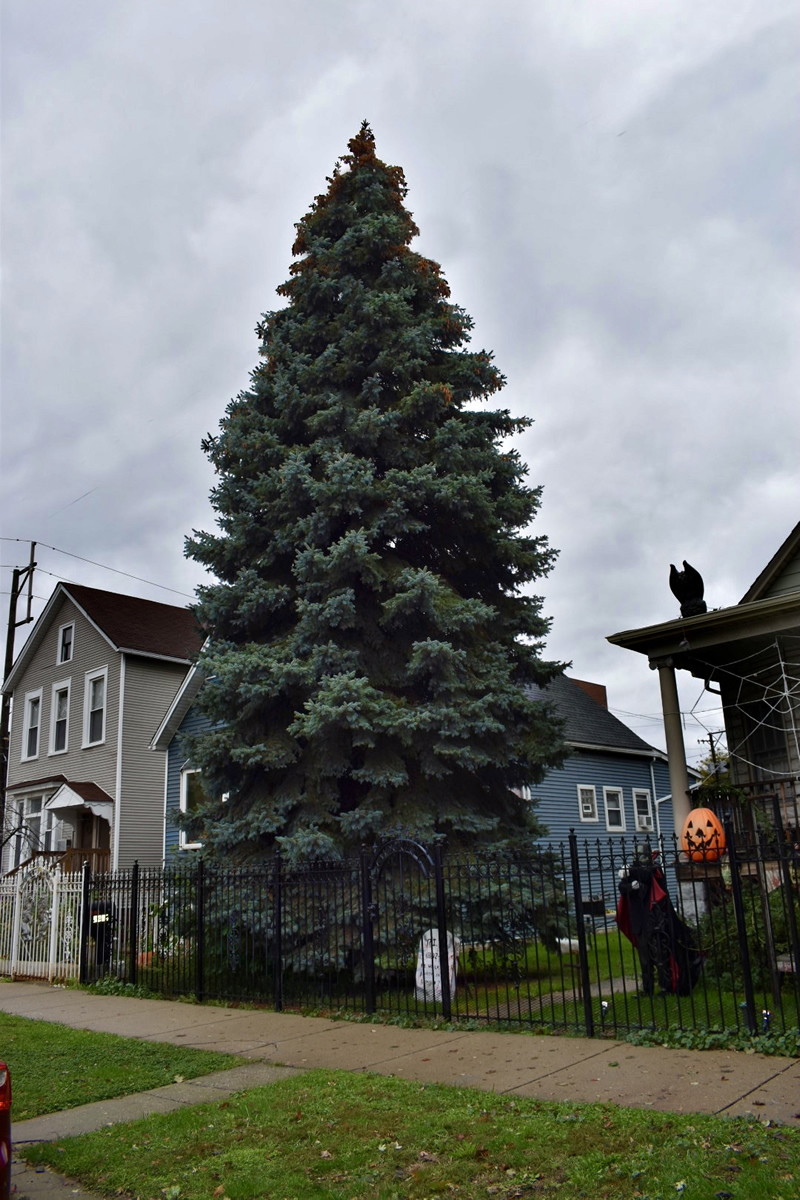 Chicago's "official" Christmas tree, the 108th Annual City of Chicago Christmas Tree in Millennium Park, will shine brightly near the intersection of Michigan Ave. and Washington St. from November 19 through January 9. All-virtual in 2020, this year's Tree Lighting Ceremony presented by Powering Chicago with leadership support from the Millennium Park Foundation will be in-person on Friday, November 19 starting at 6pm (with the actual lighting at approximately 6:30pm). The 2021 event has been expanded and reimagined to provide more space and opportunities for guests to participate — including multiple viewing locations with screens and concessions across the Park and a main stage on the Great Lawn with the traditional Tree Lighting Ceremony followed by fireworks and a special concert from 6:35–7:45pm headlined by singer-songwriter Brian McKnight. This year's 51-foot Blue Spruce is donated by the Benavides family of Chicago's Logan Square neighborhood. Face masks are strongly encouraged for all Tree Lighting Ceremony guests. Free Chicago masks available (while supplies last).
City of Chicago Christmas Tree lights will be on 6am-11pm every day (Nov. 19-Jan. 9) except they will stay on for 24 hours for Christmas Eve into Christmas.
Tree Lighting Ceremony Schedule (subject to change)
Presented by Powering Chicago with leadership support by Millennium Park Foundation

Friday, November 19, 6pm (actual lighting at approximately 6:30pm)

Emcess: Tonya Francisco and Amy Rutledge, co-hosts of the new "Daytime Chicago" on WGN-TV
Assistive Listening Devices are available - contact DCASE@cityofChicago.org by 5pm 11/18 to receive information about pick up process.
American Sign Language will be provided for the mainstage show 6-7:40pm.
The performance will be available to view on multiple screens with open captioning around the Park.
5:30–6pm: Preshow with DJ Selah Say
6pm: Tree Lighting Ceremony featuring Mariachi Herencia de Mexico, the cast of Chicago Opera Theater performing an excerpt from "Becoming Santa Claus;" a youth dance ensemble from the Kenwood School of Ballet; and special guests Dreezy Claus and Sister Claus
6:30pm: Fireworks
6:35–7:45pm: Concert featuring DJ Selah Say; Cirque du Soleil performing an excerpt of 'Twas the Night Before…;" Chicago Soul Spectacular performing a high-energy Soul Christmas medley; and singer-songwriter Brian McKnight
Bios

Dreezy Claus hails from the South Side of the North Pole and is stationed in Chicago to bring holiday cheer and love to the good boys and girls and families of Chicago and wherever he is requested. Dreezy Claus services included but not limited to in-person visits, virtual visits, recorded messages and storytelling. Dreezy Claus believes that representation matters and it is an honor to be Chicago's Black Santa!
Andre C Russell is Behavior Interventionist who works at Hunter Perkins LEARN Charter School. He also is the CEO of the Smith Center for Community Advancement, a virtual community resource center, board member for The Healing Academy and volunteer for a mentoring and literacy program for boys called the Brilliant Brown Boys Book Club. He has been "Dreezy Claus" professionally since 2019 but has been operating as Santa Claus for at least 10 years.
Mariachi Herencia de Mexico: The Latin GRAMMY-nominated group performs Mexican and American holiday favorites including, "Feliz Navidad," "Los Peces en el Rio," "Sleigh Ride," "Mi Burrito Sabanero," "Have Yourself a Merry Little Christmas," "Ave Maria," "O Holy Night," "Christmas Don't Be Late," and much more! The group is releasing a mariachi version of "It's The Most Wonderful Time of the Year" on November 26, 2021.
Chicago Opera Theater (COT): Since its founding in 1973, in a city where storefront theaters and global icons thrive side by side, COT has grown from grassroots, community-based company to a national leader in an increasingly vibrant, diverse, and forward-looking art form. COT has staged over 150 operas, including 78 Chicago premieres and 45 operas by American composers. Becoming Stanta Claus Story Line : In an Elven realm in the far North, Prince Claus is the son of a conflicted sorceress and a King who has vanished under mysterious circumstances. When Claus's uncles skip his 13th birthday party to greet a newborn, the boy recruits his elves to make the most spectacular toys ever created. Will he be able to out-dazzle the child the Three Kings have been sent to greet?
Kenwood School of Ballet: At the Kenwood School of Ballet we hold in high regard the values of discipline, work ethic, proper dress code, timeliness, enthusiasm for learning, and working together with parents and Teaching Artists to cultivate a love and respect for the beautiful art form of classical dance. We aim to create exceptional technicians and human beings through the vehicle of movement.
Chicago Soul Spectacular: Chicago Soul Spectacular is a diverse collective of artists performing authentic 60's and 70's soul and original material that spotlights Chicago's legacy in music. The big band features a full horn section, back-up singers and costumes, and every concert is imagined as a theatrical experience. Our star-studded line up of the city of Chicago's best singers and rhythm section have played with legendary Soul and Rock artists including The Temptations, Buddy Guy, Jeff Tweedy, Paul Simon, Chris Thile & Bruno Mars. Curated by Billy Bungeroth and Second City alum Julie B. Nichols.
Cirque du Soleil: 'Twas the Night Before… is the 49th original production of Cirque du Soleil. Originally composed of 20 street performers in 1984, Cirque du Soleil completely reinvented circus arts and went on to become a world leader in live entertainment. Established in Montreal, the Canadian organization has brought wonder and delight to more than 200 million spectators in more than 450 cities in over 60 countries on six continents. Cirque du Soleil is owned and operated by Cirque du Soleil Entertainment Group.
DJ Selah Say: Selah Say is a Chicago based DJ and Visual Artist from South Carolina. She effortlessly blends music from many genres & in any given set, you can hear music ranging from House, 90's R&B, Electronic, 60's Nigerian Funk, to Trap & Soul, and all in between.

---
Visit us:

Admission is FREE
Open Daily 8am–9pm
Welcome Center, open 9am-5pm (later during events)
Plan Your Visit Here
---
Find us:
Millennium Park
Michigan Ave. & Washington St.
Chicago, IL 60602
---
Public Transportation:

Take CTA to Millennium Park
From the elevated lines: exit at Washington/Wabash and walk east.
From the subway: exit at Lake (Red Line) or Washington (Blue Line) and walk east.
Served by buses 3, 4, 6, J14, 20, 56, 60, 124, 146, 147, 151, 157
For travel information, visit www.transitchicago.com. For fare information or to purchase fares in advance, visit www.ventrachicago.com.
Supporting Information Facts
Department:
People We Serve: