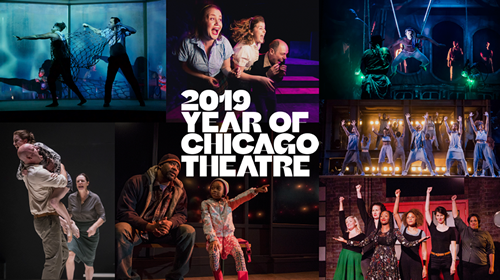 (click on image to enlarge)
The City of Chicago and the League of Chicago Theatres have designated 2019 as the Year of Chicago Theatre.
This citywide, year-long focus on theatre is the first of its kind in the U.S.
The initiative includes performances and special events throughout the city – including theatre-themed events in all 77 community areas, as part of the Chicago Park District's 'Night Out in the Parks' series. The City of Chicago and its partners will also launch a marketing campaign; provide additional financial grants to theatre projects; encourage dialog around inclusion and equity; and call on civic, philanthropic, arts and business leaders to support the theatre community. To truly fall in love with Chicago, you must go to our theatres. This is where the city bares its fearless soul. From Broadway musicals to storefront plays and improv, there's a seat waiting for you at one of our 200+ theatres.
Announcements:
Free Public Events:
For more details on Year of Chicago Theatre happenings, visit ChicagoPlays.com.
Opportunities for Artists and Organizations
LUMA8 Arts in the Dark Halloween Parade
Saturday, October 19, 6–8pm on State St., from Lake St. to Van Buren St.
Be a part of the dazzling event that delights audiences with unique floats, spectacle puppets and creative performances. Now in its fifth year, the Arts in the Dark Halloween Parade produced by LUMA8 (Light Up My Arts) draws together more than 100,000 guests and participants for a magical evening parade that celebrates Halloween as the "artist's holiday." In honor of the Year of Chicago Theatre, DCASE will provide a $2,500 commission to 10 local theatre companies to create a float or walking contingent for the parade. Commission applicants must select a spectacle theme and commit to at least twenty-five parade participants. LUMA8 will connect each selected theatre with float companies, artists, musicians and other resources to help achieve their vision. To learn more about this opportunity and to apply, contact Sharene Shariatzadeh of LUMA8 at sharene@LUMA8.org.
For other key initiatives supporting the local theatre industry, visit LeagueOfChicagoTheatres.org.