50x50 Neighborhood Arts Project
Year of Public Art > 50x50 Neighborhood Arts Project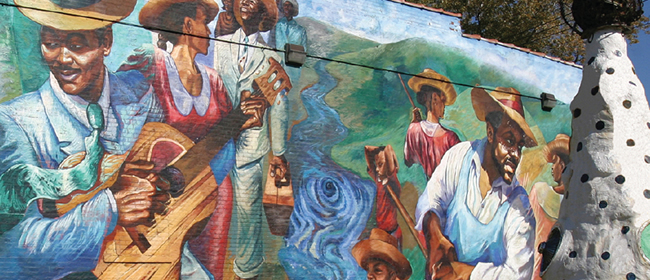 (click on image to enlarge)
Through the 50x50 Neighborhood Arts Project, the City of Chicago commissioned dozens of local artists to create new sculptures, murals, site-specific performances and community-engaged work in all 50 wards—representing a $1 million investment in artist-led community projects. 50x50 was part of the 2017 Year of Public Art, a citywide initiative involving DCASE, the Department of Transportation, Chicago Park District, Chicago Public Library, Chicago Transit Authority and other departments to bring more art into public spaces.
Published in December 2018, the catalogue Art in Chicago Neighborhoods: Year of Public Art is the culmination of more than a year of unprecedented creative output by artists in Chicago. This book not only celebrates the scale and scope of the 50x50 Neighborhood Arts Project, it highlights the creativity, connectivity and character of each neighborhood. It also honors the 50th anniversary of two of Chicago's most iconic public artworks: the Picasso in Daley Plaza and the Wall of Respect (which once stood at 43rd Street and Langley Avenue) on Chicago's South Side—world-renowned pieces that forever changed how artists and residents saw and gave meaning to art in public space.
The Year of Public Art catalogue was made possible by the generous support of Cari and Michael J. Sacks.