About the Chicago Public Art Collection
Year of Public Art > About the Chicago Public Art Collection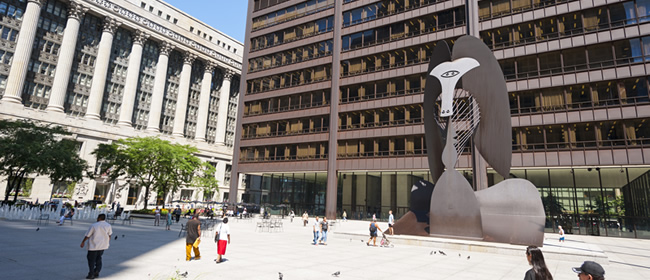 (click on image to enlarge)
The Chicago Public Art Collection managed by DCASE includes 500+ works of art exhibited in over 150 municipal facilities around the city, such as police stations, libraries and CTA stations. DCASE also administers the City's Percent-for-Art Ordinance established in 1978, which stipulates that 1.33% of the cost of constructing or renovating public buildings will be used for public art.
Additionally, the Chicago Park District, Chicago Transit Authority and community organizations manage their own public art programs—bringing even more public art to neighborhoods and shining a spotlight on talented local artists.
Get out and explore your favorite public artworks across the city—from Cloud Gate (aka "The Bean") in Millennium Park to The Picasso on Daley Plaza, vibrant murals throughout the Pilsen neighborhood and Alison Saar's Monument to the Great Northern Migration in Bronzeville. There are so many ways to explore—including the Public Art Chicago app, the Statue Stories Chicago project and public art information on the Choose Chicago, Chicago Transit Authority, Chicago Park District and DCASE websites.
Supporting Information Facts