Chicago Cultural Center > Events Calendar > Year of Public Art > Public Art Plan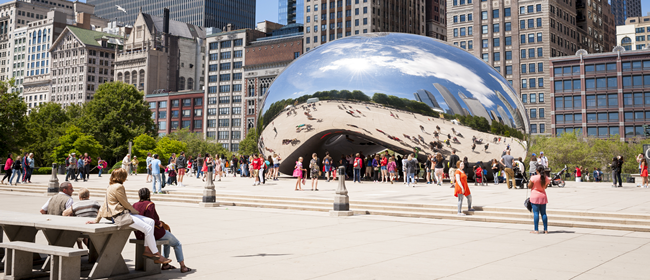 (click on image to enlarge)
Announced by Mayor Rahm Emanuel and the Chicago Department of Cultural Affairs and Special Events (DCASE), Chicago's first Public Art Plan lays out seven goals that will help shape the future of public art in Chicago and shift how the city talks about and supports public art:
Update Chicago's Percent for Art Program
Establish clear and transparent governmental practices
Expand resources to support the creation of public art throughout the city
Advance programs that support artists, neighborhoods and the public good
Strengthen the City's collection management systems
Support the work that artists and organizations do to create public art
Build awareness of and engagement with Chicago's public art
The field of public art is continually evolving and expanding to include expansive, interdisciplinary and embedded artwork. The Chicago Public Art Plan acknowledges this and establishes that the process of commissioning public art must welcome creativity in all of its forms and offer broad opportunities for participation. The new plan is a means to advocate for a diverse public art ecosystem and to nurture art that has the potential to surprise, inspire, challenge and bring people together through shared experiences.
Public art emerged as recurring theme in conversations surrounding the Chicago Cultural Plan 2012, presented by Mayor Rahm Emanuel and the Chicago Department of Cultural Affairs and Special Events as the city's first plan for the arts since 1986. The plan proposed that expanding art in public places could be a core strategy in elevating and expanding neighborhood cultural assets and a sense of place. With these goals in mind, DCASE began to formally solicit input from art­ists, cultural leaders, neighborhood advo­cates and other citizens on the future of public art in Chicago. Mayor Emanuel directed DCASE to increase emphasis on cooperation among city agencies and with community leaders in its planning for public art. Focus groups with City of Chicago and sister agencies addressed ways to increase collabora­tion. This collective input serves as the basis for the plan's recommendations.
The resulting Chicago Public Art Plan weaves policy, history and images together to create the framework for the plan's recommendations. It celebrates Chicago as home for public art, while providing a path forward – establishing a shared vision for Chicago as a city where public art is valued and more essential than ever.
Lead grant support for the Chicago Public Art Plan was provided by Allstate Insurance Company.