Cannabis Zoning Ordinance
Updated Nov. 4, 2020
The Cannabis Zoning Ordinance, approved by City Council in October 2019, regulates where new adult use recreational cannabis dispensaries may open in the City of Chicago.
The ordinance permits new recreational cannabis dispensaries in certain Commercial (C), Downtown (D), Manufacturing (M) and Planned Manufacturing (PMD) zoning districts with a special use permit from the Zoning Board of Appeals (ZBA). This mandates public noticing of each new recreational cannabis dispensary and provides an opportunity for public comment.
Additionally, the ordinance establishes seven geographical cannabis districts across the city. In each district, the number of recreational cannabis dispensaries is capped, initially at seven dispensaries per zone starting Jan. 1, 2020.
The ordinance or state law also prohibit sales within a portion of downtown, within 500 feet of a school and within 1,500 feet of another cannabis dispensary, among other provisions.
Cannabis Districts
The seven cannabis districts — Northwest, North, West, Central, Southwest, Southeast and Far South — were selected based on geography to ensure an even distribution of cannabis dispensaries throughout the city. The initial cap of seven special use permits per district may be increased to 14 per district on or after May 1, 2020.
Any additional adjustments to the cap will be presented to City Council for approval based on recommendations from the DPD Commissioner after Jan. 1, 2021. Cap alterations may be based on the intensity of use, population and density considerations.
Per the Cannabis Zoning Ordinance, DPD will conduct a comprehensive land impact study in 2021 to analyze the environmental, economic and social impacts of dispensaries in each community, and determine in consultation with City Council whether adjustments to the designated cannabis districts and caps are needed.
Downtown Exclusion Zone
Due to the unique character, configuration and congestion of downtown Chicago, the Cannabis Zoning Ordinance prohibits recreational cannabis dispensaries from opening within a defined portion of the Central Business District.
The boundaries of the Downtown Exclusion Zone run from Division Street to Lake Michigan to Van Buren Street on the north, east and south, respectively. The western boundary is State Street in River North and the South Branch of the Chicago River in the Loop.
Restricted Cannabis Zones
Illinois law allows a legal voter to propose a restriction on cannabis businesses within his or her precinct. To begin that process, an individual must seek a petition from the City Clerk. More information on creating a restricted cannabis zone can be found on the City Clerk's website, including a list of Frequently Asked Questions about the process. Additionally, a list of precincts where residents have filed a notice of intent to restrict cannabis businesses is available on the Clerk's website.
Lottery
The initial lottery took place at on Friday, Nov. 15, 2019. Any business with a medical cannabis dispensary license from the State of Illinois that allows them to be located within the Chicago-Naperville-Elgin BLS region was permitted to enter the lottery, provided they submitted the required documents by 4:30 p.m. on Friday, Nov. 8, 2019.
The lottery had 31 applicants, each of whom selected a preferred district in sequential order as they were drafted. The lottery results are now available. Selected businesses are permitted to apply for a special use permit for a recreational cannabis dispensary anywhere inside their chosen district, provided the location meets the requirements of the Cannabis Zoning Ordinance. All locations will be subject to a special use permit and reviewed by the ZBA at a later date.
For further details on the first lottery, download the official ZBA Lottery Rules and Rules Amendment No. 1. Subsequent lotteries will be scheduled as needed.
According to the ordinance, each company wishing to open a cannabis business must submit consent from the property owner, along with other relevant information pertaining to Section 17-9-0129.3 of the Chicago Zoning Ordinance, in order to seek a zoning opinion letter from DPD, apply for a special use from the ZBA, host a community meeting prior to their ZBA hearing, and be approved for a special use by the ZBA prior to opening. Details about that process can be found on the district-specific pages linked below, and the ZBA cannabis application checklist.
Community Meeting
Cannabis businesses seeking to locate in Chicago must hold a community meeting in the ward of their proposed location in accordance with Section 17-13-0905-G of the Chicago Zoning Ordinance. This requirement has not been waived due to the ongoing public health crisis, and simply holding a virtual meeting does not satisfy the requirement.
During the pandemic, applicants should hold meetings in accordance with orders from the State of Illinois and City of Chicago. While simply holding a virtual meeting does not satisfy the in-ward community meeting requirement, additional or simultaneous virtual meetings can also be implemented to supplement the requirements of Section 17-13-0905-G. Those details will need to be shared with the Zoning Board during the special use hearing so that the Zoning Board can determine if they are acceptable.
Disclosure Requirements
The ZBA Chair has ordered that all applicants seeking a special use permit to open a cannabis business must disclose the name, address and percentage of ownership of each individual or entity owning more than 5 percent of the business. Further details can be found in the rule dated Jan. 17, 2020.
Cannabis Zoning Ordinance
Northwest | North | West | Central | Southwest | Southeast | Far South
Supporting Information Facts
Department:
People We Serve:
Programs & Initiatives:
Additional Information
Cannabis Districts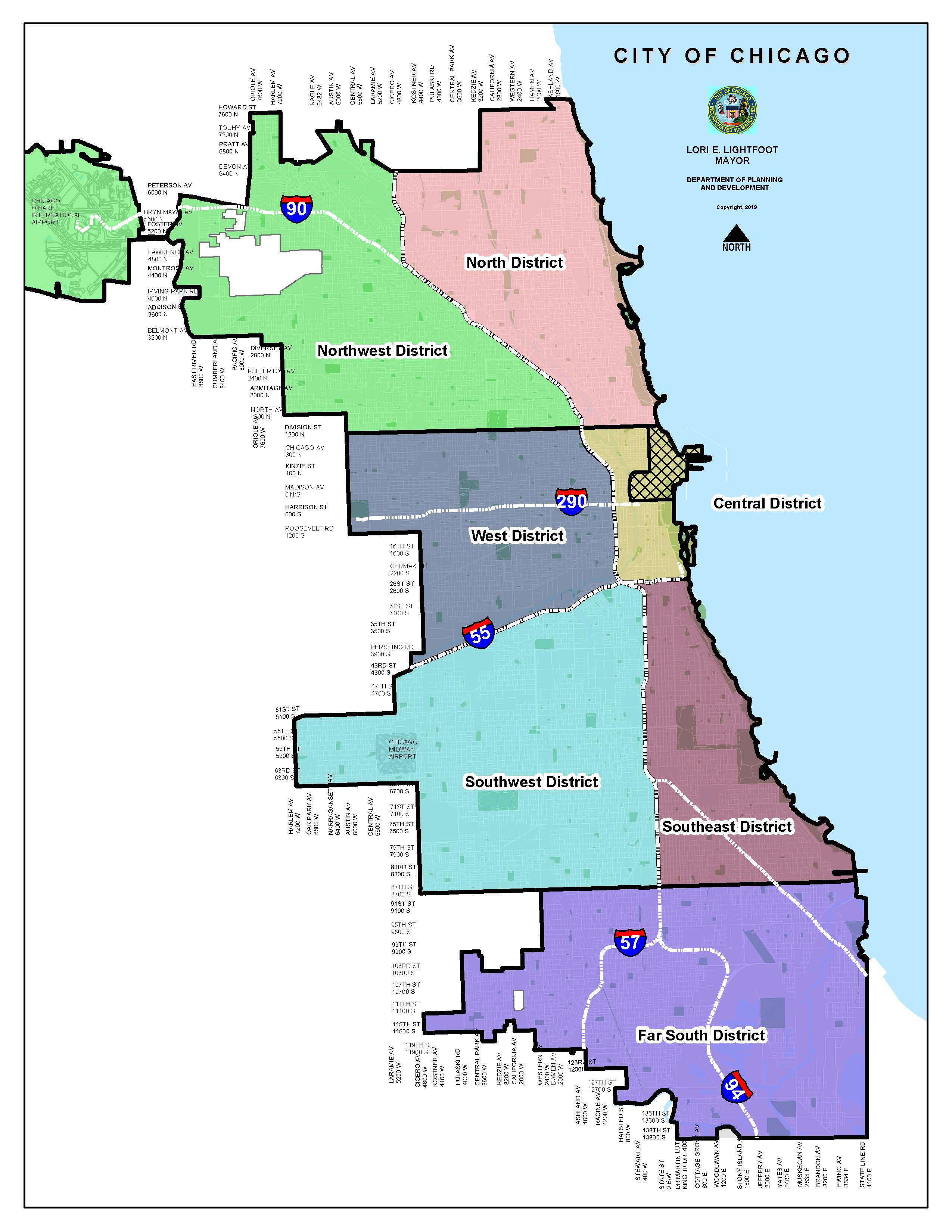 Cannabis Zoning Ordinance
Northwest | North | West | Central | Southwest
Southeast | Far South
Notice of Cannabis Business Establishment Application