La Casa Norte - Pierce House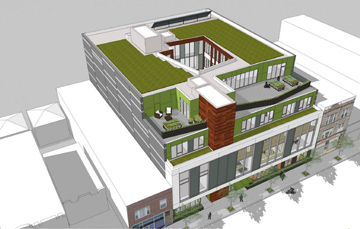 3527 W. North Ave.
New construction of rental housing which will consist of 25 units targeted to homeless, near homeless and/or disabled individual or families. The project will also include supportive services space and administrative office space for La Casa Norte. All of the residential units (25) will be affordable to households earning no more than 30 percent of the area median income. The proposed project was approved by the Community Development Commission in January 2016.
To be developed by La Casa Norte, Pierce House would include a five-story, mixed-use building with ground-floor space for a teen center, a food pantry, a teaching kitchen, and a health and wellness center. In addition to office space, the second floor would contain community meeting space, and an art gallery. The lower level would have space for adult education classes, a clothing closet, and other services for the homeless. Two buildings would be demolished to make way for the development.
The project's goal is to provide more housing and increase La Casa's capacity to deliver supportive services to its current clients.
La Casa Norte is a nonprofit organization based in Humboldt Park that serves homeless youths and families.
City support for the $18.5 million project would include $3.5 million in TIF assistance and a $4 million loan.
Other funding sources would include:
$6 million in New Markets Tax Credit equity
$4 million in private donations
$600,000 bank loan
$107,000 State of Illinois energy grant
$187,000 donations tax credit equity
The project would create eight permanent and 26 temporary construction jobs.

TIF assistance requires City Council approval and will be subject to Council committee hearings in coming weeks.
See the Community Development Commission staff report.