Employment with the City of Chicago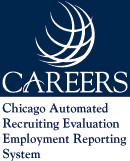 Welcome to CAREERS, the City of Chicago's award winning online job application site.
CAREERS stands for Chicago Automated Recruiting Evaluation Employment Reporting System. Unveiled in Fall 2007, CAREERS uses the latest technology to make applying for City of Chicago jobs easy and efficient.
You can search for city job opportunities and apply for one or multiple positions using a single online profile. CAREERS is available 24/7 and allows users to search for employment with the City of Chicago, review job announcements, complete a candidate profile, and apply for open positions - all without a single sheet of paper!
Click on the link below if you need help with navigating the online CAREERS section:
Step 1: Register
To apply for any position in CAREERS, you must register on the site and provide personal information to prepare your candidate profile, search for available job opportunities, and submit applications online.
Step 2: Online Candidate Profile
Your online candidate profile has information, and can be used to apply for multiple City positions without re-entering your information. When submitting an application online, you may be required to scan or mail certain documents such as resumes, transcripts, certifications, or licenses directly to the Department of Human Resources.
Step 3: Search Jobs
After completing your online candidate profile you may search job listings for open positions and apply online. Each position announcement includes information about minimum qualifications, duties and responsibilities, and required documentation for application.
Step 4: Submit Application
Once you have registered, completed your online candidate profile, and reviewed the available positions, you can submit applications for specific jobs. The application process requires that you complete application questions to assess your candidacy. Certain positions may also require you to submit additional documents.
Before continuing please review the instructions and helpful hints for applying for City of Chicago jobs using the CAREERS online process.
If you would like to request a reasonable accommodation due to disability or pregnancy in order to participate in the application process, please contact the City of Chicago, Department of Human Resources, at 312.744.4976 (voice) or 312.744.5035 (TTY).
Please be prepared to provide information in support of your reasonable accommodation request.
Application Process Information:
Regulations and Rules
Proof of Eligibility:
United States Federal law requires that all employers, including the City of Chicago, require job applicants to provide proof of eligibility to work in the United States. Acceptable forms of proof include:
Certificate of U.S. Citizenship
U.S. Social Security Card
Certificate of Naturalization
Alien Registration Card with photograph
Residency:
Residency in the City of Chicago is required of all employees. Proof of residency will be required at the time of employment, per Section 2-152-340 of the Municipal Code of Chicago.
Falsification or Omission of Information:
Falsification or omission of information on an application for City employment may subject you to disqualification and/or termination of employment, and is punishable as perjury as well as a violation of Municipal Code of Chicago 2-74-090, which provides for a fine of up to $500 and six months imprisonment.
Owning of City Debt:
Municipal Codeof Chicago 2-152-150 prohibits the hiring of any person who owes any debt to the City of Chicago unless the debt has been paid in full or:
1. The person who owes the debt has entered into an agreement with the Department of Finance or other appropriate City department, for the payment of all debts owed to the City and is in compliance with the agreement. Information on payment plans, including Hardship Payment Plans, can be found here:
Parking and Red Light Ticket Payment Plan
2. The person who owes the debt is contesting liability for or the amount of the debt in a pending administrative or judicial proceeding; or,
3. The person has filed a petition in bankruptcy and the debts owed the City are dischargeable in bankruptcy.
Political Sponsorship
All references to political sponsorship or recommendation must be omitted from any and all application material submitted for City employment.
Equal Opportunity
The City of Chicago is an Equal Employment Opportunity and Military Friendly Employer.
Information for Veterans
In accordance with Personnel Rules, veterans who receive a passing score on an examination, and have served in the armed forces of the United States on active duty continually for six months, and who were not dishonorably discharged, may be considered for Veteran's Preference.
Examination and Verifications
At any time during an examination or during the life of the resulting General Employment list, the Department of Human Resources reserves the right to modify the examination, test schedules and/or impose any additional tests, standards or qualifications it deems appropriate to evaluate applicants for this position.
Service Facts
Department:
People We Serve:
Programs & Initiatives: