Locations with free online access to Job Postings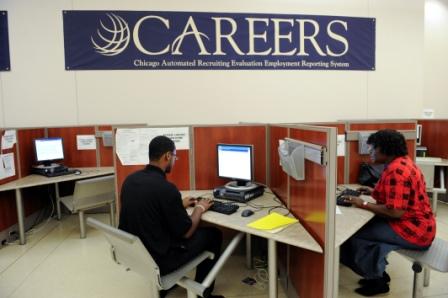 The locations listed below offer free online access to CAREERS. Support staff also is available to assist you in:
Searching available job postings;
Creating your candidate profile;
Completing an application.
At more than 70 Chicago Public Library locations.
A reservation for use of a computer at your chosen library location is required.
Mayor's Office for People with Disabilities
2102 West Ogden Avenue
312.744.6673
8:30 am to 4:30 pm
An appointment for use of a computer terminal may be needed.
Chicago Christian Industrial League
2750 West Roosevelt Road
773.435.8300
8:00 am to 4:30 pm
CAREERS Center
City Hall, Room 100
121 North LaSalle Street
312.744.9567
9:00 am to 5:00 pm
Visit our Online Service Page:
People with disabilities who require a reasonable accommodation to file their application, please contact the City of Chicago, Department of Human Resources at 312.744.4976, TTY: 312.744.5035. You will be required to provide information regarding your request.
Service Facts
Department:
People We Serve:
Programs & Initiatives: