April 28, 2012
Mayor Emanuel Recognizes Chicago College Student for Civic Leadership and Highlights the Importance of Volunteerism
Mayor's Press Office 312.744.3334
---
CHICAGO - Mayor Emanuel yesterday recognized the civic leadership of Ariel Aguilera, a graduating senior at Columbia College and the first recipient of the College's Mayor's Award for Civic Engagement.
"Ariel is truly an example of the best our city has to offer," said Mayor Emanuel. "Her active engagement with Chicago's neighborhoods and the leadership she has displayed encouraging and supporting her fellow classmates to volunteer would be impressive enough. But coupled with her academic and extracurricular excellence in college – well, she could teach a thing or two to even the hardest working public servant. I congratulate Ariel on her accomplishments and the entire city is behind her and every child in Chicago as they strive to achieve their goals."
A graduating senior at Columbia, Aguilera has been an active member in her community as a volunteer at a local after-school science program, a rehabilitation centers and the Chicago Food Depository, as well as a volunteer for the National Association for Chicano Studies Conference. Aguilera was awarded the Emerging Leader Award from the Illinois Latino Council on Higher Education earlier this year. She will be the first member of her family to earn a college degree.
Aguilera told the Mayor that she is going to take some well-deserved downtime this summer after graduating and hopes to continue engaging with Chicago's communities by one day working with an organization specializing in Latino affairs.
The kind of volunteerism and engagement with Chicago's neighborhoods that Aguilera exemplifies will be highlighted in June of this year as Chicago hosts the National Conference on Volunteering and Service. This is the world's largest gathering of volunteer and service leaders; thousands will participate in workshops and plenary sessions to discuss best practices and creative ideas to spur civic engagement across the globe. Conference attendees will also explore Chicago's robust social service community through special events and service projects held in neighborhoods throughout the city. To learn more about the Conference, see the official website: http://www.volunteeringandservice.org/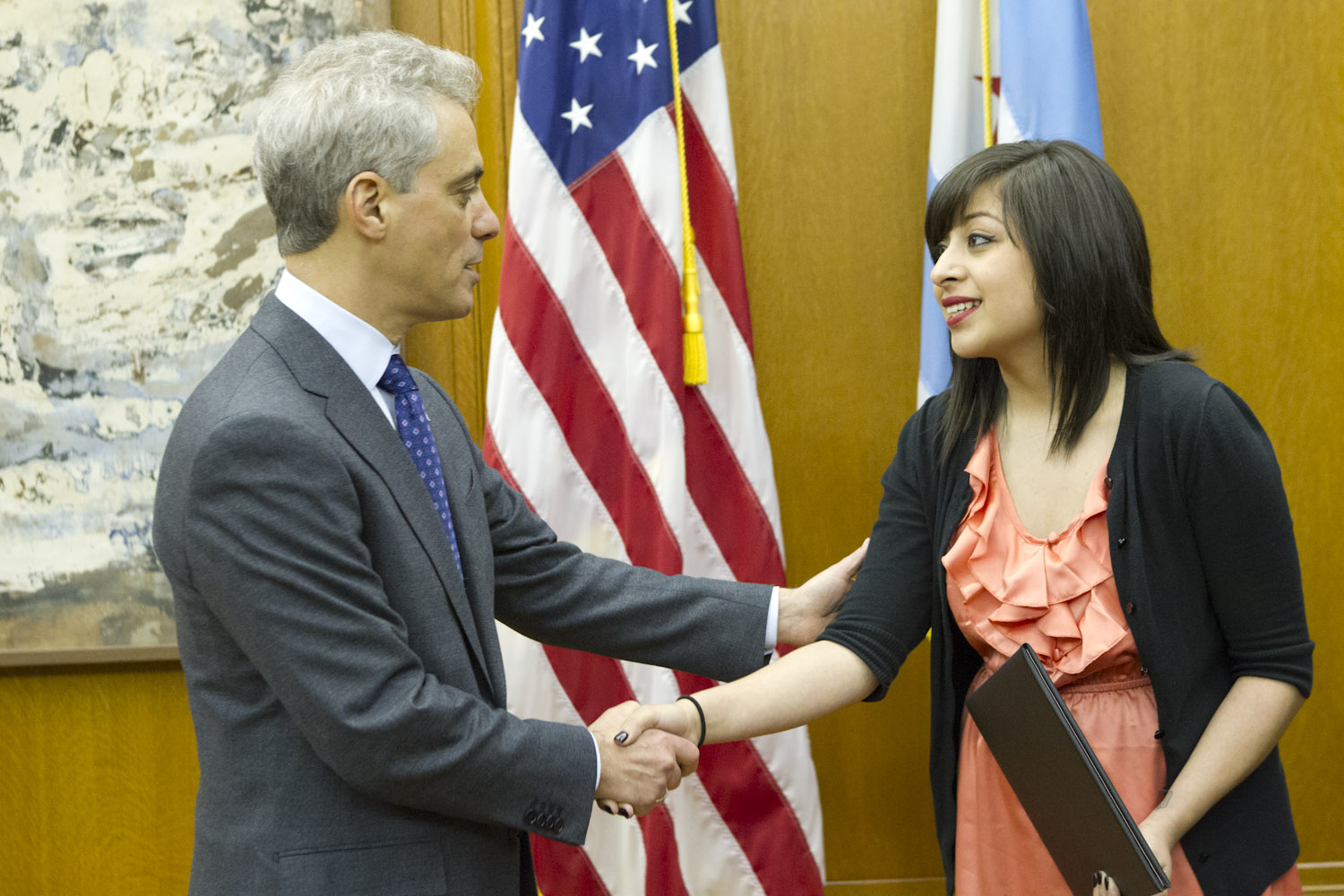 Photo Caption: Mayor Emanuel Recognizes Chicago College Student Ariel Aguilera for Civic Leadership and Highlights the Importance of Volunteerism
Photo Credit: Brooke Collins, City of Chicago
# # #