December 18, 2012
Mayor Emanuel Welcomes the Consul General of Ukraine in Chicago Andrii Pravednyk
Mayor's Press Office 312.744.3334
---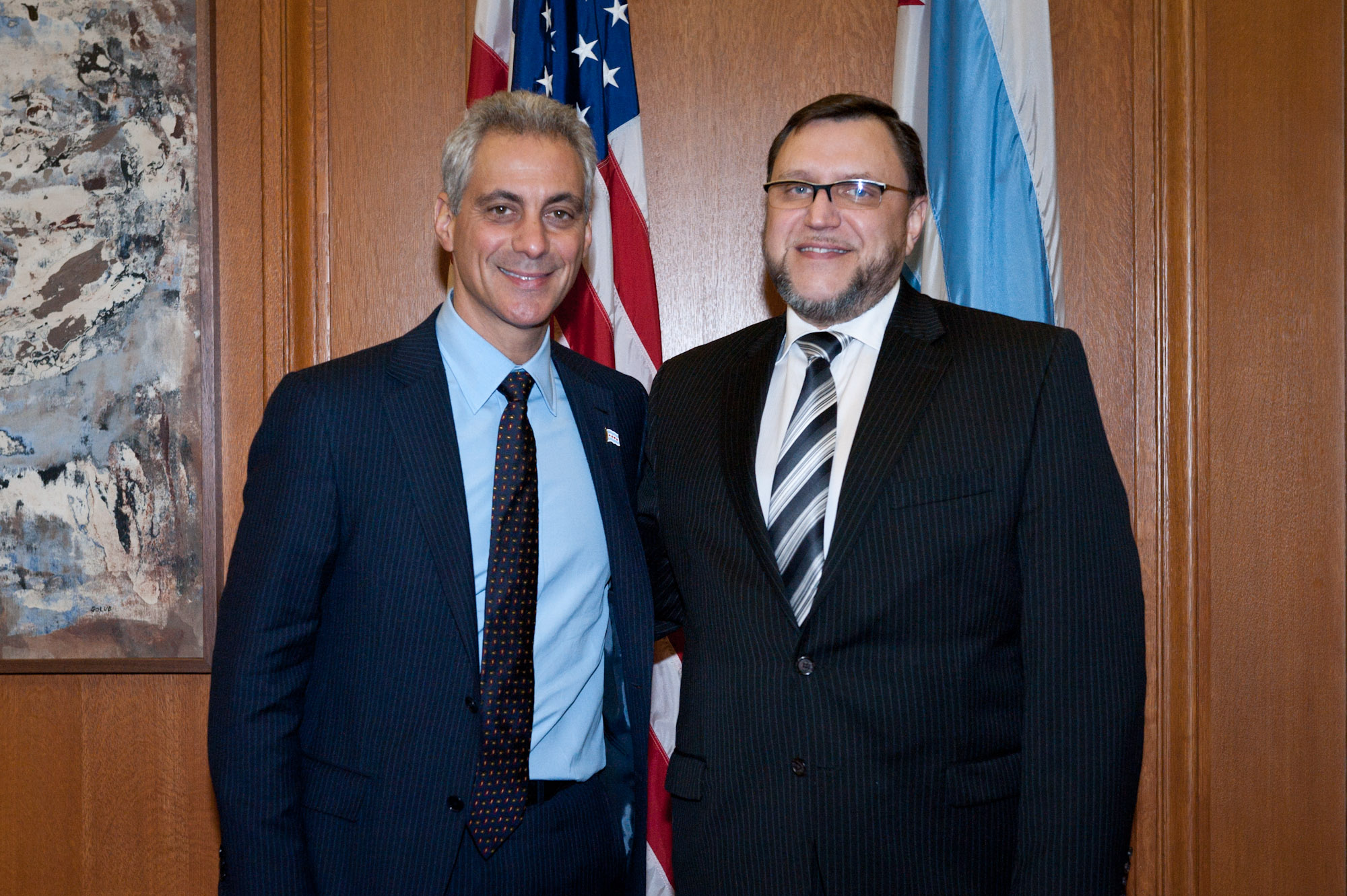 Today, Mayor Rahm Emanuel welcomed Andrii Pravednyk, the Consul General of Ukraine to Chicago. Mayor Emanuel and Mr. Pravednyk discussed the recently reaffirmed Sister Cities agreement between Chicago and Kyiv, which was first established in 1991, and both cities commitment to promoting their long-standing shared economic and cultural relationship.
"I welcome Andrii Pravednyk to Chicago and I am pleased to further the ongoing relationship between the City of Chicago and Ukraine," said Mayor Emanuel. "The friendship we have established over hundreds of years has positive effects throughout the city, in cultural, economic, and social ways, and I am proud that we are growing our relationship."
On December 3, Mayor Emanuel met with a Ukrainian delegation and its members including Mr. Pravednyk, as well as the Ukrainian Ambassador Oleksandr Motsyk and the Head of Kyiv City State Administration Oleksandr Popov. Members of the Kyiv Sister City Committee were also in attendance at that meeting.
The delegation participated in the "Kyiv, Ukraine Sister Cities," street naming ceremony that was co-organized by Alderman Proco "Joe" Moreno and Alderman Roberto Maldonado in Chicago's Ukrainian Village. Nearly 40,000 Chicagoans of Ukrainian heritage reside in the Chicago area, with a third or more located in Chicago. The Ukrainian Village neighborhood, has been the central hub of Ukrainian cultural life since the start of the 20th century, and continues to be the home of three major Ukrainian churches, the Ukrainian National Museum, a Ukrainian Cultural Center, and many Ukrainian restaurants, stores and businesses.
###
Photo Caption: Mayor Emanuel welcomes Andrii Pravednyk, the Consul General of Ukraine in Chicago
Photo Credit: Patrick Pyszka // City of Chicago