November 29, 2012
Mayor Emanuel Congratulates Mount Carmel Caravan Football Team On Winning the State Championship
During School-wide Rally to Celebrate the Team's Victory, Students Surprise Mayor Emanuel By Singing Happy Birthday
Mayor's Press Office 312.744.3334
---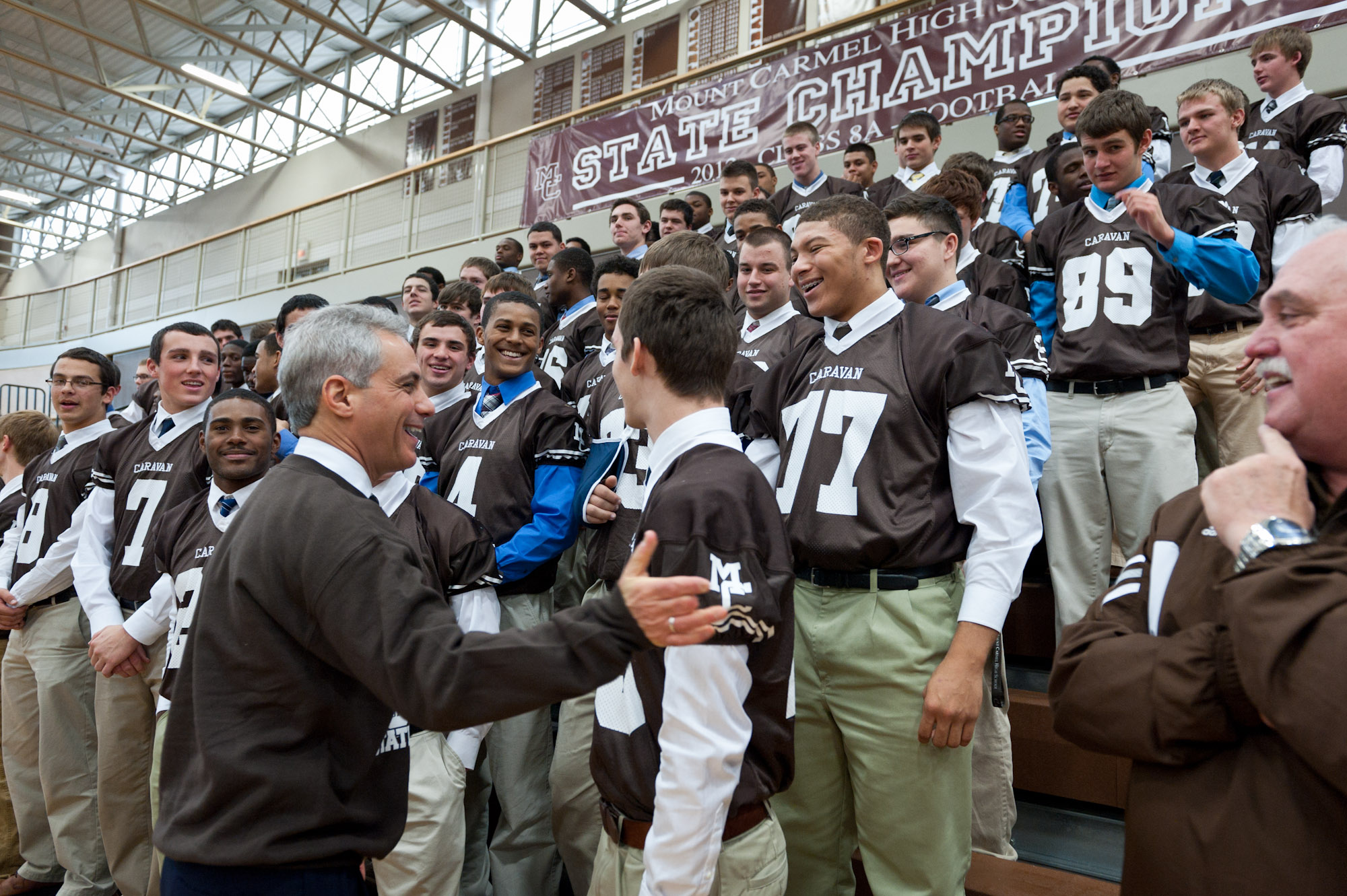 Mayor Emanuel joined student athletes, coaches, teachers and community members today to congratulate the Mount Carmel Caravan football team on winning their 11th Class 8A State Championship.
"The Mt. Carmel Caravan's mantra is "Winning is not a 'me' thing, it's a 'we' thing," and their success on the field is the result of this mentality and their months of hard work. I congratulate the team and their coach, Frank Lenti," said Mayor Emanuel. "The dedication shown by each and every student on the field serves as an inspiration to us all, and a reminder of the success that Chicago's students can achieve both on and off the field."
During a school-wide rally to celebrate the team's success, the hundreds of Mt. Carmel students packed into the auditorium turned the tables on the Mayor, surprising him by singing "Happy Birthday."
The Carmel Caravan's win represents not only their 11th state title, but also their 100th playoff victory. Mt. Carmel is an all-boys' Catholic school in the Woodlawn neighborhood serving about 750 students from 119 different zip codes and 290 grammar schools across Chicago.
Photo Caption: Mayor Emanuel Congratulates the Mount Carmel Caravan Football Team on Winning their Eleventh Class 8A State Championship
Photo Credit: Patrick Pyszka // City of Chicago
# # #